The Faces of North Carolina's Marriage Equality Battle
Monday, April 30th, 2012
---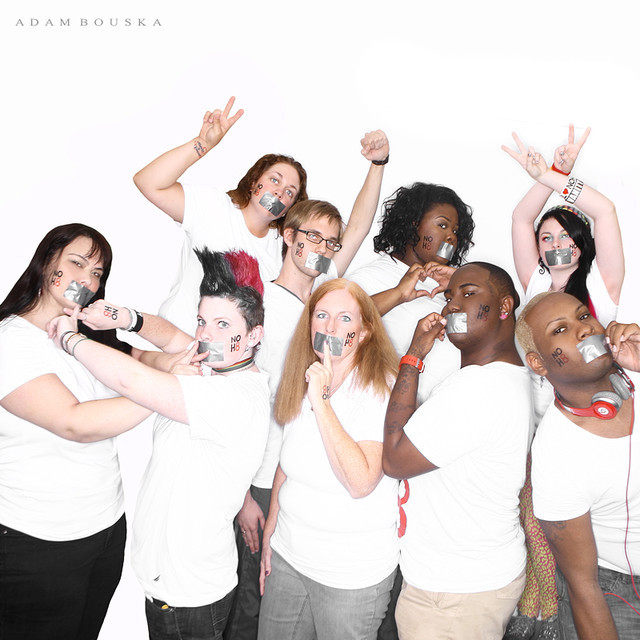 On Tuesday, May 8th, North Carolina will not just be holding their primary elections - they will be putting equal rights up to a vote. Amendment 1, a ballot initiative similar to California's Proposition 8, is also up for a vote -- a YES vote amending the state constitution to define marriage between one man and one woman, and a NO vote supporting the rights of gay and lesbian couples in North Carolina.
We encourage every single one of you in North Carolina - or who might have family, friends, or even fans in North Carolina - to spread the word about this vote and how you feel.
The NOH8 Campaign traveled to North Carolina Pride in Durham, NC for the first time in September 2011, setting up under a tent among dozens of local LGBT-friendly organizations, business, and community groups. Amendment 1 had been voted to the statewide ballot only a week and a half earlier, and hundreds of supporters came out to protest through their portraits.
Determined to pose no matter what, many supporters waited patiently in line despite the rain that suddenly began to pour down during the last half of the photo shoot. The tent we had set up could only accommodate a handful of people at a time, so most of the line waiting to have their photos taken were exposed to the elements. As the rain began, supporters who had never met began to huddle under each others umbrellas, coming together to shield each other from the storm. Remembering that sight, we're inspired by the spirit of the North Carolina LGBT community and its supporters. As May 8th approaches, we hope that the community continues to support and shield each other from the oncoming storm.
Start a dialogue, and stand up for your peers. To help you do that, we've used the faces and stories of the LGBT community and its allies from North Carolina throughout this blog. Please share this with your friends and family, and encourage them to spread the word about the vote as well.
For those of you in North Carolina who are eligible, we encourage you to VOTE on May 8th. If you can't vote, you can still share these photos and stories - so get the word out however you can!

If you haven't registered to vote, it's easy: all you have to do is click the button below, fill out the short form to register, and you'll be ready to vote!

Like every single face that makes up the NOH8 Campaign, every vote counts and you have the right and the responsibility to tell our government how you feel. Exercise that right!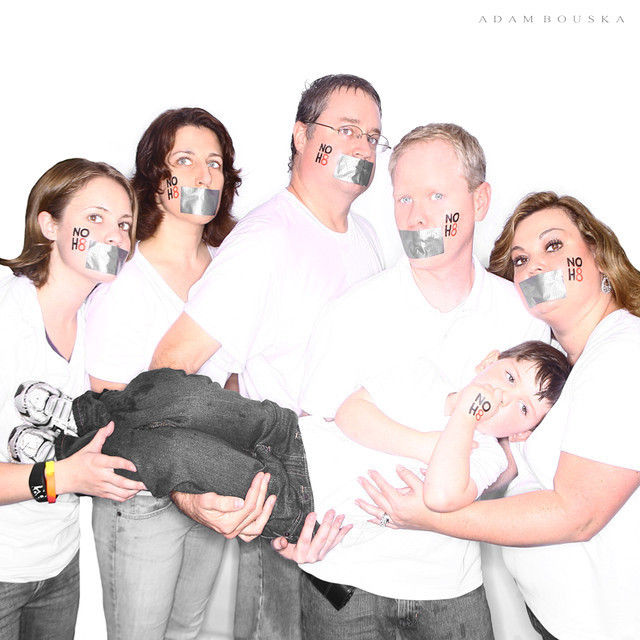 "Hope For Teens (pictured above) is an anti-bullying and anti-cyberbullying non-profit organization in North Carolina, and we could not pass up the chance to "practice what we preach" if you will.  Our primary demographic are LGBT Teens and young adults but we do address bullying issues for ALL teens; whether it be school presentations, attending festivals geared toward the youth or any other way we can help; including educating adults on ways they can help their teens as well.
To us, doing the NOH8 photo shoot was the perfect way to show the LGBT youth we cared and were willing to show the extent to which we support them. The pictures say it all without saying a word.  We felt so strongly about showing support that we included the Founder's four year old son in the shoot to show how all ages are impacted by what NOH8 is doing. Hope for Teens is the only anti-bullying non-profit for teens in Wake County home to the capitol, Raleigh.  What better way to be all encompassing of tolerance and acceptance than a NOH8 photo shoot!" - Holly Atkins, Hope For Teens (President)
"As a rabbi and rebbetzin, we wanted to have a way to let our LGBTQIA youth and adults know that there is at least one rabbbi and rebbetzin they can turn to that will understand and will support them in their spiritual journey. We wanted to let them know that in our scattered congregation there is ABSOLUTELY NO ROOM 4 H8!" - Richard A. Walter-Jernigan & Rabbi Richard C. Jernigan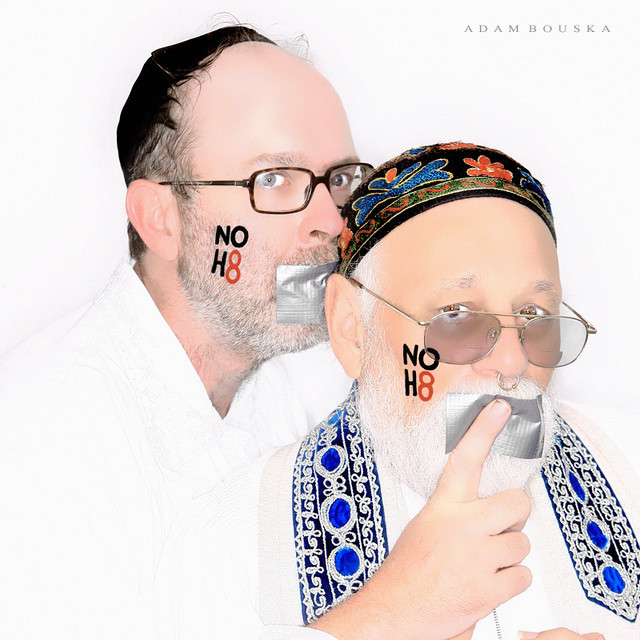 ---
---
Comments