NOH8 on Broadway 2014
Friday, October 10th, 2014
---
A few months ago, the NOH8 Campaign returned to the Minskoff Theatre in Times Square to host it's second #NOH8onBroadway photo shoot. Our friends on the Great White Way put out a call to action, and the Broadway community turned out in droves to show their support for equality - including some of the 2014 Tony Award winners and nominees!
"I'm so proud to be a part of the Broadway community. It's more than a collection of actors, directors, musicians, designers and technicians….it's a family that comes together to support one another in the good times and the tough times," explains former Tarzan star Nicholas Rodriguez.
Check out the incredible Broadway support for NOH8 below, and don't forget to check out our original photo blog featuring photos from the very first #NOH8onBroadway photo shoot back in 2011.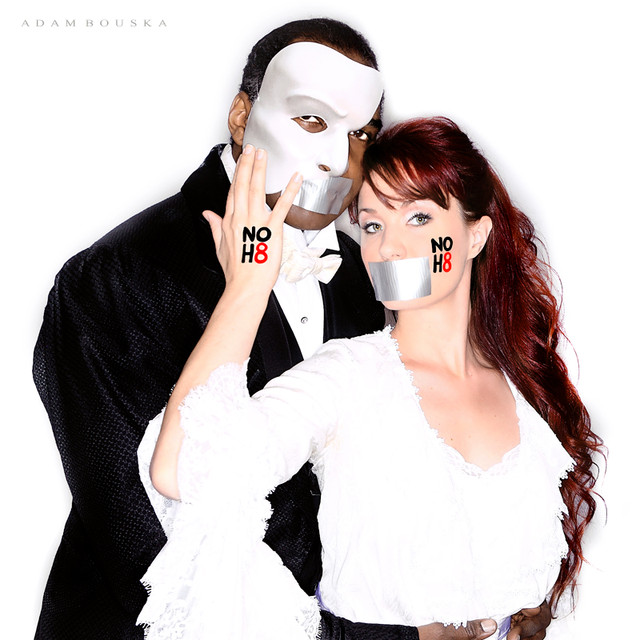 Broadway veteran and Tony Award nominee Norm Lewis made history this year when he became the first African American to play 'The Phantom' on Broadway. Norm posed with his co-star and leading lady Sierra Boggess, who plays 'Christine' in Phantom of the Opera. "I wholeheartedly support NOH8 Campaign and am honored to be a part of this," said Sierra on her involvement. "Let there be equality for all!"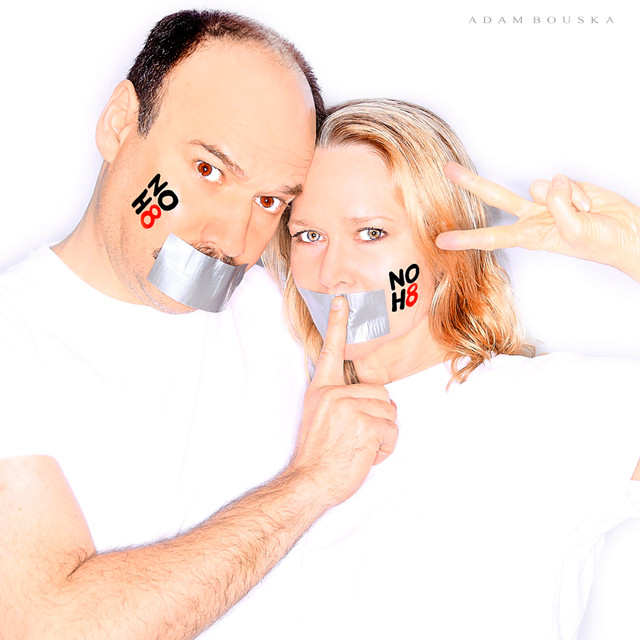 Broadway couple Danny Burstein (Golden Boy, Follies, South Pacific) & Rebecca Luker (Showboat, The Music Man, Mary Poppins) have both garnered multiple Tony Award nominations and support the freedom to be yourself. "With all the turmoil going on in the country and, indeed, the world, NOH8 reminds us how important it is to be loving and kind."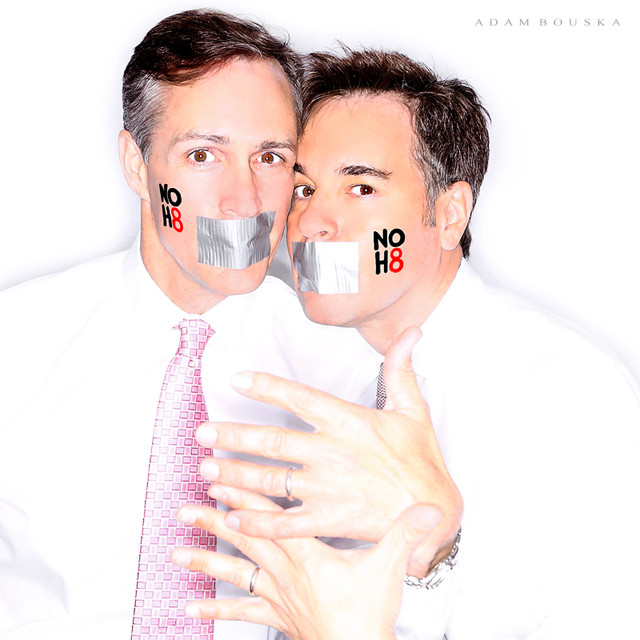 "We were so thrilled to be asked to participate in the NOH8 Campaign. So much has changed in the almost 20 years that we've been together. We never dreamed that we'd get the chance to get married, as we did last year. But there is so much more that needs to be accomplished in terms of equal rights for all--not just GLBT people-- so that everyone can enjoy the same rights of self-determination that we were lucky enough to exercise. Thanks to NOH8 for letting us be a small part of all that it does!" - Tony nominee Howard McGillin (The Mystery of Edwin Drood, Anything Goes) & husband Richard Samson

David Turner (On A Clear Day You Can See Forever) and Jamal Lee Harris (The Lion King) with his pup Captain Neo. Of his inclusion, David said: "I'm honored to be part of a community that is always looking forward and imagining a better, more civil society."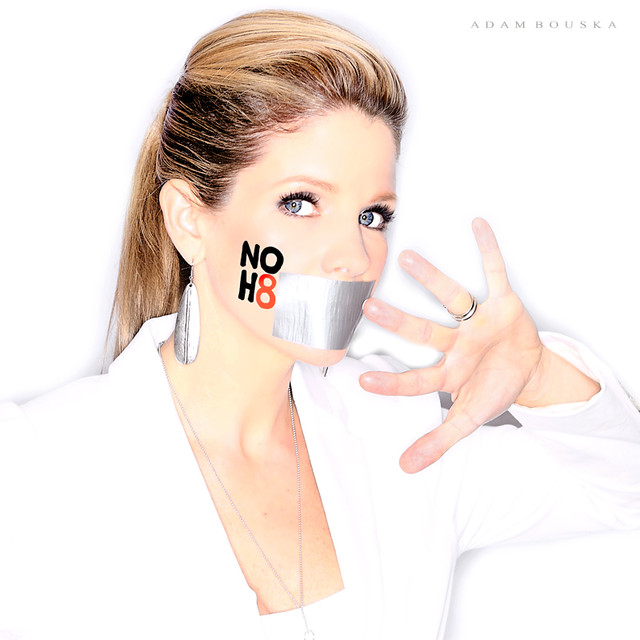 "Live and let love." - Five time Tony nominee Kelli O'Hara (The Bridges of Madison County, 2015's The King and I)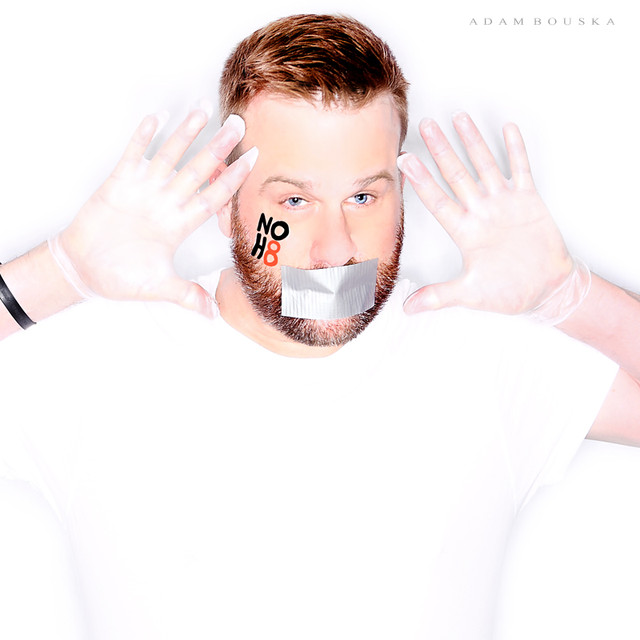 "It's an incredible honor to be a part of the artistry and integrity of the NOH8 Campaign. I've loved these photos since the first year of the series and am so excited to help spread this ever-evolving message of equality." - Stephen Wallem (Showtime's Nurse Jackie)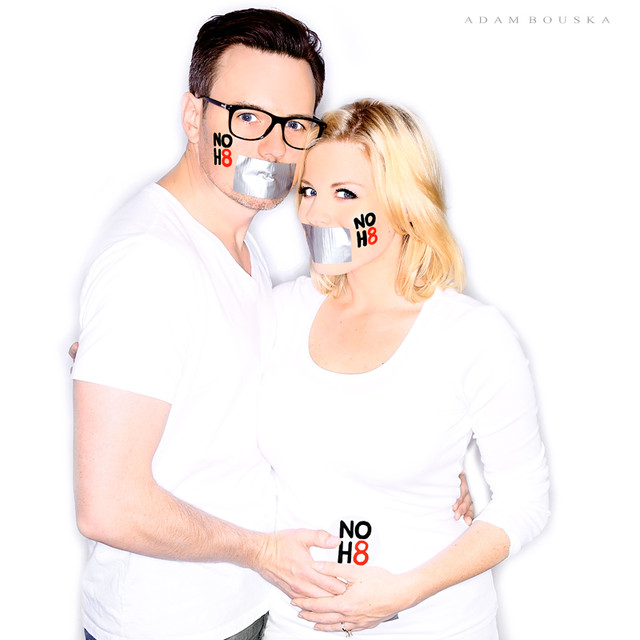 Smash star Megan Hilty (Wicked's 'Glinda') and husband Brian Gallagher (Jekyll and Hyde) pledge to teach NOH8 to the newest addition to their family.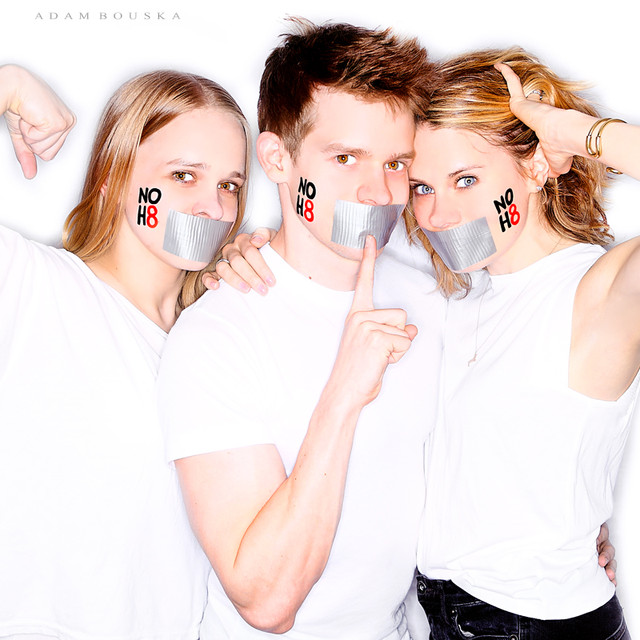 "The Keenan-Bolger siblings come from a long line of advocates for social justice. We are so lucky to have been born into a family that gave us the tools to help affect change in areas/issues that are important to us. We feel incredibly grateful to be included in the the NOH8 Campaign this year." - Broadway family Maggie Keenan-Bolger (The Wizard of Oz, The Music Man), Andrew Keenan-Bolger (Seussical, Beauty and the Beast, Newsies, HBO's Looking) and Celia Keenan-Bolger (Tony-nominated for The Glass Menagerie, Peter and the Starcatcher, 25th Annual Putnam County Spelling Bee - for which she won the Drama Desk Award).
Price Waldman (A Gentleman's Guide to Love and Murder) and Patti Murin (Xanadu)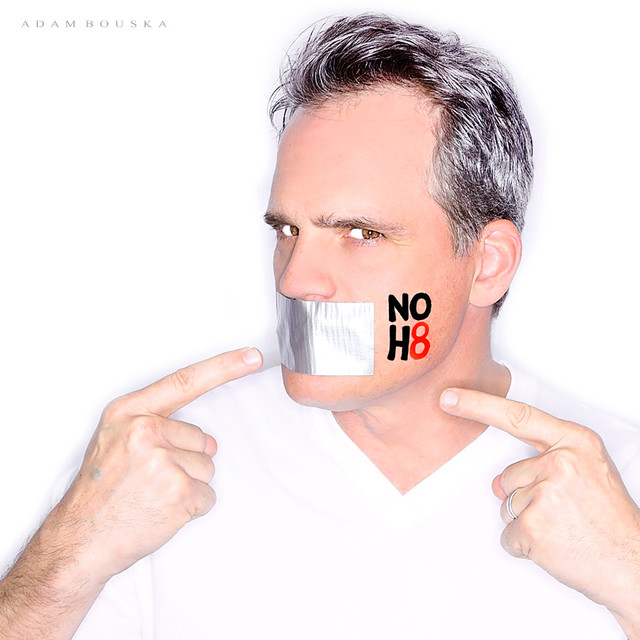 Daytime Emmy-winner Michael Park (As The World Turns, Smokey Joes Cafe, Little Me)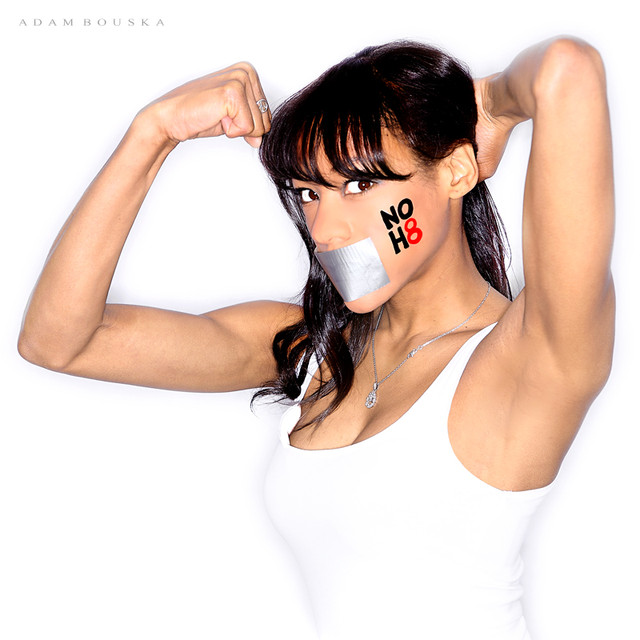 Tony Award-winner Nikki M. James (The Book of Mormon, Les Miserables)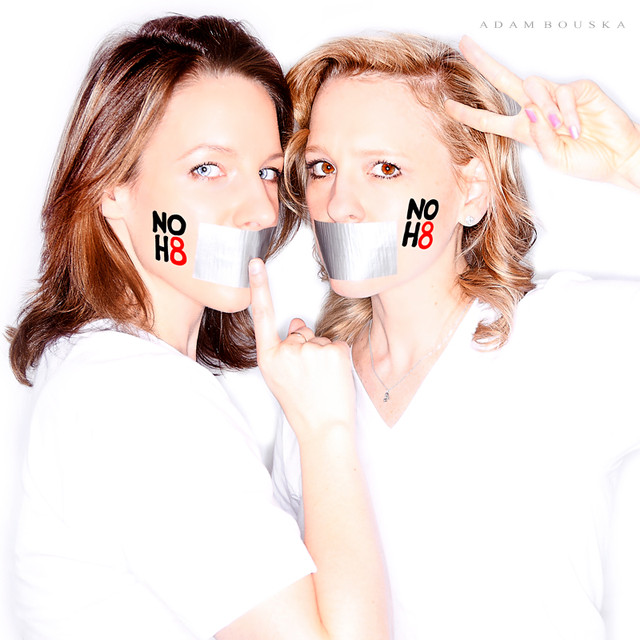 "We were thinking of quoting Miss King... 'You've got to get up every morning with a smile on your face and show the world all the love in your heart.'" - Beautiful's Tony Award-winner Jessie Mueller & Tony nominee Anika Larsen
Betsy Wolfe (Bullets Over Broadway, The Mystery of Edwin Drood, Everyday Rapture) and Nancy Opel (Broadway in Memphis, Hair, Fiddler on the Roof)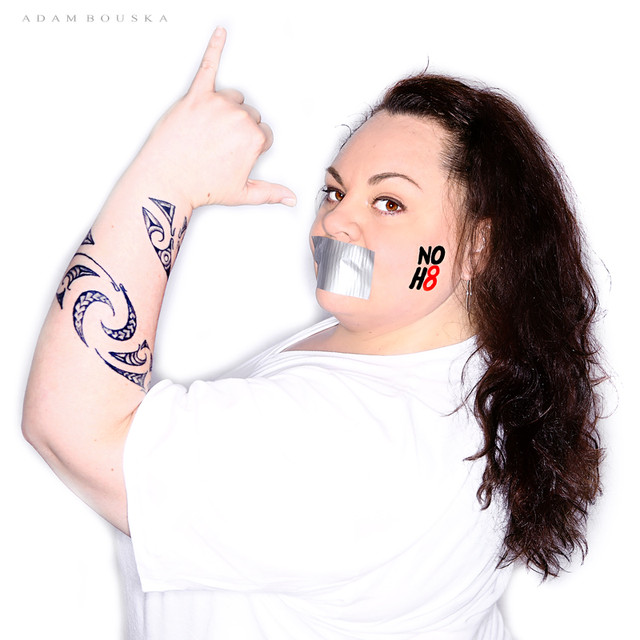 "Ever since the NOH8 Campaign's photo idea began, I have wanted to somehow be a part of it. It represents pure love to me. And, when all is said and done, pure love is really all that is required of each of us." - Tony nominee Keala Settle (Les Miserables, Hands on a Hardbody, Priscilla Queen of the Desert)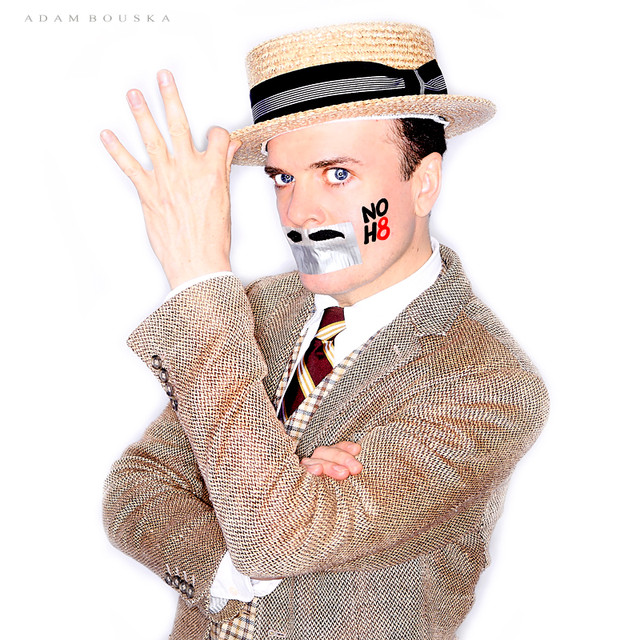 Tony Award and Drama Desk Award winner Jefferson Mays (A Gentleman's Guide to Love and Murder, I Am My Own Wife, Pygmalion)
Jane Carr (A Gentleman's Guide to Love and Murder, Mary Poppins, Nicholas Nickleby) and Nicholas Rodriguez (Tarzan)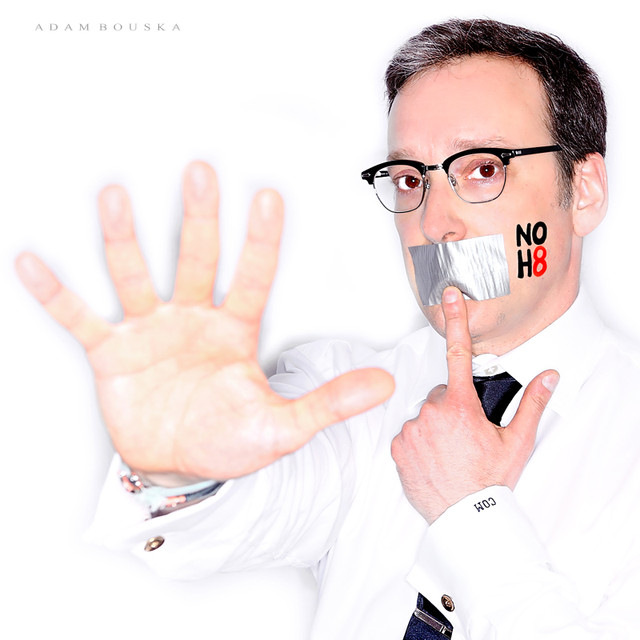 Tony nominee Jeremy Shamos (Clybourne Park, The Assembled Parties, Glengarry Glen Ross)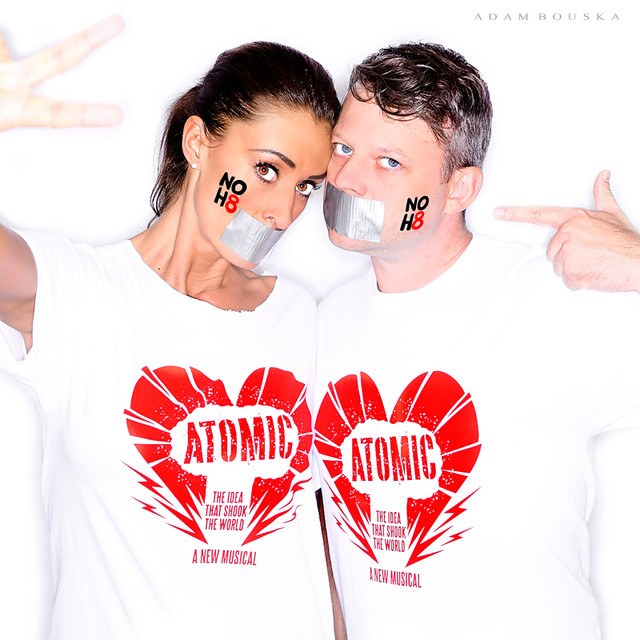 Atomic's Sara Gettlefinger (Nine, The Boys From Syracuse, 101 Dalmations) & Jeremy Kushnier (Footloose, Rent)
Chad Austin (former principal dancer for Metropolitan Opera's Corpes de Ballet) and Gregory Hildreth (Cinderella, Peter and the Starcatcher)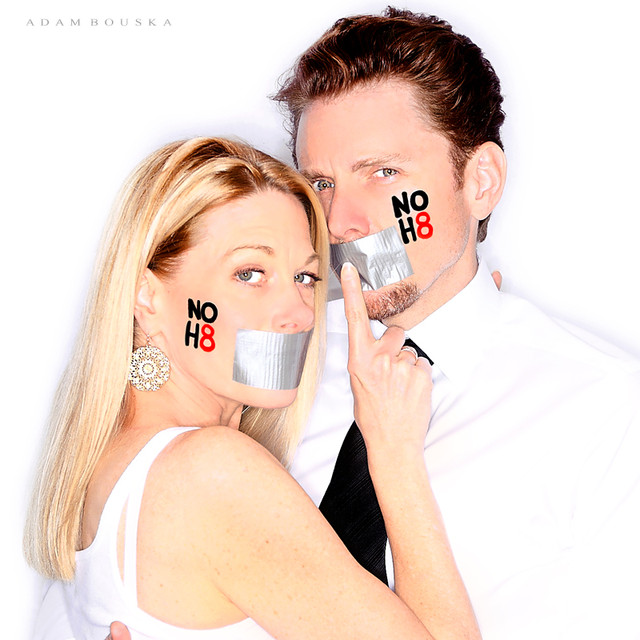 Tony nominee Marin Mazzie (Bullets Over Broadway, Passion, Ragtime, Kiss Me Kate) and husband Jason Danieley (Broadway in Candide, The Full Monty, Next to Normal): "We whole-heartedly support the right for marriage equality for all and are so proud of the Broadway community for continuing to 'sing out' against any dissenting opinions. If you agree with us don't let anyone tell you to 'Don't Speak!'. Warm up and sing loud and proud for your fellow (hu)man."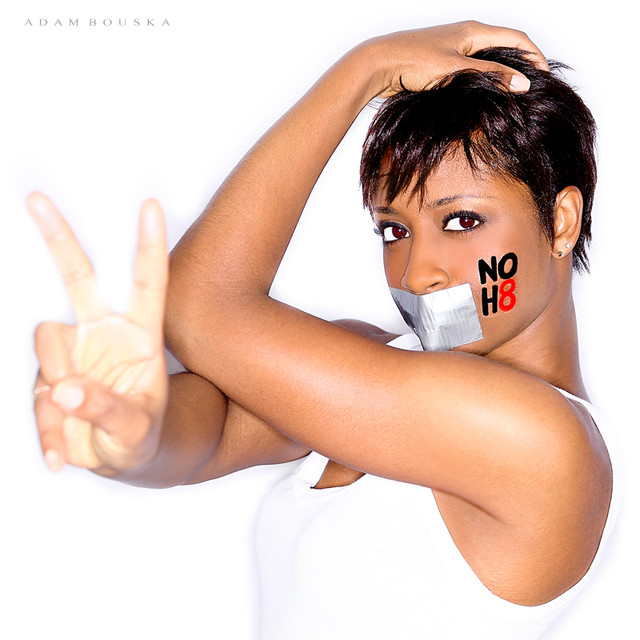 Tony nominee Montego Glover (Memphis, The Color Purple)
Interested in picking up a print of your favorite #NOH8onBroadway photos? Just pull up the photos via the bottom of our most recent familiar faces gallery and choose the print you'd like from the drop-down menu. All proceeds benefit the NOH8 Campaign, a 501(c)(3) non-profit organization.

---
---
Comments