NOH8 on BROADWAY
Friday, November 4th, 2011
---
Today marks the three year anniversary of the passage of Proposition 8, and we wanted to take this opportunity not only to remind people of the ongoing struggle for marriage equality, but of the hope for a better future if we all continue to work together. This special blog features portraits representing a state that has been able to achieve marriage equality this year - New York. And what better way to represent New York than Broadway? As we enter into the fourth year in which Prop 8 remains law in California, we must renew our ambitions to achieve equal rights on a federal level for all people and join the ranks of states like New York.
Actors and Performers from some of Broadway's biggest productions met up with Team NOH8 at the Minskoff Theatre in the heart of Times Square to join the fight for equal rights. The Broadway Community is famous for their benevolence and activism, boasting several of their own charity organizations designed to help raise funds and awareness for a number of causes. Some of these organizations include Broadway Cares / Equity Fights AIDS and Broadway Impact.
Whether on-stage or backstage, the Broadway Community continues to use its talents for the greater good, and we're excited to share some examples of that incredible work with all of you today. These pictures were taken right before marriage equality became a reality in New York, and they remain a testament to the dedication for the cause.

Broadway Legend Joel Grey won a Tony Award, an Academy Award, and a Golden Globe Award for his role as the Master of Ceremonies in CABARET, and more recently originated the role of the Wizard in the musical WICKED. Mr. Grey stopped by for a photo along with Ann Harada, best known for her role as Christmas Eve in the original cast of Tony-Award-winning musical AVENUE Q.
"I'm so excited to be photographed as part of the NOH8 Campaign! Who wouldn't want to be part of something that stands for liberty and justice for all?" - Ann Harada

Richard Kline, most remembered for his role as Larry on THREE'S COMPANY, made time to show his support with his wife. 2009's THE STORY OF MY LIFE Writers Desk Nominees Neil Bartram (Composer & Lyricist) & Brian Hill (Book Writer) came through too, using special symbolic props they'd created themselves just for the photo shoot.
Perhaps the most impressive aspect of the photo shoot was just how many representatives from each show took the time to stop by for the photo shoot; especially considering many of them had performances that very evening!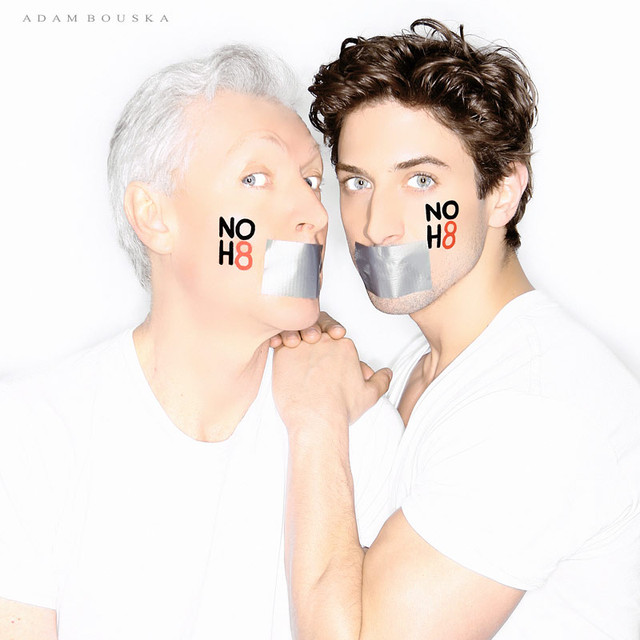 PRISCILLA: QUEEN OF THE DESERT Leads Tony Sheldon (2011 Tony Award Nominee for Leading Actor in a Musical) and Nick Adams (Winner of two 2011 Broadway.com Audience Choice Awards) were just two of the actors with shows that evening, channeling their diva characters for a photo together.
Nick Adams, who currently stars as "Felicia" in Priscilla, originally posed for the NOH8 Campaign during our very first open photo shoot in New York City at the Empire Hotel on February 1st, 2010. In one of our creative photos, Nick was captured mid-air to symbolize an abstract version of the '8' in H8. During our recent Broadway photo shoot, Nick also posed with Priscilla Ensemble Member Kyle Brown (seen above).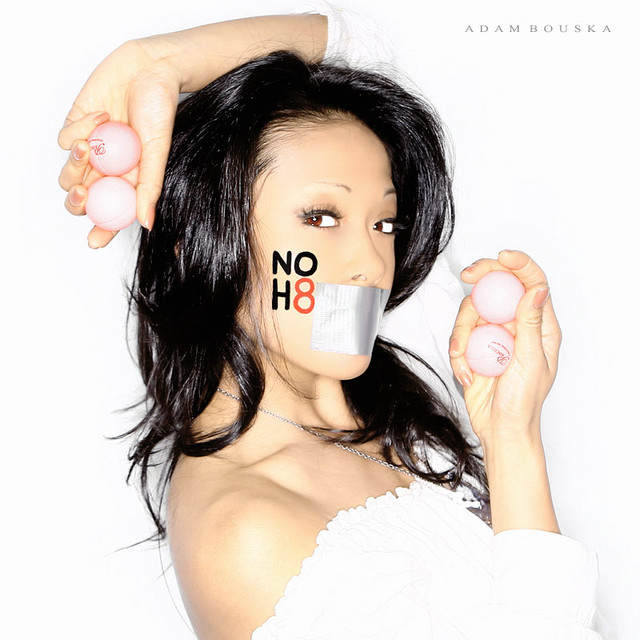 J. Elaine Marcos ("Cynthia") poses with her character's signature ping-pong balls. She was joined by PRISCILLA Ensemble Members Amaker Smith and Kyle Brown (top) and Jeffrey Metzler and Gavin Lodge (bottom).
Broadway's ROCK OF AGES Cast assembled as well, with ten of their cast members attending the photo shoot; the best showing of all the Broadway casts that participated!
Rocker MiG Ayesa (Stacee Jaxx) brought along his own camera to document the experience, capturing his fellow cast members posing in front of photographer Adam Bouska's lens while Times Square buzzed in the background.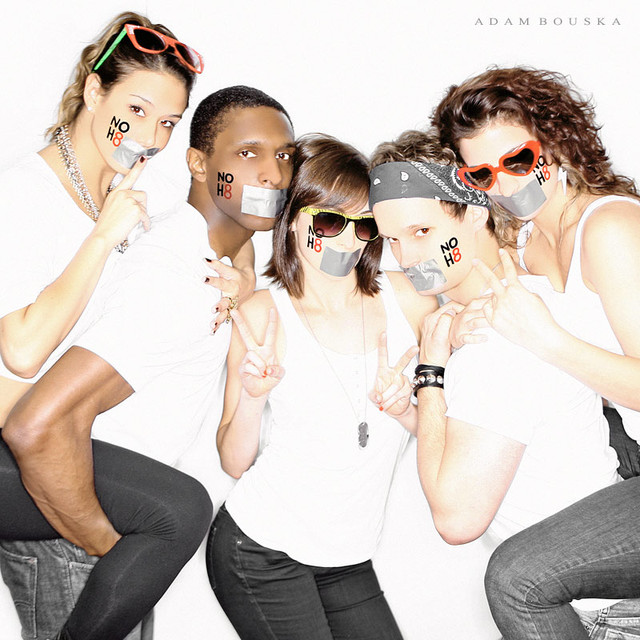 ROCK OF AGES Cast Members (L to R): Tessa Alves, Andre Ward, Ericka Hunter, Jeremy Woodard, and Emily Williams
Check out MiG Ayesa's video below, which also features some of the photos you'll find in this very post!
Josephine Rose Roberts & Cody Scott Lancaster and Rebecca Faulkenberry & Dan Domenech
Cody Scott Lancaster and Rebecca Faulkenberry
MiG Ayesa and Mitchell Jarvis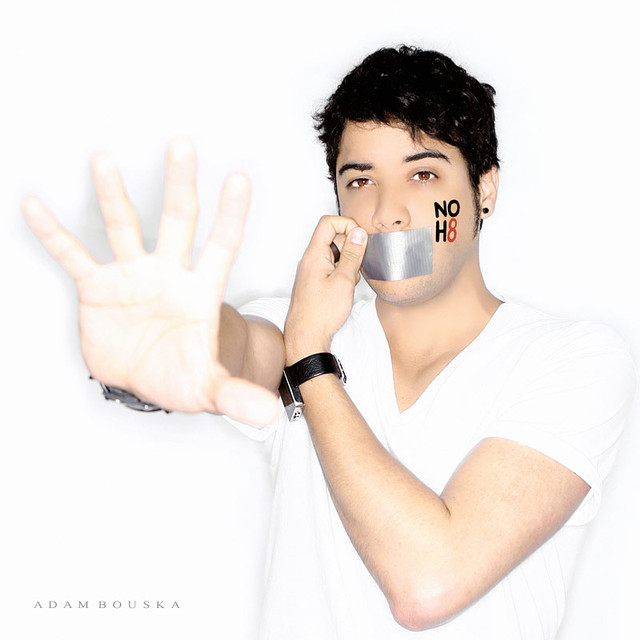 "Each photo for the NOH8 Campaign is a small piece of a very large puzzle.
The thousands of photos taken have not only shown the big picture but created a platform for people young and old to show their support to further the fight for human equality.
I'm proud to have my piece fit in with the rest of you all.
I moved to New York to star in Rock of Ages - just in time to witness a huge step in the ongoing fight for equality.
History is being made with every step.
Show your support!  #NOH8Worldwide!"
-Dan Domenech; "Drew"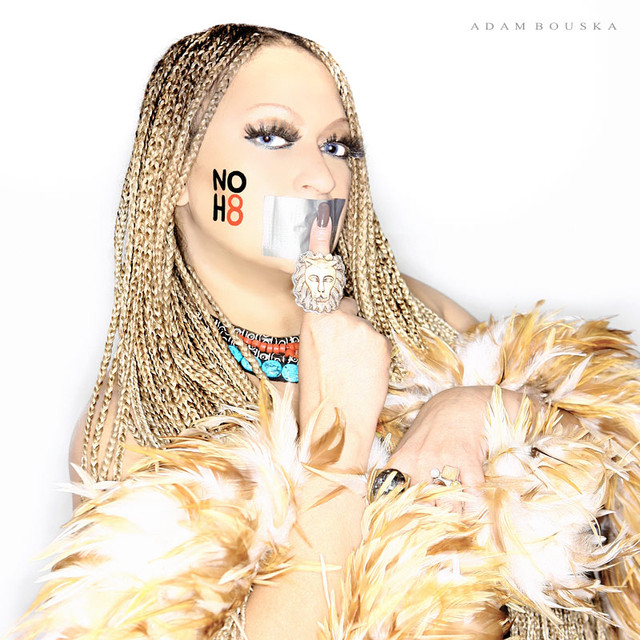 "In 2008 I was working in Ireland - 2 of my best girlfriends got married to each other in San Francisco. I was sad I couldn't attend, but thrilled they could be a real, legal couple!!
Later that year I heard about the vote... I was horrified. How could this have happened??? And in California??
Were my friends still married or not?? It was so unfair...
I've seen the NOH8 Campaign, and was so happy something was being done! When I was asked to participate, I was honored and fired up to add my voice or rather image.
I know we can make a change...  I just know it."
-Michele Mais; "Justice"

Broadway's brand new Tony-nominated musical SISTER ACT wasn't left out either! Caeser Samayoa, Demond Green, and John Treacy Egan teamed up for their shot, while lead Marla Mindelle posed with a miniature sister of her own.
Paul McGill (of MEMPHIS, another Tony Award-winning musical) and Patrick Ortiz (WEST SIDE STORY) each came to represent their productions on their own, posing together for a special photo. Some of you might recognize Paul from his role in 2009's FAME remake.

THE LION KING was our second largest cast showing, whose show currently plays at the Minskoff Theatre in Times Square; the same theatre that so graciously offered us their space for our photo shoot! Many of the cast members had their own ideas on how to bring elements of their show into the photos. A special shout-out goes to Thom Christopher Warren, who helped us coordinate this entire photo shoot.

Gareth Saxe & Dennis Johnston
Kevin Boseman, Cameron Pow, & Ray Mercer
Thom Christopher Warren and Anne Tiger-Days & Garland Days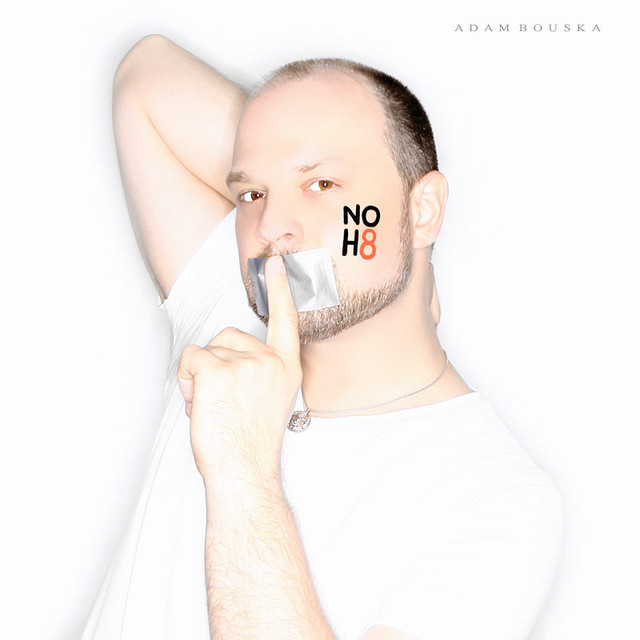 Carl Andress of DIVINE SISTER came by to pose (above) for a photo, and so did performers Anne Fraser Thomas and Raymond J. Lee, who joined Ann Harada for a quick photo together (below).
Last, but certainly not least, we had some amazing Broadway Community volunteers helping us out - many of whom volunteer with some of the other Broadway charity organizations we mentioned earlier. We had some great help from our always dependable NOH8 volunteers, but we wanted to take a moment to thank our Broadway volunteers by sharing their images from the day with you below.
"My experience with the NOH8 crew was so great! It never ceases to amaze me how our community really bands together and does truly amazing work.  Broadway has been so passionate about equal rights not only because it affects so many of our own, but because Broadway is all about being different.
Broadway is the ultimate risk taker and the actors, composers, directors, designers, librettists, stage managers, and the house and company crews are the vehicles that allow risks to be taken and changes to be made.
People all over the country have been taking risks for equal rights and it is only now that we are seeing the changes we have embodied manifest at the state level.
That we, as members of the Broadway and New York Theatre Community, can say we had something to do with this change, makes me proud to be a part of this wonderful family!" - Steven Ferezy (Volunteer)
THANK YOU, BROADWAY, FOR AN INCREDIBLE AFTERNOON OF EQUALITY!
---
---
Comments