17 Biggest NOH8 Moments of 2013
Tuesday, December 31st, 2013
---
As the marriage equality movement continues its momentum into 2014, we here at the NOH8 Campaign wanted to take the opportunity to look back at the biggest NOH8 moments of 2013 - a truly amazing year for equality!
In no particular order, here are the 2013 NOH8 Photo Highlights -- and yes, these photos were all taken in 2013!
1. #NOH8onTheHill yielded its highest turn-out to date, with 67 Members of Congress. Among the NOH8 firsts from that session: the first Senators (Senator Heinrich and Senator Blumenthal), the first Republican (FL Rep. Ileana Ros-Lehtinen), Democratic Whip Steny Hoyer, and the first openly bisexual person elected to Congress (AZ Rep. Kyrsten Sinema). See the full roster by clicking here.
Sen. Martin Heinrich (NM) and Sen. Richard Blumenthal (CT)
Rep. Ileana Ros-Lehtinen (FL), Democratic Whip Steny Hoyer, and Rep. Kyrsten Sinema (AZ)
2. #NOH8inMySt8: Openly gay Mayor Annise Parker of Houston and her staff posed in 2013. Mayor Parker was recently re-elected and called for an LGBT non-discrimination ordinance in her inaugural address.
3. ATHLETE ALLIES: Whether they came out in support of the LGBT community or simply came out, an astounding amount of athletes put their advocacy on display in 2013.
Professional footballer Robbie Rogers came out, becoming the first openly gay athlete to join the MLS after he signed with the LA Galaxy. Tennis legend Martina Navratilova joined NOH8 as well, helping advocate for #NOH8Worldwide in the Czech Republic.
3-Time Pro Bowler and Super Bowl Champion Brendon Ayanbadejo made his official NOH8 photo a family affair, while Texas Rangers pitcher Robbie Ross posed with his wife Brittany.
BMX Pro and MTV's The Challenge host T.J. Lavin put a classy spin on his photo, while pro track athlete and 2012 Olympian Nick Symmonds made international headlines when he dedicated his silver medal from the 2013 World Championships in Moscow to his gay and lesbian friends.
4. TO RUSSIA, WITH LOVE: After Russia passed anti-gay lesiglation criminalizing 'gay propaganda' and banning pride parades for 100 years, the international community came together to stand in solidarity with Russia's LGBT community. Here, Team Russia poses together in support of their LGBT comrades at the World OUT Games in Antwerp, Belgium.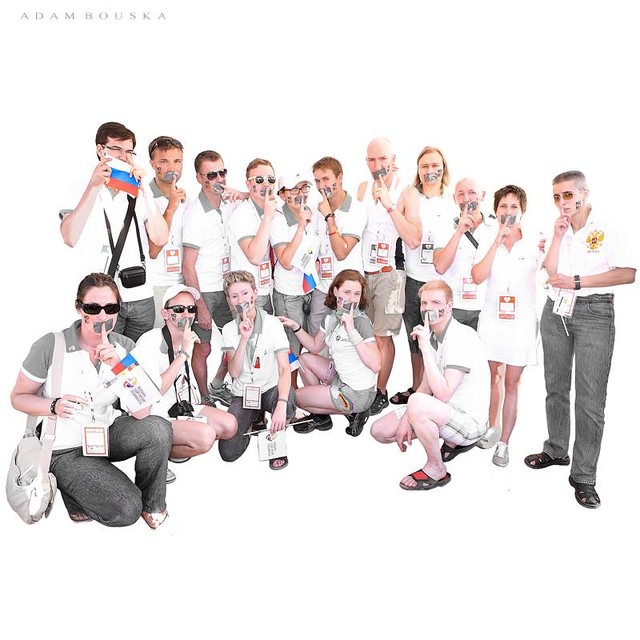 5. SCOUTS FOR EQUALITY: The continued discrimination against gay scouts and scout leaders came to a head in 2013, prompting the BSA to re-assess their policy. While openly gay youth are now accepted into the Boy Scouts as a result, the ban on gay scout leaders (like Jennifer Tyrrell, pictured) remains.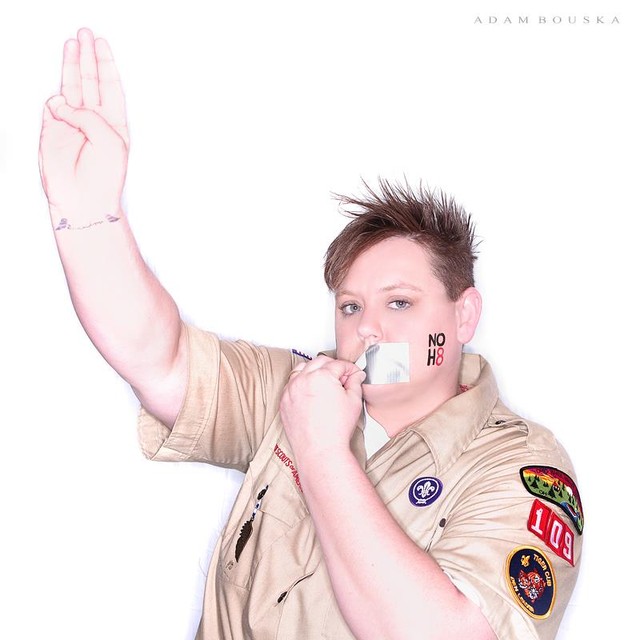 6. STRAIGHT BUT NOT NARROW: NOH8 teamed up with SBNN and celebrity advocates Avan Jogia and Josh Hutcherson to spread and reinforce the message that anyone can support equal rights -- not just LGBT. Learn more about SBNN's mission by clicking here!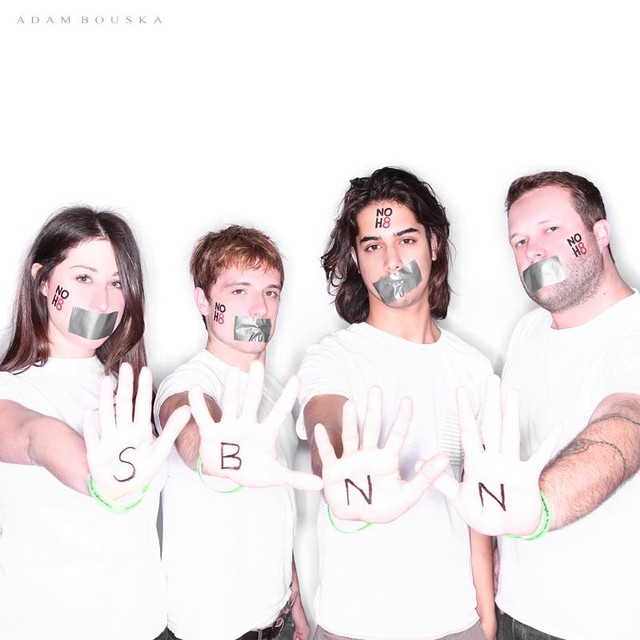 Co-Founder Heather Weiss, advocate Josh Hutcherson, Founder Avan Jogia, & Co-Founder Andre Pochon.
7. MAKING A BIG STATEMENT: The largest official NOH8 photo ever was taken on April 28th, 2013 at Mack Sennett Studios in Los Angeles with nearly 170 participants.

8. THE LAND OF THE FREE: Mount Rushmore stands as a monument to the founding, expansion, preservation, and unification of the United States. That's why we chose this NOH8 mock-up of our founding fathers to celebrate the Supreme Court's historical ruling against DOMA (Defense of Marriage Act) in 2013.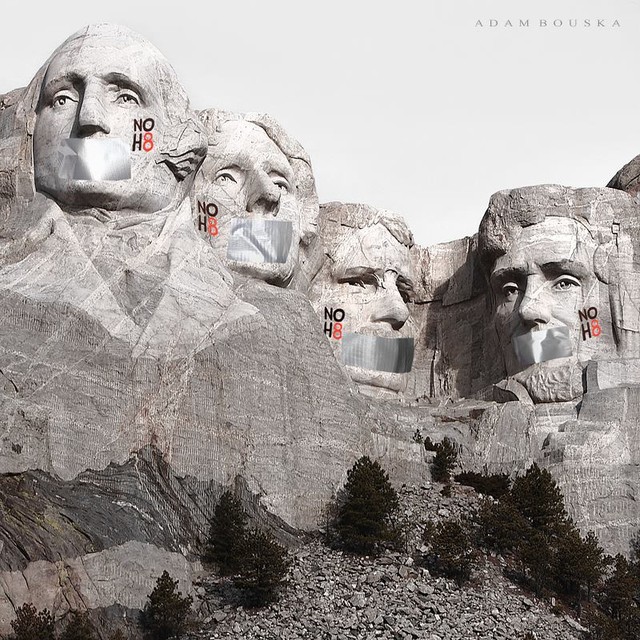 9. PROP 8 IS DEFEATED: Nearly five years since it first passed, Prop 8 was finally defeated on June 26, 2013. NOH8 Co-Founders Adam Bouska & Jeff Parshley created this special image in response.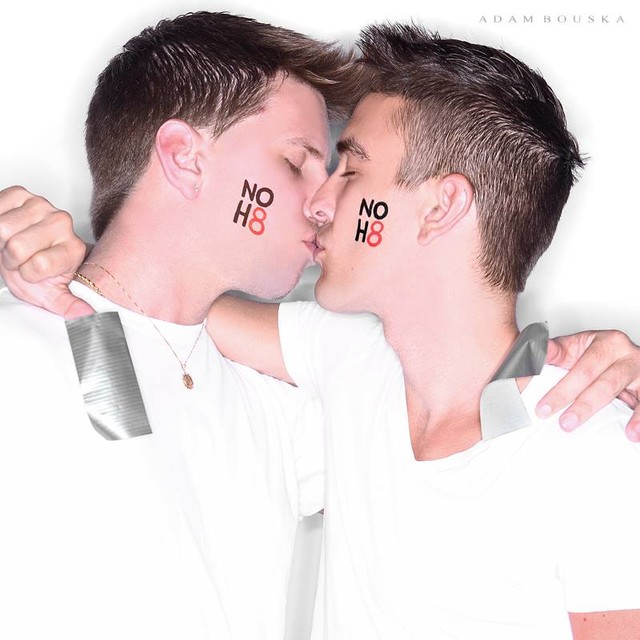 10. MOTHERLY LOVE: Huffington Post Gay Voices blogger Amelia is well-known across the blogosphere for the viral success of her articles, but up until 2013 she was anonymous. Amelia revealed herself for the first time in April 2013 by posing for this NOH8 photo.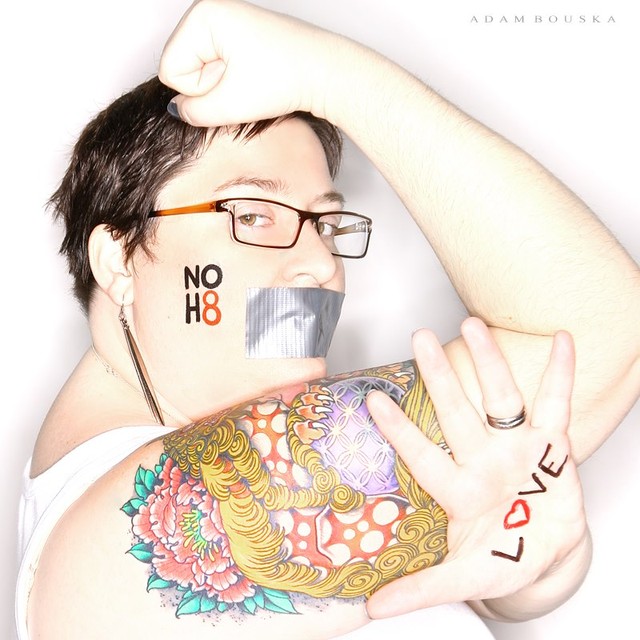 11. BRIDEGROOM: What began as a heartbreaking viral video tribute to his late partner, Shane Bitney Crone's story of love and loss became a poignant documentary underscoring the immediacy of equal rights. Learn more about Bridegroom and where you can watch it by clicking here.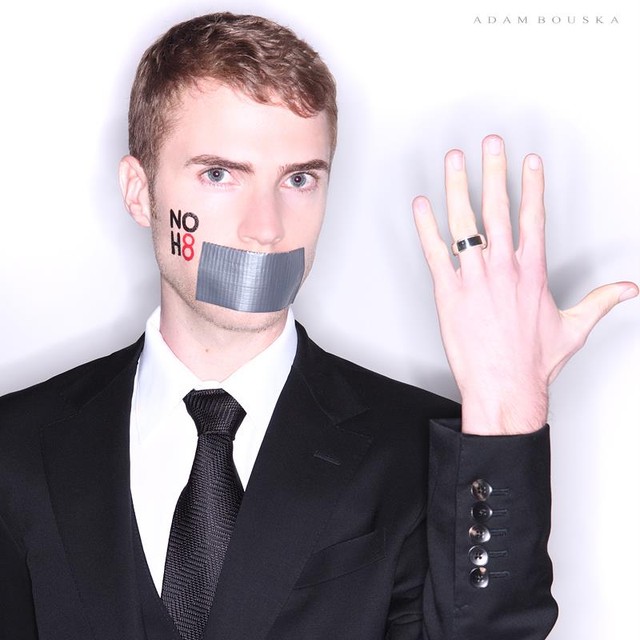 12. A QUEEN'S COURAGE: Sixteen-year-old transgender NOH8 volunteer Cassidy Lynn Campbell was crowned Homecoming Queen of her high school in Huntington Beach, CA.
13. DAYS FOR EQUALITY: The cast of Days of Our Lives assembled for this unique NOH8 photo, pledging their support of equal rights.
Front Row: Greg Vaughan, Freddie Smith, and Nathan Owens. Middle Row: Billy Hayes, Lauren Koslow, Aaron & Griffin Kunitz, Eileen Davidson, and Galen Gering. Back Row: Suzanne Rogers, Blake Berris, Kristian Alfonso, Deidre Hall, Joseph Mascolo, and Kate Mansi.
14. BREAKING THE FAITH: Former Westboro Baptist Church member Lauren Drain posed for NOH8 in 2013, admitting the acts she participated in as part of the WBC were wrong. Read her open letter here.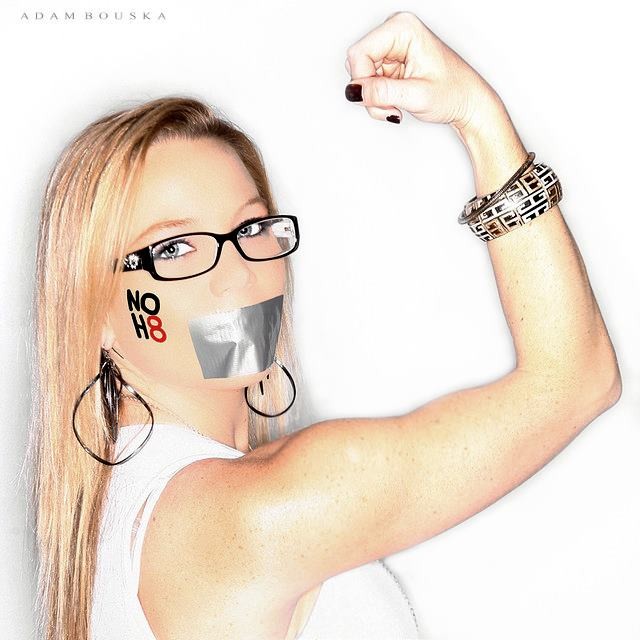 15. FAMILIAR FACES FOR NOH8: While everyday supporters make up the majority of the NOH8 Campaign, familiar faces play an important role in helping to spread the message of NOH8 on a global scale. Here are just a few of the NOH8 photos with the most viral success in 2013!
Twin rock duo Tegan & Sara and engaged couple Nikki Sixx & Courtney Bingham show their love for NOH8.
Legend of stage and screen Liza Minnelli.
Comedian Nick Swardson and actor John Barrowman get cheeky for NOH8.
Actress Jodi Lyn O'Keefe and host Nev Schulman (MTV's Catfish).
Fashion stylist, designer, & editor Rachel Zoe and daytime legend Sally Jessy Raphael.
Breaking Bad's RJ Mitte and Krysten Ritter.
16. JERSEY SHORE GROWS UP: The MTV alumni came out in full force in 2013, donning the iconic duct tape to take a stand for their LGBT peers.
Nicole 'Snooki' Polizzi and Jenni 'JWOWW' Farley
Vinny Guadagnino and Ronnie Magro & Sammi 'Sweetheart' Giancola
17. #NOH8Worldwide: The global reach of the NOH8 message reached new heights in 2013 as we hosted official NOH8 photo shoots in seven brand new countries including Belgium, the Czech Republic, Denmark, Ireland, Israel, the Netherlands, and South Africa.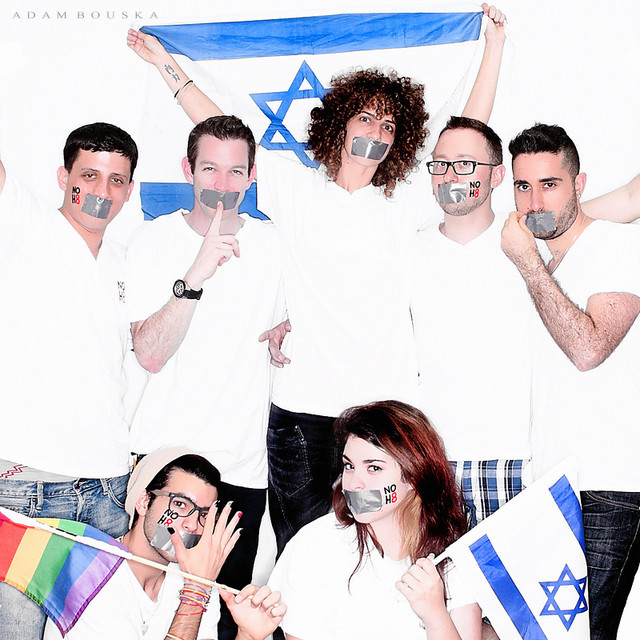 With Australia already slated for February and many more tour dates to come, we look forward to a promising 2014 ahead! Find out where we're going by tracking us on our event page here.
Remember: Make a statement. Start dialogue. BE HEARD!
---
---
Comments