Equality Night with the LA Clippers
Wednesday, March 30th, 2011
---
Equality Night at the Staples Center, hosted by the LA Clippers and presented by our friends at OutSports and EQCA (Equality California), was the very first LGBT night hosted by any NBA team in history. The NOH8 Campaign was fortunate enough to be a part of the event, where we photographed the first 50 attendees who arrived at the pre-game cocktail reception space we had set up on the Staples Center's Outdoor Terrace - set against the beautiful backdrop of downtown LA at night.
There was definitely a sense of surrealism as we applied NOH8 tattoos among thousands of sports fans in such a huge venue. A sports arena is a completely new stage for the NOH8 Campaign, and we are so thankful to Outsports and Equality California for putting this event together and inviting us to be a part of it. Professional sports aren't exactly known for being the most gay-friendly, so being the team to host basketball's first equality night really says a lot about the integrity of the Clippers' organization.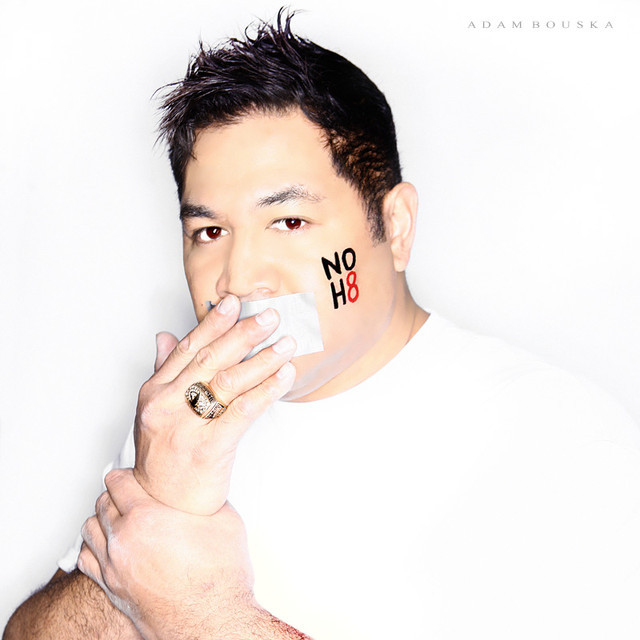 To further show support for the theme of the night, Equality Night's National Anthem for the game was sung by Esera Tuaolo, an out former NFL player. To our surprise, Esera proudly sported the NOH8 logo on his cheek from the shoot he'd been a part of just moments earlier. Seeing our simple message of love and acceptance broadcasted over the Jumbotron to all of the Clippers fans was incredible!
Since the size of the shoot was limited and we loved each and every photo from Equality Night, we thought we'd share all of them in this blog!
Thanks again to our friends at Outsports and EQCA for everything they do in the pursuit of equal rights and visibility for the cause. We hope it's the first of MANY Equality Nights across the sports world!
For a complete listing of our upcoming events and open photo shoots, please visit our EVENTS page by clicking here.
---
---
Comments