TONIGHT: NOH8 Campaign 4th Anniversary Celebration!
Dear NOH8 Supporters,
Tonight is the night! Join us at the AVALON HOLLYWOOD for the NOH8 Campaign 4th Anniversary Celebration presented by WEN Hair and Body Care by Chaz Dean!
This free, all-ages event will feature appearances by special celebrity guests and live performances from LeAnn Rimes, Jamar Rogers, Kerli, tyDi, and Skylar Grey! Come mingle with other supporters from all walks of life and be sure to check out our special NOH8 Print Gallery to see some of the best NOH8 photos of 2012 and how much the NOH8 Campaign has grown this past year. There's something for everybody!
All you have to do is show up - this is a FREE event! There is no cover charge and you don't need a ticket. This event is open to ALL AGES! Invite your friends and family to come out tonight to celebrate NOH8 -- and if you Tweet about the event, make sure to use #NOH8Day! Doors Open at 8pm. Click here for more details.
---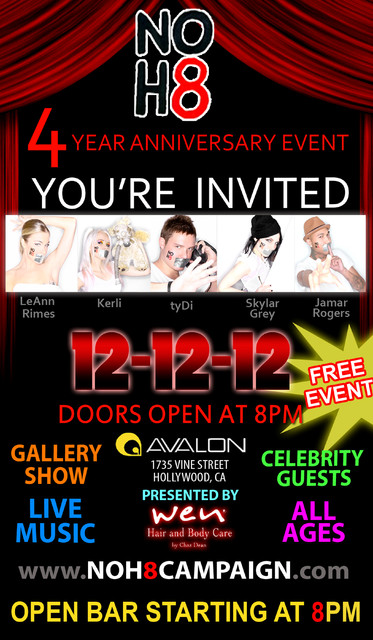 AVALON HOLLYWOOD
1735 Vine Street
Los Angeles CA 90028
---
Can't make it to the event tonight? You can still prepare for tomorrow's National #NOH8Day by changing your profile picture to your NOH8 photo! Help us get #NOH8Day trending so we can show the world how many NOH8 supporters there really are!
We hope to see you there!
12/12/2012 09:21 by NOH8Campaign [last update 12/12/2012 10:11]