Free NOH8 dog tag! Announcing upcoming photo shoot dates!
Start 2020 off in style with NOH8!
This weekend when you purchase a NOH8 shirt, tank top, or sweatshirt we will include a FREE NOH8 dog tag with your order! Just shop any time between Friday (1/17) and Sunday (1/19)!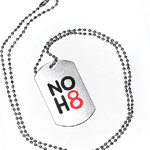 All funds raised through the online store benefit the NOH8 Campaign, a 501(c)(3) educational non-profit.
Announcing our currently scheduled NOH8 Campaign Photo Shoots!
We have lots of NOH8 Photo Shoots coming up in the next few months! Don't worry if you don't see a city near you, we are always working on scheduling new locations throughout the year, so keep an eye out!
Tucson, AZ - January 25th, 2020
Scottsdale, AZ - January 26th, 2020
Boston, MA - February 8th, 2020
Providence, RI - February 9th, 2020
Richmond, VA - February 15th, 2020
Ashbury Park, NJ - February 16th, 2020
Portland, OR - March 1st, 2020
Bellevue, WA - March 1st, 2020
St. Louis, MO - March 29th, 2020
Sioux Falls, SD - April 4th, 2020
We hope to see you at one of our upcoming events!
01/16/2020 21:17 by NOH8Campaign [last update 01/16/2020 22:48]