Wear Purple TODAY to Support #SpiritDay!
Wednesday, October 20th, 2010
---
On Wednesday, October 20th, 2010, we will wear purple in memory of the recent gay suicides. Many of them suffered from homophobic abuse in their schools or in their homes. We want to take a stand to say that we will not tolerate this. Purple represents Spirit on the LGBTQ flag and that's exactly what we'd like all of you to have with you: spirit. Please know that times will get better and that you will meet people who will love you and respect you for who you are, no matter your sexuality. Please wear purple on October 20th to remember all the lives of LGBTQ youth that have been lost due to homophobia. Tell your friends, family, co-workers, neighbors and schools. -- Canadian Teenager Brittany McMillan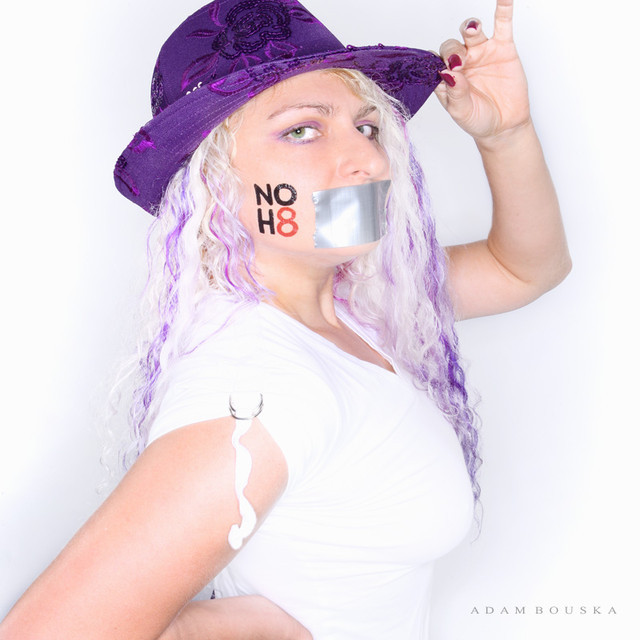 NOH8 Supporter Jenny Purple.

Join the NOH8 Campaign TODAY in wearing purple in support of SPIRIT DAY, an international day of support to end anti-LGBT bullying. In light of the epidemic of LGBT teen suicides that has sent shockwaves through the media, we can't emphasize how important showing your support through visibility can be.
By simply wearing purple, you're telling everyone who understands the significance that you support the cause. Whether it's a purple shirt, a purple bracelet, purple shoelaces, or anything in between -- your support is crucial to raising awareness and putting an end to the bullying that has led far too many LGBT teens to take their own lives.

NOH8 Co-Founder Adam Bouska's #SpiritDay Twibbon!
How can you show your support on the web?
We've created a custom purple NOH8 Twibbon in honor of #SpiritDay, which you can add to your Facebook or Twitter profiles by clicking here.
---
---
Comments