TONIGHT: A Night of NOH8 on OWN: The Oprah Winfrey Network
Sunday, October 27th, 2013
---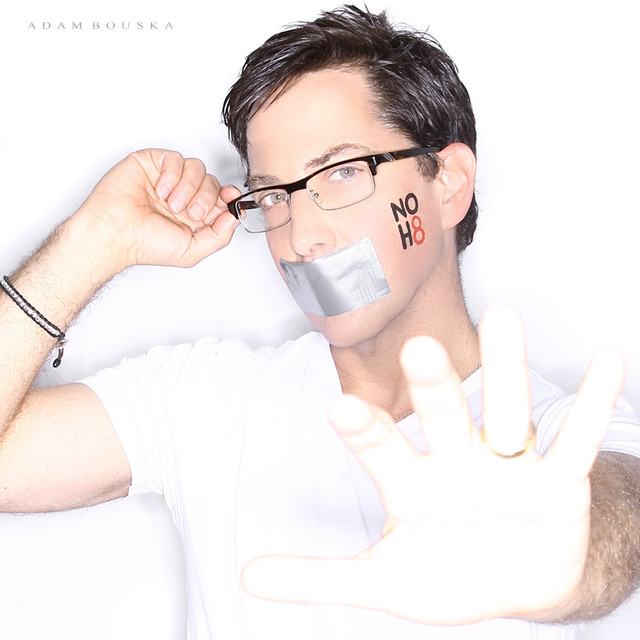 Tonight, OWN: The Oprah Winfrey Network is set to premiere a special and important night of programming focused on the conversation about what it means to be gay in America. The NOH8 Campaign is proud to work with OWN to spread the word about tonight's programming, which includes the personal stories of NOH8 supporters Dan Bucatinsky (Emmy Award-winning star of SCANDAL; pictured right) and Shane Bitney Crone (BRIDEGROOM). We invite you and your friends to tune in and show your support for what promises to be an educational and moving evening. Oprah.com has celebrated this unique event by showing their support for NOH8!
OWN's night of NOH8 kicks off at 9pm ET/PT with OPRAH'S NEXT CHAPTER: GAY IN HOLLYWOOD. In this special episode, Oprah hosts a panel discussion with openly gay actors Dan Bucatinsky (SCANDAL's James), Jesse Tyler Ferguson (MODERN FAMILY's Mitch), and Wanda Sykes about their experiences growing up and the impact being gay has had on their careers in Hollywood. The stars also discuss when they first realized they were gay, and what the process of coming out what like for them.
At 10pm ET/PT, stay tuned for the premiere of BRIDEGROOM, a poignant documentary following the emotional journey of Shane Bitney Crone and Tom Bridegroom - two young men in a loving and committed relationship. After Tom's tragic accidental death, Shane created a moving video tribute to his partner titled "It Could Happen To You." Shane's tribute went viral, prompting director Linda Bloodworth Thomason to create BRIDEGROOM - this incredible film which truly underscores the immediacy of equal rights.
Shane Bitney Crone poses in tribute to his partner Tom.
"This ("Bridegroom") is really -- on one level -- a wonderful, sad, heartbreaking yet exhilarating and life affirming story, and on another level it's a story about our nation's struggle to make one more step in forming a more perfect union, for which marriage is both the symbol and substance." -President Bill Clinton
In light of tonight's programming, Oprah.com has also created a special NOH8 photo blog highlighting the familiar faces of OWN who have participated in the NOH8 Campaign including OUR AMERICA host Lisa Ling, sister Laura Ling, and SUPER SOUL SUNDAY's Mastin Kipp. Oprah.com has also put together a list of 11 leading LGBT organizations - including NOH8! Check out the entire list by clicking here.
Lisa Ling
---
---
Comments