Rocker Tommy Joe Ratliff's NOH8 Auction
Tuesday, July 12th, 2011
---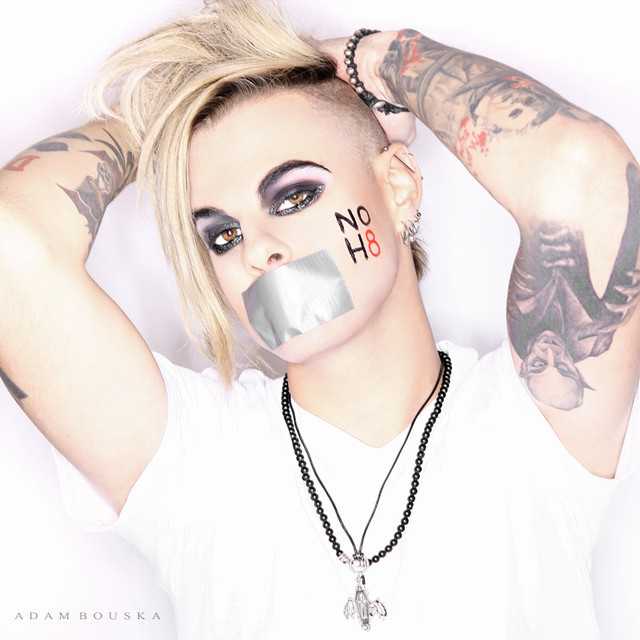 Rocker Tommy Joe Ratliff, best known for his most recent gig touring the globe as Adam Lambert's go-to bass player, may not be familiar to you; but so far, Tommy Joe holds the record for the most popular NOH8 photo of all time (according to our online store) - 100% of the proceeds going to the NOH8 Campaign.
Print orders for Tommy Joe's original NOH8 photo have far surpassed any other participant so far -- making his fans some of our most dedicated supporters to date! Hundreds of orders have been printed, cut, and packaged.

Tommy Joe stopped by our studio to film his portion of a PSA we're working on with Freedom to Marry (previously highlighted by our Larry King post here), and while he was here he took the opportunity to take a number of new options for his updated NOH8 photo - all of which have been included below!
Tommy Joe also filmed a short video introducing a special charity auction to be set up through eBay featuring an autographed 12x12 print of Tommy's NOH8 photo.
All proceeds from the auction will go to the NOH8 Campaign - so help get the word out about this special auction! Funds raised by the NOH8 Campaign will be used to continue promoting and raising awareness for marriage equality and anti-discrimination through NOH8's interactive media campaign.
CLICK HERE TO OPEN THE TOMMY JOE RATLIFF NOH8 AUCTION PAGE!
---
---
Comments