The Love of My Life, by Anthony Varrecchia
Saturday, January 29th, 2011
---
I NEEDED to be part of the NOH8 Campaign as it is VERY personal for me.
Staten Island is where I grew up. I was bullied, ridiculed, humiliated and pushed around throughout my school years. As I got older, it did get better. It wasn't until I was in my mid 30's that I finally accepted the proud gay man that I am. The whole world opened up..and so did I.
My photo arrived! I cried and got VERY emotional. You see, the photo I am holding in my hand is of my late husband who passed away in the summer of 2008. This photo represents love with his name in Hebrew over my heart. I wanted to make a statement while holding the photo of him. It was my way of including him in the NOH8 Campaign.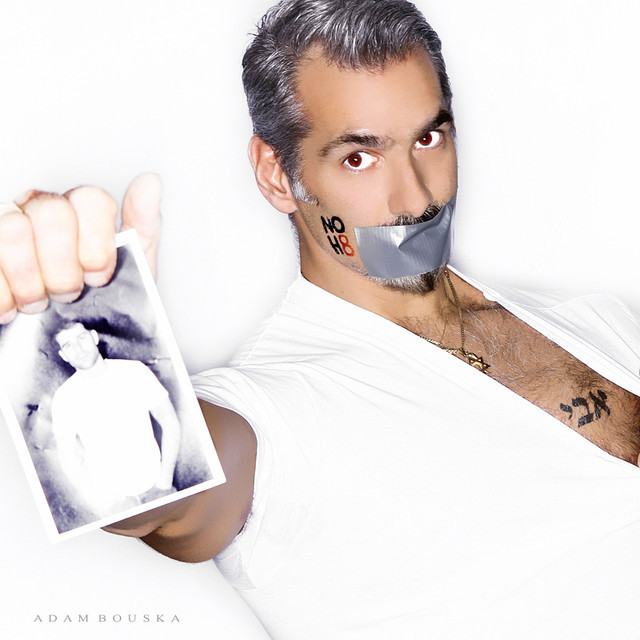 He and I met in 2000, a year later we registered domestic partners and exchanged rings on a plane ride to San Francisco. In the summer of '02 we went to Vermont for a civil union, a few weeks later we planned a wedding in New Paltz, NY and had a beautiful one requesting that all the guests wear white to the Pet Shop Boys song "Being Boring". In the winter of '07 we went to MA to get a married but at the time it was not legal. We were turned away and were devastated. Unfortunately, they never told us that at the time you needed to be a resident of the state. Laws have changed since. In the summer of '08 on July 5th (the anniversary of the Vermont civil union), we got married with the legal document of the law. We did it. We felt that we got married so many times. Our's was a journey of equality, passion and love.
My husband passed away a few weeks later in an accident.
He was not only my husband, he was my first boyfriend, first love, my teacher, my best friend, my soul mate.
All my best and thank you,
Anthony Varrecchia
W Hoboken Open Shoot

---
---
Comments