Suzanne Brockmann (NY Times bestselling Romance Novelist) for NOH8
Wednesday, September 25th, 2013
---
Over twenty years ago, back in 1992, I wrote my first contemporary romance novel. In it, I included a secondary character—Kurt, the town sheriff—who was openly gay. He was funny, he was smart, he was handsome and brave—and he lived in a small town in Western Massachusetts with his partner, Michael.
When I got a call from a publisher who wanted to buy my book, I was given revision notes. To my surprise and dismay, my new editor told me that I had to make the sheriff straight.
Desperate to get my foot in the door as a published romance novelist, I made the changes they requested. But I promised myself that—someday—after I was an established author, I'd be able to write books with a more diverse cast of characters—characters who more accurately reflected the America in which I lived.
And in 2000, I wrote a book called The Defiant Hero that included an out, gay, kickass FBI agent named Jules Cassidy—and the sky didn't fall. I brought Jules back, in book after book, as part of my popular Troubleshooters series about a team of Navy SEALs. In the course of this series, the tough-as-nails SEALs came to trust and respect Jules—as did my readers. In fact, Jules was so charming and funny and smart and heroic, that my more socially conservative readers fell in love with him, too.
And in 2002, when one of my books finally hit the coveted New York Times list and I officially became a best-selling romance author, Jules was there, too, as a major player.
In fact things went so well, that in 2005, I gave Jules his own steamy romantic story arc, in which he crashes into a young Hollywood actor named Robin—who turns out to be the man of Jules's dreams. That book, containing a romantic subplot between two gay men, was called Hot Target. Not only did it hit the Times list, but it won the Borders Group Award for Bestselling Hardcover Romance of the Year.
In 2006, I brought Jules and Robin back in my New York Times bestseller (are you sensing a pattern?!), Force of Nature, where the pair won their romance novel happily-ever-after ending.
During this time, I was living and writing in Massachusetts, and my husband and I were active and hard-working members of MassEquality, an LGBT-rights organization dedicated to bringing equal marriage to my home state. And in December 2006, we thought we'd done it. We'd won the fight.
But then, in January, we got a conference call from one of MassEquality's leaders, telling us that, like a hideous anti-gay zombie rising from the dead, we had one more battle to fight, to make sure those already-won marriage rights didn't get put to a ballot vote.
How could that be? I remember thinking. How could this happen? Massachusetts' LGBT citizens had won the right to marry the person they loved. Were we really going to give people the power to take away that civil right? Were we really going to put this to a vote?
(Sound familiar, CA residents?)
We were tired, we were angry, and we were going to have to get back on our feet and go another hard round in the ring. At this point, I'd had my fill of phone-banking and canvassing. And it suddenly occurred to me that, hey, I'm a writer. My strengths don't lie in making phone calls and knocking on doors.
What I do best is write fiction.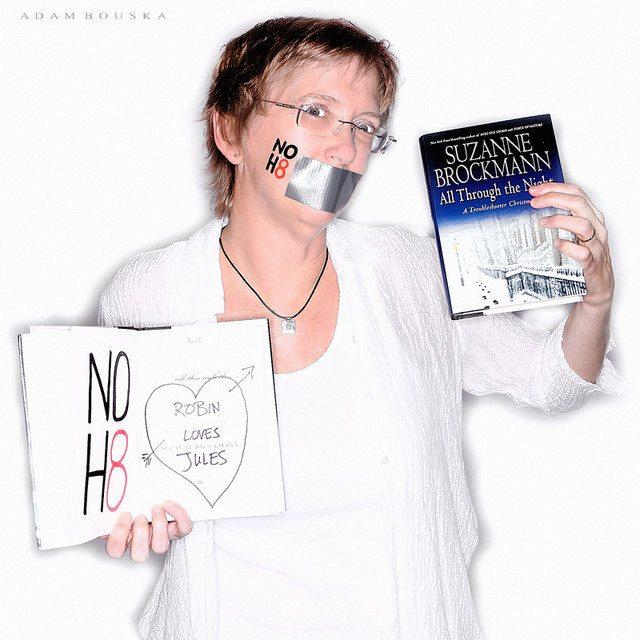 In a flash, I realized that I could write a book—a special book—featuring my beloved characters, Jules and Robin. I was constantly being pressured by my publisher to write a light-hearted holiday novel, set during Christmastime, and I realized that I could do just that. I'd write the story of Jules and Robin's December wedding, set right there in Boston.
And . . . I could give every penny that I personally earned for this book to MassEquality.
I pitched the concept to my publisher, emphasizing the need to negotiate the deal and get as much of the advance up front as possible. Happily, they loved the idea and acted fast—and it wasn't long before I delivered a six figure check to MassEquality's educational fund. That was energizing for nearly everyone.
And together, we did it.
The money I donated was used, in part, to create an educational packet that was delivered to the Massachusetts legislators. Through that educational effort—and through the efforts of all of the courageous LGBT people and families who met one-on-one with their representatives to tell their deeply personal stories—we won the hearts and minds of enough legislators to keep marriage rights off the ballot in Massachusetts.
When this book that I wrote, titled All Through the Night—after Cole Porter's poignant song—was finally published in October, 2007, it also hit the New York Times Hardcover Fiction list. And the fact that a mainstream romance novel celebrating the equal marriage of two gay men could be labeled a New York Times Bestseller was the cherry on top of our victory.
But just a year later, Prop 8 happened in California. And like so many people, I was devastated.
And when NOH8 was created, I wanted to be a part of it.
Because of my schedule, and because I'd moved down to Florida in early 2008 (to help turn it blue), it took me until this past May to connect with the brilliant Adam Bouska, and to get my official NOH8 portrait taken, complete with hardcover copies of All Through the Night..
This past summer, not long after I posed for that picture, equal marriage rights finally returned to California. This fight has been a long one, but because of the NOH8 community, we know we're not alone. And despite the duct tape over our mouths in our pictures, we have not been silenced.
I sure as hell haven't been!
Jules and Robin, happily and legally married in Massachusetts, have played large parts in many more of my books—all of them New York Times bestsellers.
-Suzanne Brockmann
Note: One hundred percent of my royalties from all formats of All Through the Night (including e-book, hardcover, paperback, audiobook and even those formats yet to be imagined), will continue to go to MassEquality, in perpetuity.
Find out more about FBI Agent Jules Cassidy at www.SuzanneBrockmann.com or on Facebook at www.facebook.com/SuzanneBrockmannBooks and follow me on Twitter @SuzBrockmann.
---
---
Comments