Silent No More! by Gary & Dan Ross
Thursday, July 5th, 2012
---
"Don't Ask, Don't Tell" silenced our voices and made our relationship invisible for nearly 12 years. We posed for the NOH8 Campaign because we understand the painful struggle to overcome hateful legislation like Prop 8. Countless people and organizations fought tirelessly for the repeal of "Don't Ask, Don't Tell" and we want to give back to our community by using our voices and visibility to continue the fight for full equality.
-Gary & Dan Ross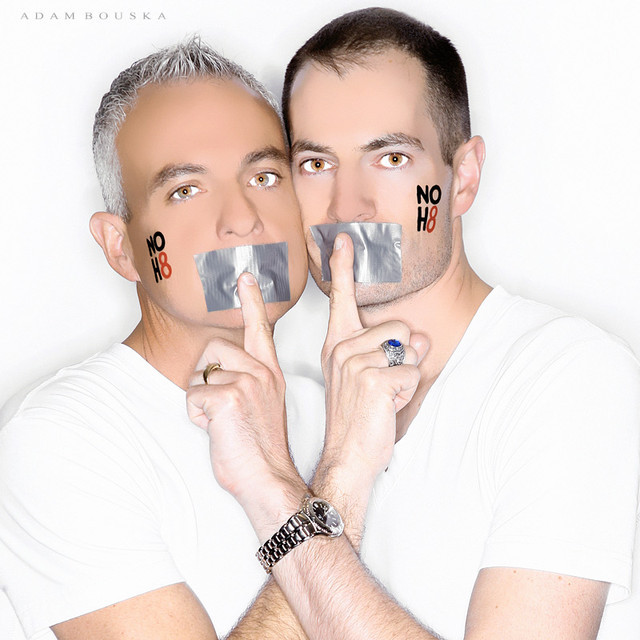 Navy Lieutenant Commander Gary Ross exchanged vows with his partner, Dan Swezy, at the Moose Meadow Lodge in Duxbury, Vermont the moment "Don't Ask, Don't Tell" was repealed. Ross and Swezy recited their vows at the stroke of midnight on September 20, 2011, making them the first same-sex military couple to legally marry in the United States.
The Rosses sued the U.S. Attorney General, the Secretary of Defense, and the Secretary of Veterans Affairs for equal recognition, benefits, and family support for equal sacrifice and service in the U.S. Armed Forces. After two years, they received a judgement in their favor which ordered retroactive benefits in their case.


LCDR Ross wrote about his experiences for "In the Shadow of Greatness." The book is a unique anthology of essays and stories, providing a portrait of the first class to graduate from the Naval Academy following 9-11, into a new generation's war.
The Rosses live in Vacaville, California where Gary is a manager at Genentech. He continues to serve as Commanding Officer of Naval Reserve Unit, Commander Fleet Activities Chinhae, Republic of Korea, Detachment 7. Dan is a Notary Public and certified Notary Signing Agent.
---
---
Comments