Proud, by Ryan W.
Friday, October 12th, 2012
---
The story of me going to the Anaheim event is one that I would like to share. Working for a world known company like Starbucks we are encouraged to give back to our local community, and we are open about supporting marriage equality. When I found out that there was a NOH8 event in SoCal I had to jump on the chance to rally up all of the other managers, and our partners to support this event.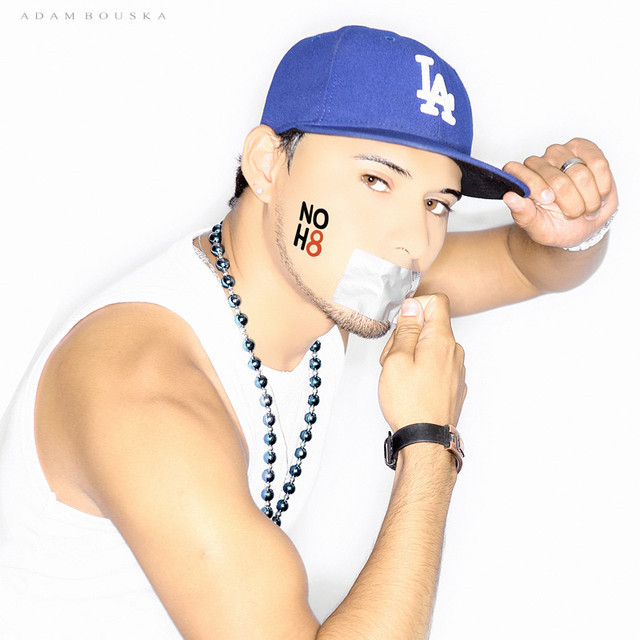 I received a warm welcome from my fellow Starbucks stores and we were eagerly awaiting the event. I then realized I would be in Mexico City during the time of the July shoot, visiting my old foreign exchange student family who I haven't seen in 8 years for a reunion in my honor because they wanted to meet my partner Louis, and would not return until 2 days after the event. I called my co workers to notify them of my date mix up, and I had to make a decision. I called American Airlines that day and changed our flights, we were coming home Early for the shoot, but they only had flights coming back on the same day as the shoot!
After having a blast in Mexico, I had to land at LAX airport, drive home to change with my partner, rally up my co workers and drive to Anaheim for the shoot all within 2 hours! I didn't even get a chance to do my hair, which is why I am in a cap in my photo.
I could have waited for the next shoot, but the NOH8 Campaign makes me feel something.. This organization makes me proud. Proud to be who I am, and with the person that I truly love. I got teary eyes as I saw all the children and partners together taking family shots. I want to be in their shoes one day, with my family and with my husband. I wanted those pictures to encourage my friends to get theirs done, to encourage other co workers who couldn't make it to get theirs done, and to help spread the awareness. I have twice had such a warm welcome by these photos already and my friends are already rallying up for the next shoot in the beginning of October.
Thank you NOH8 for standing up for what is right and doing it with such class and poise. You are a inspiration to me and my partner. Do I hear a engagement coming up???? :)
-Ryan W.
---
---
Comments