PROUD
Monday, July 5th, 2010
---
As we come to the completion of this holiday weekend celebrating our nation's freedom, we also find ourselves preparing to start another brand new month. Before we move onto July though, we wanted to spend some time reflecting on June - our National Pride Month.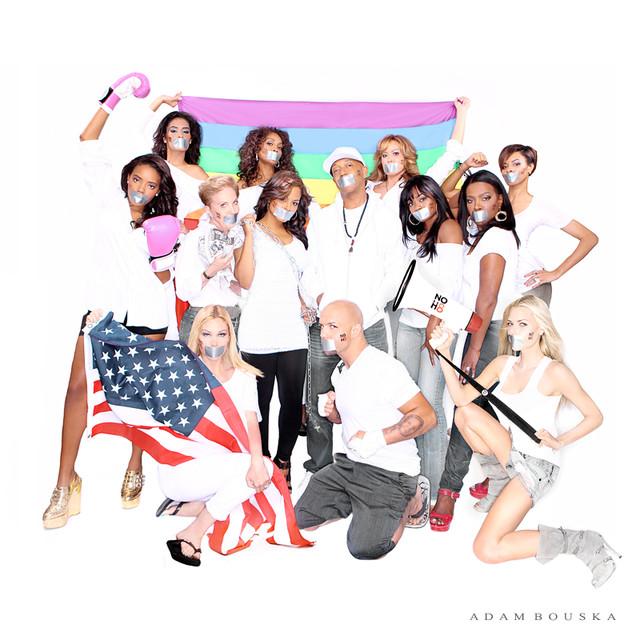 Row 1 (L to R): Jaslene Gonzalez, Vivica Fox, Mary Murphy, Vanessa Simmons; Row 2 (L t R): Angela Simmons, Dear Abby, Christina Milian, Russell Simmons, Tatyana Ali, Sheryl Lee Ralph; Row 3 (L t R): Shanna Moakler, Shad Smith, Sophie Monk.
CLICK HERE to find this Print on the Site.
The NOH8 Team was honored to be a part of so many amazing opportunities over the course of the past month, and we wanted to take a moment to recognize all of the amazing communities we had a chance to work with and share them with our followers.

To kick June off, our friends at the Hollywood United Methodist Church unveiled an amazing banner we were fortunate enough to collaborate on with them. When the church invited the NOH8 Campaign to come and shoot in their space earlier this spring, we took time to photograph several members from their congregation for a unique group shot. The shot used for the banner features Hollywood United Methodist Church's very own diverse population communicating the most important message they wanted to convey, proving that there are religious institutions out there where all are truly welcome.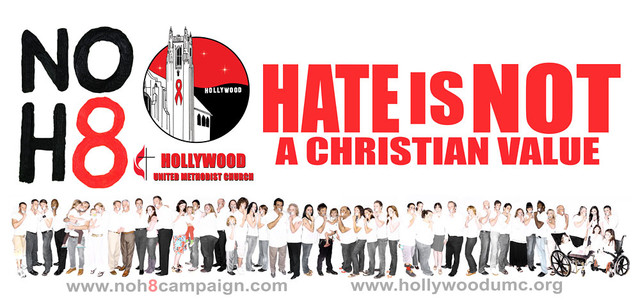 The unveiling of the banner was just the beginning. Team NOH8 spent the first two weeks of June rushing to line events up through the end of the month, preparing first for a celebration at home before we hit the road. Our first shoot of June was a part of LA Pride, hosted at the Andaz Hotel in West Hollywood, California.
We were forunate enough to have some friendly faces stop by and say hello, including director Adam Shankman, out 2010 Canadian Olympian Blake Skjellerup, and LGBT teens Ceara Sturgis, Constance McMillen, and Derrick Martin - all of whom made headlines these past few months. Hundreds came out to show their support.
Hundreds more marched with us at LA Pride's 40th Anniversary the very next day, braving the heat with their friends, families, and co-workers to make their presence known during the march. Our group chanted with us the entire time in what was definitely a record-breaking turnout for us. We were incredibly lucky to have so many of you show up, and we hope to be able to do it again next year - with even bigger numbers!
In addition to those LA Pride festivities, hip hop mogul Russell Simmons dove head-first into the NOH8 Campaign - starting the weekend off by debuting the Russel Simmons Vegan NOH8 Shake at West Hollywood's Millions of Milkshakes. See Video HERE!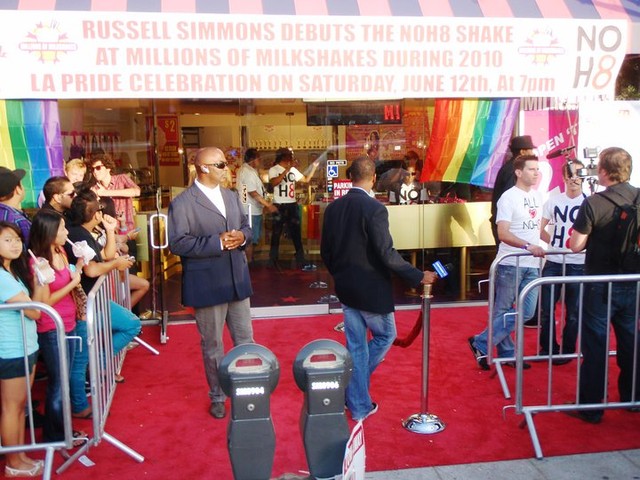 Russell Simmons also coordinated a special group shot with several other familiar faces to raise awareness for equality and anti-discrimination. NOH8 Veterans Shanna Moakler, Dear Abby, and Tatyana Ali were joined by Christina Milian, Vivica Fox, Sophie Monk, Shad Smith, Mary Murphy, Sheryl Lee Ralph, Jaslene Gonzalez, Angela Simmons, Vanessa Simmons, and of course Russell Simmons himself (solo portraits below).
The very next weekend, the campaign was invited to Fort Lauderdale, Florida to be a part of Fort Lauderdale Pride. NOH8 Co-Founders Jeff Parshley and Adam Bouska were invited to be Grand Marshalls of Ft. Lauderdale Pride, where they were also awarded the Keys to the City of Wilton Manors by Mayor Gary Resnick.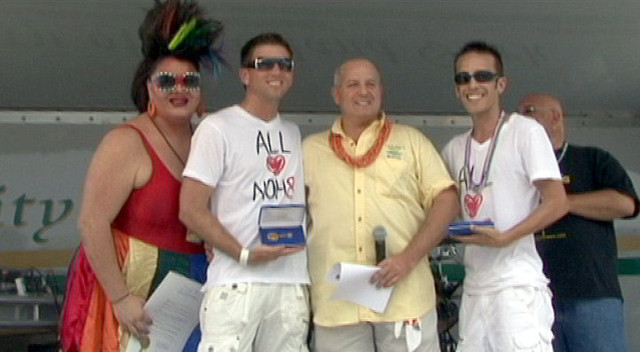 CopyThis, a local printing and copying store, lent us their newly acquired space in order to hold our first open shoot in Fort Lauderdale! Fort Lauderdale Pride helped fill in the details from there. None of our team had ever been to Fort Lauderdale, so the hospitality and gratitude the city showed us was a great experience. Going to each new city, we never really know how many supporters will actually be there - and Fort Lauderdale overwhelmed us with the support we received, so THANK YOU to everybody who came out to meet us!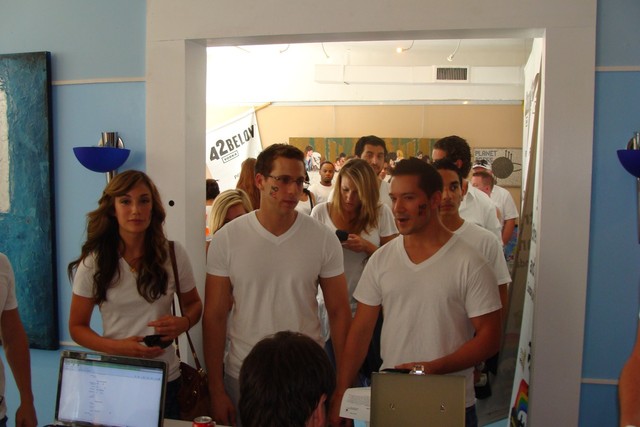 Last but certainly not least, NOH8 wrapped up Pride Month at the W Hotel in San Francisco. San Francisco was the first city we brought the campaign outside Los Angeles in July 2009, and we couldn't have been more excited to come back again a year later. We can't believe how much time has gone by; we're just thankful to still be continuing on with our work and still keeping the issues alive in the media.
June was easily our busiest month of the year so far, but the NOH8 Campaign looking forward to keeping our momentum going and using the most powerful tool we have - visibility! We're going to visit as many cities as we can in the next few months, and we'll be making all of those announcements here on our website.
In fact, we just announced our next OPEN SHOOT in SCOTTSALE, ARIZONA on JULY 12. So many of you in Arizona have made yourselves heard, and now we're bringing the campaign to you! Check our more details in the EVENTS section.
Make July YOUR month to BE HEARD! We're working on many exciting new developments here that we're excited to share with you soon. Make sure to check back soon for all the details, and we look forward to seeing you on the road!
---
---
Comments