Observing LGBT History Month
Thursday, October 6th, 2011
---
October is LGBT History Month, remembering and celebrating the legacies and icons of the LGBT civil rights movement. October is also home to National Coming Out Week, which kicks off Tuesday, October 11 with National Coming Out Day. Did you know National Coming Out Day is held on October 11 every year in observance of the first National March on Washington for Gay and Lesbian Rights in 1987?

The LGBT History Month website features a new icon every day in October, including NOH8 Supporters Dan Choi (discharged under Don't Ask Don't Tell) and Constance McMillen, the Mississippi teenager who was lured to a 'fake' senior prom last year in order to prevent her and her girlfriend from attending the real thing. We encourage you to spend a few minutes checking out what the LGBT History Month website has to offer, including this year's 31 icons!
LT. DAN CHOI AND CONSTANCE MCMILLEN

The NOH8 Campaign will spend LGBT History Month hosting more photo shoots in October than any other month, planning a total of at least four open photo shoots in three states. Our month of record-breaking photo shoots is set to kick off on National Coming Out Day (Oct. 11) in Arkansas, with our anticipated biggest photo shoot to date set for Dallas on October 16th - an event with over 2,500 RSVP's on Facebook.
Our current list of open photo shoot locations in October include:

TUESDAY OCT. 11 - FAYETTEVILLE, ARKANSAS @ HOG HAUS RESTAURANT (NATIONAL COMING OUT DAY)

SUNDAY OCT. 16 - DALLAS, TEXAS @ EPISCOPAL CHURCH OF THE TRANSFIGURATION

THURSDAY OCT. 20 - TUSCALOOSA, ALABAMA @ UNIVERSITY OF ALABAMA (SPIRIT DAY)

FRIDAY OCT. 21 - BIRMINGHAM, ALABAMA @ UNIVERSITY OF ALABAMA AT BIRMINGHAM
In addition to open photo shoots, Team NOH8 is set to participate in AIDS Walk Los Angeles for the second year in a row. If you're in the Los Angeles area and want to join us for the day, we welcome you to join our AIDS Walk LA Team (which you can register for by clicking here)!
LGBT ICONIC ACTIVISTS CLEVE JONES, LARRY KRAMER, AND (VETERAN) CALPERNIA ADDAMS
The NOH8 Campaign will also be working with OutServe this month, the association of actively serving LGBT military personnel, to commemorate the end of Don't Ask Don't Tell at the OutServe Armed Forces Leadership Summit in Las Vegas.
For more details on our events in October and beyond, stop by the EVENTS page.
How are you going to celebrate LGBT History Month?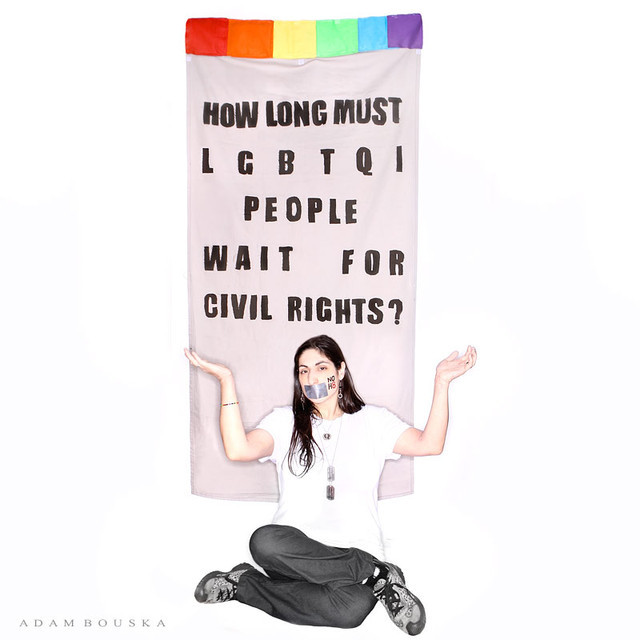 ---
---
Comments