#NOH8Worldwide Is Coming To Australia!
Monday, January 27th, 2014
---
NOH8 is headed Down Under! #NOH8Worldwide is going to Australia for the very first time, setting up official photo shoots in both SYDNEY (Sunday, 9th February) and MELBOURNE (Saturday, 15th February) in the next two weeks.
With the recent developments in the fight for marriage equality in Australia, this is the perfect opportunity for Aussies to get involved with the NOH8 movement and let their peers know where they stand!
A handful of familiar faces from Australia have posed for NOH8 Co-Founder & Photographer Adam Bouska in Los Angeles over the years, and now supporters in Sydney and Melbourne will have the same opportunity!
Join Australians like Ruby Rose and DJ tyDi, singer Vassy, former Biggest Loser host Ajay Rochester, 94.9's Rise Up host Ginni Saraswati, actor Richard Brancatisano (Home and Away) & singer-songwriter Erin Marshall, actor Vernon Wells (Mad Max, Commando), and out gay actor Jaason Simmons (Baywatch, Sharknado) in taking part in this international protest for human rights!
RUBY ROSE and TYDI
VASSY and AJAY ROCHESTER
94.9'S GINNI SARASWATI and RICHARD BRANCATISANO & ERIN MARSHALL
VERNON WELLS and JAASON SIMMONS
Don't miss your chance to make history in the international fight for human rights! Spend some time to stop by our photo shoots in Sydney and Melbourne with your friend or family and see what NOH8 is all about. Check out our event fliers below for information, and check out our event page for a current list of all official upcoming tour dates!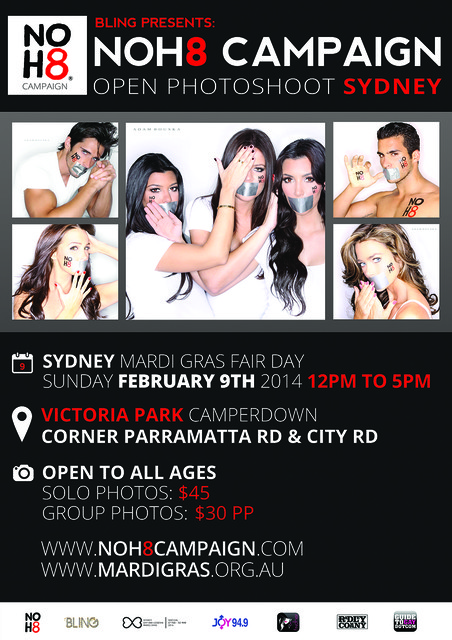 We're proud to work with BLING on the Sydney photo shoot at Sydney Gay and Lesbian Mardis Gras Fair Day in Victoria Park, Camperdown!
BLING Melbourne & The Substation have teamed up for the NOH8 Open Photo Shoot in Melbourne, creating a full day's experience by offering the NOH8 Closing Party following the Open Photo Shoot.
Let's create history together! Help us put Australia on the map and celebrate the message of NOH8. Make your voice heard!
---
---
Comments