#NOH8onTheHill 4 Love
Friday, February 14th, 2014
---
The 2014 Olympic Games in Sochi have put the Russian government's anti-gay agenda on the global stage, so this Valentine's Day we thought it was important to highlight the latest U.S. Senators & Representatives who have publicly taken a stand for love and equality. With the voices of communities in other countries like Russia being silenced by those in goverment and the momentum for marriage equality in the US at an all-time high, we're honored to share the important vocal support of these elected officials!
"For our LGBT friends in Russia and in other countries around the world who feel oppressed by their government, we dedicate this Valentine's post to you. Today we show our gratitude for those in government who use their platform to speak out for the rights of all people," said NOH8 Co-Founders Adam Bouska & Jeff Parshley.
The fourth NOH8 On The Hill session was jointly hosted by Rep. Alan Lowenthal (D-CA) & Rep. Ileana Ros-Lehtinen (R-FL) on the House side, and Senator Richard Blumenthal (D-CT) hosted on the Senate side. Rep. Ros-Lehtinen is the first and only Republican Congressman to pose for NOH8, while Senator Blumenthal was the first Senator to pose alongside Senator Martin Heinrich (D-NM).
The newest #NOH8onTheHill session saw five additional Senators pose, including Senator Brian Schatz of Hawaii. Coincidentally, this session was held on November 13th, 2013 -- the same day Hawaii's Governor signed marriage equality into law! Previous supporters Rep. Ros-Lehtinen and Rep. Al Green of Texas underscored their support by stopping in to pose for a photo once again, joined by Rep. Marcia Fudge (D-OH) and Rep. Mike Honda (D-CA).
"The NOH8 Campaign continues to grow and grow, and participation has more than doubled since last year when Senator Heinrich and I became the first Senators to join," Blumenthal said. "Marriage equality is a human right, and I am committed to ensuring that it becomes a reality. I am proud to stand with NOH8 in their tireless campaign against prejudice and injustice. Government should never disadvantage people on the basis of whom they love."
Celebrate the love today and share your favorite photos on social media! You can also check out over 100 Congressmen who have posed to date during the first, second, and third #NOH8onTheHill sessions.
U.S. SENATORS
Senator Bob Casey, Jr. (D-PA): "Discrimination and hatred have no place in our society, and I am proud to stand with NOH8 in their commitment to marriage equality and equal rights for all."

Senator Heidi Heitkamp (D-ND): "Ours is a country built on principles of justice and equality.  We are only at our best when equal rights apply to every American.  That's why I'm proud to join the NOH8 Campaign, which is helping to get that message across loud and clear."
Senator Edward J. Markey (D-MA): "There can be NOH8 in a just and free society. We have made great progress toward equality, but much work remains to be done. I stand with the NOH8 Campaign in the fight against discrimination wherever it is found."

Senator Chris Murphy (D-CT): "The right to marry who you love should not be denied to anyone based on sexual orientation because in the end, all that should matter is the love you have for the person standing beside you. The fight for marriage equality is one I'm proud to support – we're long overdue in giving this basic civil right to thousands of loving couples across the country."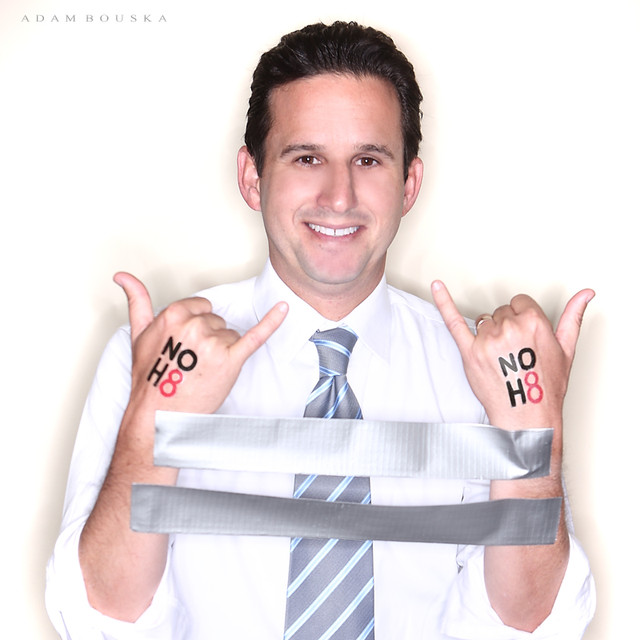 Senator Brian Schatz (D-HI): "Those standing in the way of committed couples' right to marry are on the wrong side of history. We all have friends, relatives, and loved ones in devoted same-sex relationships, and they should be treated the same way under the law as my family. We need to continue to speak out against discrimination and for equality."



U.S. REPRESENTATIVES
Rep. Jim Cooper (D-TN): "America is about bigotry toward none and equality for all."
Rep. Rosa L. DeLauro (D-CT): "Barring LGBT Americans from marriage violates the values we hold dear—justice, freedom and equality. It makes no difference who someone loves, and denying them the same rights as heterosexual couples is just plain wrong. I am proud to join my colleagues and NOH8 in spreading this message."
Rep. Elizabeth Esty (D-CT): "I'm proud to stand with the NOH8 Campaign in the fight for true equality. There's no force more powerful than advocacy driven by love. All Americans deserve to be treated fairly with dignity and respect, no matter who they are or who they love."

Rep. Bill Foster (D-IL): "I'm Congressman Bill Foster, a scientist and businessman from Naperville, Illinois, and I'm proud to join all those in the NOH8 Campaign standing up for equality, dignity and justice everywhere. My father was a civil rights lawyer, and I was raised with a strong belief that all people deserve equal rights and respect.  Just as civil rights was the challenge of his generation, hate crimes and LGBT equal rights are the challenge of our generation."
Rep. Al Green (D-TX): "I believe that Dr. King was right when he indicated life is an inescapable network of mutuality tied to a single garment of destiny - what impacts one directly, impacts all indirectly. Hate, indirectly, affects every person. We have to eradicate hate in all its forms and I am proud to be associated with this campaign."

Rep. Derek Kilmer (D-WA): "I want my daughters to grow up in a country where folks cannot be treated differently because of who they love."
Rep. Jim Langevin (D-RI): "I am proud to lend my support to the NOH8 campaign that has engaged tens of thousands of supporters and sends a clear message to the American people: we will not tolerate inequality. NOH8 started in response to Proposition 8, but its message is just as applicable to racial inequality, gender discrimination and other all-too-familiar stories that remind us our work is not yet done. Together, we can break the silence and lend a voice to everyone who has been the victim of hate speech or violence. Together, we can win the fight for equality."

Rep. Gregory W. Meeks (D-NY): "I'm proud to join the NOH8 campaign to stand up for equality and justice for all regardless of sexual orientation, race,  gender, religion, or any other factor.  I encourage all Americans to stand with me."
Rep. David Price (D-NC): "I believe in an America that doesn't discriminate on the basis of sexual orientation, gender, race, age or religion. We have nothing to lose, and everything to gain, by ensuring all of our citizens have equal protection under the law."

Rep. Ileana Ros-Lehtinen (R-FL): "The fight for equality will not cease until all people in America and around the world can feel free to express their sexual orientation or gender identity without fear of being harassed or discriminated against."
Rep. Tim Ryan (D-OH): "All of our sons and daughters, brothers and sisters, nieces and nephews deserve to be able to love and marry whomever they choose. The promotion of fairness, equality, and justice is a hallmark of who we are as Americans. If we are going to transform our nation, we need to welcome all of our sons and daughters with open arms.  I am proud to join the NOH8 campaign and continue the fight for marriage and gender equality and finally put an end to discrimination in the United States of America."

Rep. Linda Sánchez (D-CA): "Love is love. Regardless of gender, race, or sexual orientation, everyone deserves equal rights and the freedom to love."
Rep. José E. Serrano (D-NY): "Fear, hatred and bigotry have no place in our society. Our actions and policies must be based on the principles of equality and inclusiveness. NOH8 stands for those principles and I am proud to stand with them and to say the freedom to marry whoever you choose is a right, not a privilege."

Rep. Carol Shea-Porter (D-NH): "'We hold these truths to be self-evident'…Equality is an American value, an American truth!"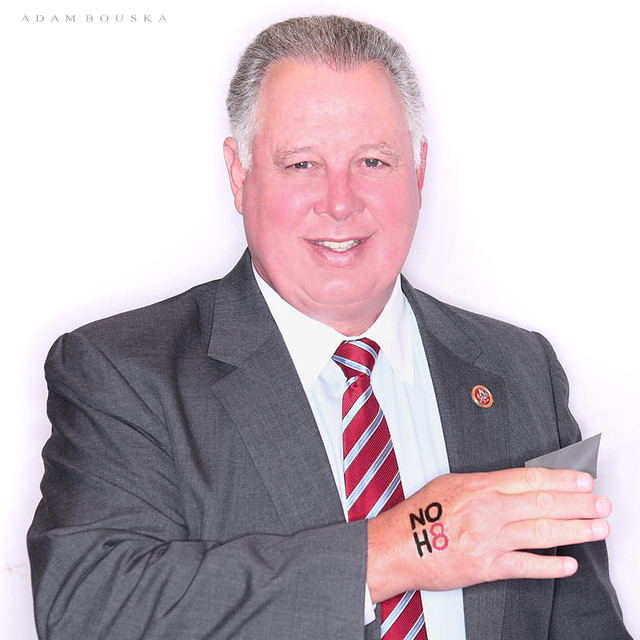 Rep. Albio Sires (D-NJ): "Proud to support the NOH8 campaign and all of their great work.  We must ensure all people are treated equally with dignity and respect, whether it's under the law, in the classroom or in the workplace."



---
---
Comments