#NOH8Worldwide Comes to Mexico!
Thursday, November 13th, 2014
---
Versión en español abajo!
Earlier this year, Mexico became the first Latin American country to host an official #NOH8Worldwide event with a NOH8 photo shoot in Mexico City. In partnership with CONAPRED, an agency of the Mexican Government (President Ricardo Bucio pictured right), as well as many other local supporters and sponsoring organizations, NOH8 brought together a group of familiar faces to unite against hate and send the message to all of Mexico that discrimination will not be tolerated.
While the NOH8 Campaign originally began in response to California's same-sex marriage ban (Prop 8), the scope of the campaign has grown to stand against discrimination across the board regardless of race, sexual orientation, religion, gender, or any other classification. We advocate for full human equality, and it's our honor to bring that message to Mexico.

We're grateful to have the support of these familiar faces in helping promote our message of equality, and we're excited to share the photos from #NOH8MX with you for the very first time! These photos were taken at a special #NOH8MX press event hosted by W Mexico City and attended by dozens of supporters. With the help of CONAPRED, press and media filled the room to cover the historic photo shoot and amplify our message. We hope the same press will continue to spread NOH8's message of love and acceptance by sharing these photos!
Check out the familiar faces of #NOH8MX below, broken down by area of work or entertainment. Click each photo to enlarge and share your favorite photos on social media to spread the word!
MUSIC
CD9 (FREDDY LEYVA, BRYAN MOUQUE, JOS CANELA, ALONSO VILLALPANDO, & ALAN NAVARRO)
MARCONI (MATIAS MARCONI & DIEGO DOMINGO) and PACO DE MARIA ("El odiar a alguien mas es una clara muestra de poco cariño a uno mismo. En contra del odio.") pose above. Below, LUJA (left) and husbands JUAN GABRIAL GARCIA VADILLO & JORDY MEDINA (right) show their support.
Luja 's (above left) support for NOH8 was inspired by his experiences growing up as a singer: "Ever since I was little, I always knew I wanted to sing; not only for myself, but I wanted to make a difference in the music industry.
When you're young you tend to have a higher-pitched voice, just like a kid's voice is supposed to be. But young kids can be very mean about that, even moreso if their parents think you have a gift.

Sometimes I wanted to quit singing just to have some friends; but my wish to sing was stronger, and now I can say I'm starting in the music and entertainment business and I can't be more proud of that young boy who never minded those mean kids who made fun of his voice."
SEBASTIAN MARTINGASTE and JARY
ACTORS, MODELS & ARTISTS
'First actor of Mexico' ROGELIO GUERRA and son ALDO GUERRA show support for #NOH8MX

Model JOSE PABLO (JP) MINOR and actress MAR CONTRERAS

Telenovela stars DIEGO AMOZ and ARMANDO TORREA

Gallery owner OSCAR ROMAN and actress MALILLANY MARIN RODRIGUEZ
JAIME MORALES BELTRAN & FELIPE NAJERA and LAURA MONTIJANO
MANUEL BALBI ("I support this campaign because 'tolerance makes us all better humans'.") and TANIA LIZARDO
TV HOSTS & PERSONALITIES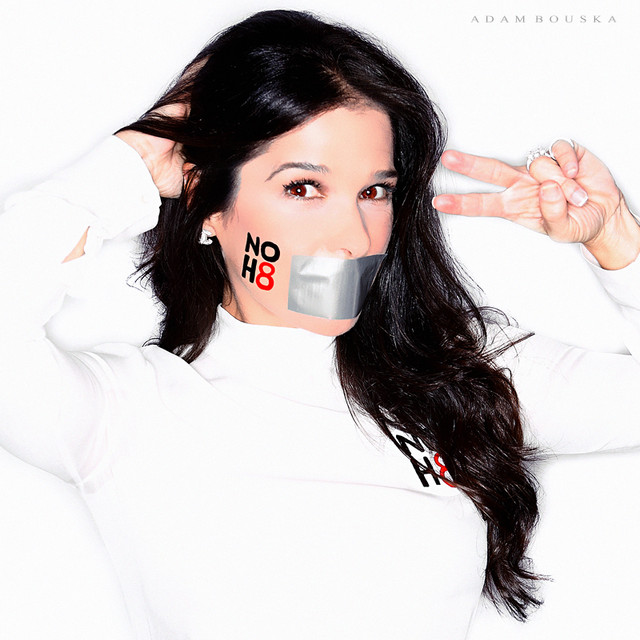 MARTHA DEBAYLE
DIEGO ALFARO and MARRA JOSE MONTEMAYOR ACOSTA
RUBERLI and SOFIA ESCOBOSA
DORE FERRIZ and CARLOS BISDIKIAN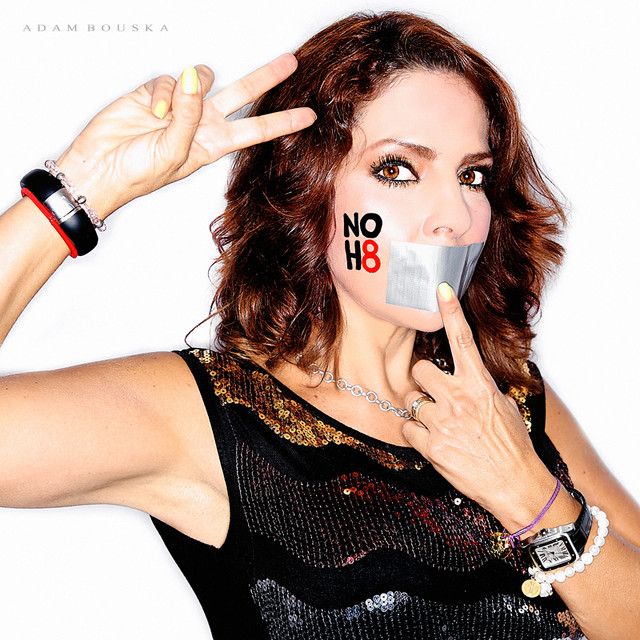 ANA ALVARADO: "#BeFree, you're unique. Nobody can make you feel different. #NOH8MX."
Not every familiar face who came out to show their support for #NOH8MX had a chance to pose for an official photo, but it's still important to note their support! We were honored to have fellow Mexican celebrities including Héctor Arredondo (Photo Courtesy of GQ Mexico), Cynthia Duque (Miss Mexico Universe 2013), Geraldine Jose, Sheyla, and Sherlyn in attendance.

TOP: Hector Arredondo, Cynthia Duque and Geraldine Jose. BOTTOM: Sheyla and Sherlyn.
Are you interested in getting involved with the NOH8 Campaign? Visit noh8campaign.com for the latest #NOH8Worldwide tour dates and be sure to follow NOH8 on Twitter/Instagram and Like our Facebook page! You can also download the FREE NOH8 App for iPhone/iPad from the App Store, which includes a MY NOH8 photo booth that enables users to digitally apply a NOH8 tattoo and duct tape.

#NOH8MX travel was provided by Aeromexico Friendly - the way to travel with who you love, the way you want to. Its features are: air tickets, Gran Plan packages (hotel + flights) and special promotions to destinations planned specially for you. Aeromexico Friendly has carefully selected more than 50 hotels to live unique experiences for unique people like you. Visit our websites, aeromexico.com/friendly and granplan.com/friendly to read more about our promotions and alliances. American Express offers you the opportunity to pay your tickets in No-Interest monthly payments.
Get to know Aeromexico Friendly, the best way to travel with who you love, the way you want to.
---
EN ESPAÑOL
Hace unos meses México se convirtió en el primer país de Latinoamérica en organizar un evento oficial de #NOH8Worldwide con una sesión fotográfica de NOH8 en la Ciudad de México. En conjunto con CONAPRED, institución del gobierno mexicano para prevenir la discriminación (Ricardo Bucio, Presidente de CONAPRED en la fotografía a la derecha), seguidores y patrocinadores, NOH8 logró convocar a un grupo de celebridades y famosos para alzar su voz en contra del odio y así enviar un mensaje a todo México indicando que la discriminación no es ni será tolerada.
Aun cuando la Campaña NOH8 originalmente se formó en respuesta a la prohibición del matrimonio entre personas del mismo sexo en California (Prop 8), el alcance de la campaña ha crecido para estar en contra de la discriminación en todos los ámbitos, independientemente de raza, orientación sexual, religión, género o cualquier otra clasificación. Abogamos por la igualdad humana y es un honor para nosotros llevar este mensaje a México.
Estamos muy agradecidos de haber contado con el apoyo de personajes conocidos en México para ayudar a promover nuestro mensaje de equidad y estamos emocionados de poder compartir por primera vez con ustedes las fotos de #NOH8MX. Estas fotos fueron tomadas en un evento especial de #NOH8MX en el W Mexico City a donde asistieron decenas de participantes. Con la ayuda de CONAPRED, los medios y la prensa llenaron el lugar para cubrir la histórica sesión de fotos y así ayudarnos a difundir nuestro mensaje. Esperamos que esos mismos medios y prensa continúen ayudándonos a difundir nuestro mensaje de amor y aceptación al compartir estas fotos.
Abajo puedes checar las fotos para #NOH8MX de todos los famosos. Haz click en cada foto para ampliarla y comparte tus fotos favoritas en las redes sociales para difundir nuestro mensaje.
MUSICA
CD9 (FREDDY LEYVA, BRYAN MOUQUE, JOS CANELA, ALONSO VILLALPANDO Y ALAN NAVARRO)
MARCONI (MATIAS MARCONI y DIEGO DOMINGO) y PACO DE MARIA ("El odiar a alguien más es una clara muestra de poco cariño a uno mismo. En contra del odio.") posan abajo. Debajo, LUJA (a la izquierda) y JUAN GABRIEL GARCIA VADILLO y JORDY MEDINA, esposos (a la derecha), muestran su apoyo.
El apoyo que Luja (arriba a la izquierda) muestra para NOH8 está inspirado en sus propias vivencias creciendo como cantante: "Desde que era niño siempre supe que quería cantar; no sólo para mí, sino para hacer una diferencia en la industria musical.
Cuando eres joven tiendes a tener una voz aguda, como debe ser. Pero los niños pueden ser muy crueles con eso y más cuando tus papás piensan que tienes un don.
Había veces que yo quería dejar de cantar y así lograr tener amigos; pero mi deseo por cantar era más fuerte y ahora que estoy iniciando una carrera en la industria de la música y el entretenimiento puedo decir que no podría estar más orgulloso de aquél niño al que nunca le importaron los otros niños que se burlaban de su voz."
SEBASTIAN MARTINGASTE y JARY.
ACTORES, MODELOS Y ARTISTAS
El Primer Actor ROGELIO GUERRA y su hijo ALDO GUERRA muestran su apoyo a #NOH8MX
El modelo JOSE PABLO (JP) MINOR y la actriz MAR CONTRERAS
Galanes de telenovela DIEGO AMOZURRUTIA y ARMANDO TORREA
El galerista OSCAR ROMAN y la actriz MALILLANY MARIN
JAIME MORALES BELTRAN, FELIPE NAJERA y LAURA MONTIJANO
MANUEL BALBI ("Yo apoyo esta campaña porque 'la tolerancia nos hace mejores seres humanos'.") y TANIA LIZARDO
PERSONALIDADES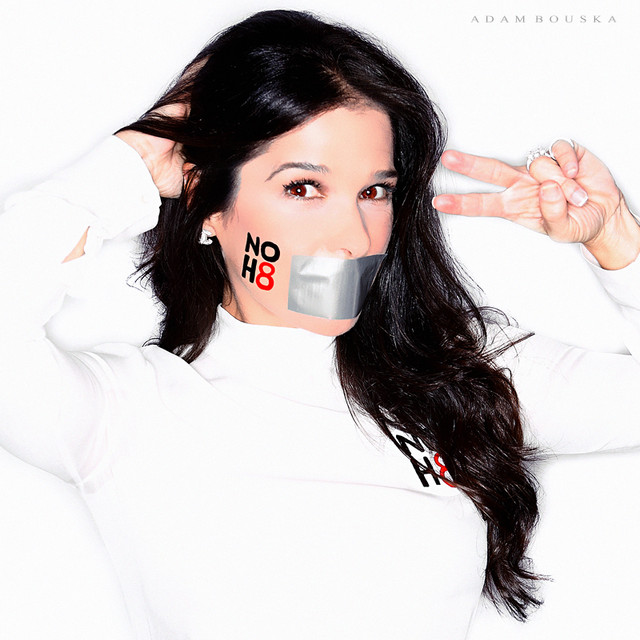 MARTHA DEBAYLE
DIEGO ALFARO y MARIA JOSE MONTEMAYOR
RUBERLI y SOFIA ESCOBOSA
DORE FERRIZ y CARLOS BISDIKIAN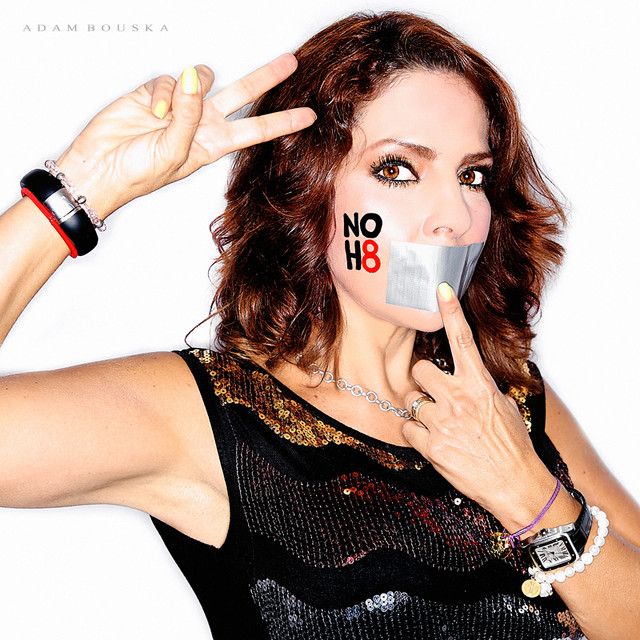 ANA ALVARADO "#BeFree, eres único. Nadie te puede hacer sentir diferente. #NOH8MX."
No todas las personalidades que acudieron a mostrar su apoyo para #NOH8MX tuvieron la oportunidad de tomarse una foto oficial, pero aun así es importante destacar su apoyo y presencia. Tuvimos el honor de contar con la participación de las siguientes celebridades mexicanas: Héctor Arredondo (Foto Cortesia de GQ México), Cynthia Duque ( Nuestra Belleza Mexico 2012 y Representante en Miss Universo 2013), Geraldine Jose, Sheyla, y Sherlyn.

ARRIBA: Hector Arredondo, Cynthia Duque y Geraldine Jose. ABAJO: Sheyla y Sherlyn.
¿Estás interesado en participar e involucrarte con la Campaña NOH8? Visita noh8campaign.com para obtener información sobre las últimas fechas del tour #NOH8Worldwide y recuerda seguir a NOH8 en Twitter/Instagram, así como darle Like a nuestra página de Facebook. También puedes descargar la app gratuita para iPhone/iPad de NOH8 desde la App Store, que incluye MY NOH8 photo booth donde podrás aplicar digitalmente el tatuaje y la cinta de NOH8 a tus fotos.

Transportación aérea para #NOH8MX proporcionada por Aeroméxico Friendly, es la forma de viajar con quien quieres y de la forma que quieres, porque tiene para ti boletos de avión, paquetes Gran Plan (hotel + avión) y promociones en destinos pensados especialmente para ti. Son más de 50 hoteles que Aeroméxico Friendly ha seleccionado cuidadosamente para que vivas experiencias únicas con gente única como tú. Visita cualquiera de los dos sitios de Aeroméxico Friendly, aeromexico.com/friendly y granplan.com/friendly y conoce nuestras promociones y alianzas como American Express que te ofrece la oportunidad de pagar a Meses Sin Intereses tus boletos de avión.
Conoce Aeroméxico Friendly, la mejor forma de viajar con quien quieres y de la forma que quieres.
---
---
Comments