CELEBR8 NOH8 DAY!
Tuesday, December 13th, 2011
---
39 Open Photo Shoots. 20 States. 3 Countries. Over 9,000 NOH8 Photos.
And that's just in 2011!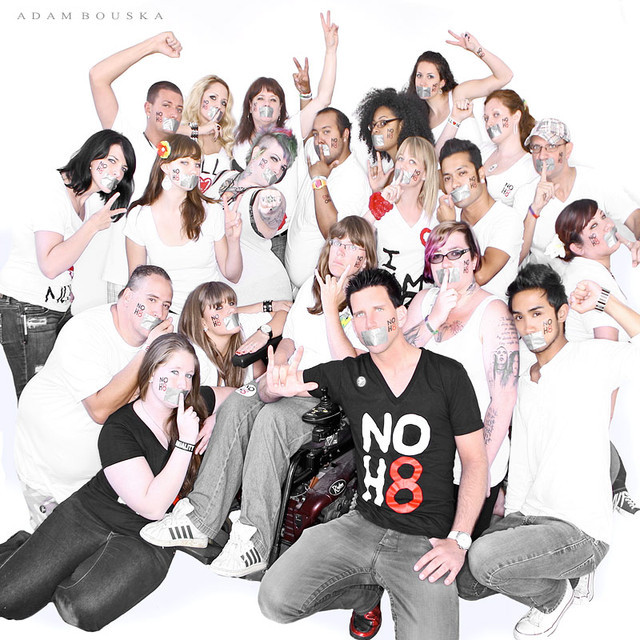 The NOH8 Campaign is so honored today to be celebrating three years of activism as the City of West Hollywood once again proclaims December 13th Official NOH8 Day.
The NOH8 Campaign has been fortunate enough to experience another year of exponential growth, and it was our mission to use that growth to bring the campaign to as many cities and countries across the world as we could this year. Not only did we travel to twice as many cities as last year, but we brought NOH8 to the global stage by hosting open photo shoots in London, Montreal, and even the Bahamas.
We had our biggest turn-out ever in Dallas when over 800 people showed up to have their photo taken at the Episcopal Church of the Transfiguration. In fact, we did so much traveling that the photo shoots in 2011 alone yielded nearly half of all NOH8 photos. That's incredible!
So many people had the opportunity to get involved with an official NOH8 event this year for the very first time, and we thank all of you for making your voices heard and making each city feel like home to us.

We at Team NOH8 are so, so grateful for the love and support of each and every one of you who have helped to spread our message. As is becoming tradition, today we'd like to feature volunteer group photos from open photo shoots throughout the year. Without the help of local volunteers in each city - many of whom drove several hours to make it out - it would be impossible to make each photo shoot the success that it has been. These people have selflessly given up their time to support the cause, and we are humbled by their generosity.
No matter where you are, we thank you and celebrate you today.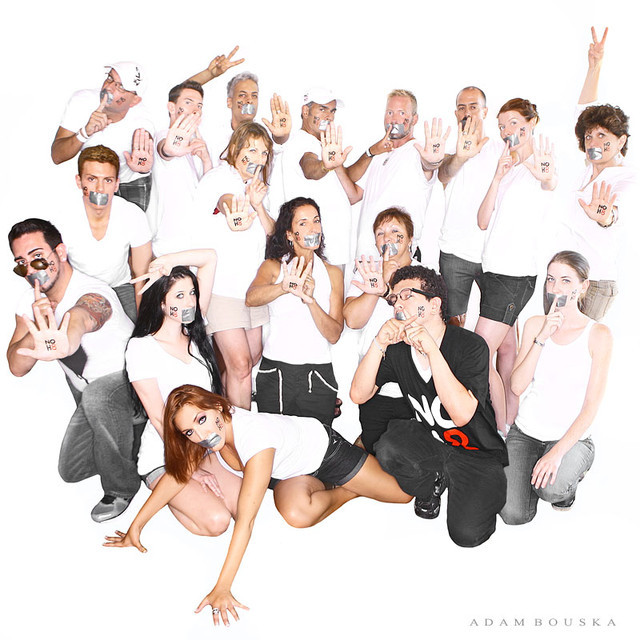 HOW CAN YOU CELEBR8 TODAY?

2. Don't have a NOH

8

photo? Don't worry! Create your NOH

8

own self-portrait and submit it to our MY NOH

8

Photo Project to show your support! You don't have to have the highest quality photo; it's about showing support no matter where you might be in the world. Use your camera phone! Just apply your own NOH

8

(Tip: the right way looks backwards in the mirror if you're using one to paint!), find some duct tape and a white shirt, and take your photo!
To submit your photo, you must Create a User Profile on our site. Once logged in, Click on the MY NOH8 Section in the navigation menu. Creating a User Profile also allows you to interact with the website on a whole new level, including commenting and interacting on all our articles and photos!
Just a few of the hundreds of MY NOH

8

Project Submissions.
3.

Shop for equality and Save

30%

at the NOH

8

Store!
Not only do the proceeds from your order directly fund the efforts of the NOH

8

Campaign, but wearing your NOH

8

merchandise helps to raise awareness and spread hope in your community. Enter Coupon Code "NOH

8

DAY" at Check-out!

5. Are you one of the thousands who have posed for our campaign? Write a statement & BE HEARD! Let us know why it's important to stand up for equality in today's society, and talk about your reasons for posing. Tell the world what your photo means to you. These statements will be a part of our rapidly growing collection of stories behind the NOH

8

portraits. E-mail your statement and a link to your photo to info@noh

8

campaign.com to BE HEARD!
6.

Take part in local

LGBT

events! Tell your friends, research LGBT resources in your area, & find out how you can get involved in your community! There might not be NOH8 events going on, but there are almost always ways for you to get involved in your area.
CELEBR8 NOH8 DAY IN LA!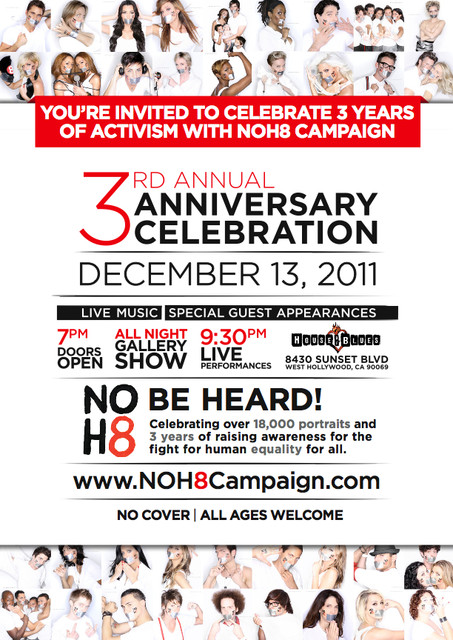 The NOH8 Campaign's 3rd Annual Anniversary Celebration is this upcoming Tuesday, December 13th - and we have something very special planned!
Celebrating Three Years of NOH8 Activism and over 18,000 photos, the House of Blues in West Hollywood will be transformed into a one-of-a-kind NOH8 Gallery Show featuring hundreds of portraits taken since the campaign began in 2008.
And the best part? This event is absolutely FREE! You don't need reservations or tickets; just come out and support! You can find all the details on our Facebook event page by clicking here.

Some familiar faces will be on hand to reveal their NOH8 photos for the very first time, including Rebecca Black and Shay Mitchell. Portraits from Vanessa Carlton, Audra McDonald, and Will Swenson will also be unveiled.
In addition to the gallery show, NOH8 Co-Founder Adam Bouska will be bringing NOH8 photos to life by photographing some celebrity guests on-stage. Some of the newest NOH8 supporters scheduled to pose include Mackenzie Phillips, Dave Coulier, Ashley Fink (Glee), Chandler Massey (Days of our Lives), and Mitchel Musso.
The Anniversary Celebration will also feature live performances and special celebrity guests who have supported us along the way. DMC (of Run-DMC fame), who issued an anti-homophobia challenge to the hip-hop community through the NOH8 Campaign earlier this year, will perform featuring a special performance with NCIS star Pauley Perrette. Metro Station, along with YouTube sensations Mandy Rain and Tinashe and America's Got Talent performer Daniel Joseph Baker, will perform live - as well as have their NOH8 photos taken on-stage! There will also be a special NOH8 Video Tribute featuring a live performance by Gabe Lopez.
In addition to these amazing appearances, the City of West Hollywood will proclaim Tuesday, December 13, 2011 "NOH8 DAY" with an on-stage proclamation from Mayor John Duran. This will mark the second time the City of West Hollywood has issued a proclamation; the first being December 13, 2009.

Doors open at 7pm with live performances beginning at 9:30pm. DJ Brynn Taylor will be spinning throughout the night, and an ASL Interpreter will be on-stage to assist our hearing impaired supporters. We hope all of you can join us, along with other special guests including LeAnn Rimes, Eric Balfour, Fran Drescher, Hal Sparks, director Adam Shankman, Christopher Gorham & Anel Lopez-Gorham, Jodi Sweetin, Madison Hildebrand, Tabatha Coffey, Tommy Davidson, Christian Chavez, Damien Fahey, and many more!
---
Thank all of you again for your unwavering support. There are so many ways for you to get involved and give back to the community and become your own activist, and we are continually humbled by how many of you choose to speak out through our campaign. You make all of us so proud, and you should all be proud of the work you do. Each and every action counts, and we hope you will join us in the fight today - NOH8 Day!
---
---
Comments