#NOH8Ball4All (UPDATE)
Friday, December 12th, 2014
---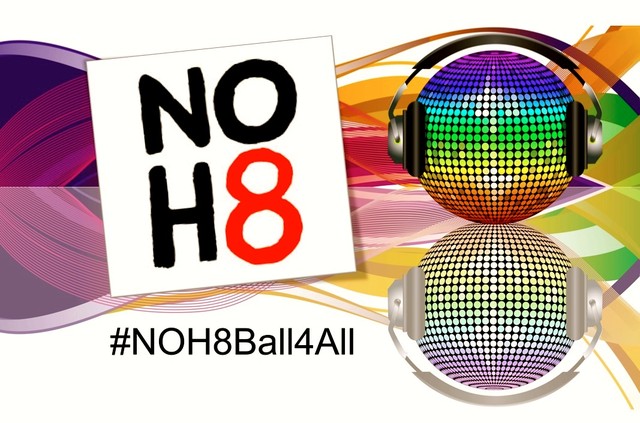 by Guest bloggers J. Patrick Redmond and Andrea Ridgway
Originial Article published on October 26, 1014
Recently, in the small southern Indiana town of Vincennes a local committee comprised of high school parents and students voted 13-9 to maintain a decade long policy requiring "traditional couples only" for their "private, invitation only" New Years Eve Ball.
The 13-9 vote to maintain the policy was brought to light in a Huffington Post article (read here) that went viral. It asks: "Why exclude LGBT student-couples?"
Afterwards, the once amiable community found itself embattled in controversy. Various local social media outlets exploded with accusations and indictments. However, those few vitriolic voices were drowned out by an overwhelming live local and social media response from the community and the nation: a collective message of inclusion, affirmation, acceptance, and love.
The world was watching. Local residents and Vincennes Lincoln High School alumni from around the country as well as celebrity Ellen Page and Grey's Anatomy star Sara Ramirez reached out via Twitter and Facebook to lend their support to Lincoln's current student population—both gay and straight—voicing their solidarity for an all-inclusive New Years Eve Ball.
The ball committee changed their vote after the article's publication and removed the words "traditional couples only" from the invitations.
Nevertheless, the undulation from my hometown's divisiveness was felt in my adopted hometown of Miami, Florida. Fellow Lincoln High School alumna Andrea Ridgway reached out to me on Facebook from her California home. She'd felt the ripples too. Andrea and I had never met. She and I graduated from Lincoln almost a decade apart. After reading my HuffPo article she started a www.gofundme.com/ball4all campaign.
Messaging back and forth via Facebook, Andrea and I decided that together we'd combine our social media voices to support all students at our beloved alma mater and throughout the county by using her campaign to raise funds and host an all-inclusive, open and affirming hometown celebration.
Together, with NOH8 Campaign's assistance in facilitating national awareness alongside our "boots on the ground" backing from Vincennes University's VUPRIDE, we want to host a #NOH8Ball4All—an open and inclusive spring 2015 dance for local and county 9-12 graders!
YOU can help the #NOH8Ball4All campaign!
The power of social media served as an agent of change and it connected Andrea and me. Our efforts captured the attention of NOH8. Now, collectively, we want to connect and share our campaign with you!
Our common goal is to raise enough funds to host the #NOH8Ball4All at the Red Skelton Performing Arts Center on the campus of Vincennes University. But we need your help!
By donating to the #NOH8Ball4All, you too will lend your voice and support for southern Indiana LGBT and straight teens by allowing them the opportunity to celebrate diversity in addition to bringing awareness to the community. Let's show the world there is NOH8 in Vincennes. Check out www.gofundme.com/ball4all!
Post, tweet, or send messages of support to southern Indiana LGBT students and their straight allies using #NOH8Ball4All, by joining the public Facebook group Vincennes #NOH8Ball4All.
#NOH8Ball4All UPDATE (Posted December 12th)
Times are changing in Vincennes, Indiana!
First – New Year's Eve Ball invitations have been received by those students invited from Vincennes Lincoln High School. In addition to the artistic art deco vibe and reference to The Great Gatsby, those who received an invitation witnessed that "Couples Only" took the place of "Traditional Couples Only." Literary critiques have been written, and many scholars agree, that Nick Carraway, the narrator of the novel, is either homosexual or certainly bisexual and harbors an unrequited love for Gatsby similar to the unrequited love Gatsby holds for Daisy. The New Year's Eve Ball's beautiful invitation and The Great Gatsby theme communicates F. Scott Fitzgerald's love story with openness, affirmation and acceptance of all. Now that is progress!
Second – The regional LGBT advocacy support organization Tri-State Alliance stepped up to the plate after the local "controversy" and, with the assistance of Vincennes University's VU Pride, will host a Pride Prom on April 18, 2015 for all Knox County high school students! Tri-State Alliance and #NOH8Ball4All have a common goal of providing an all-inclusive, open, and affirming celebration for county teens.
Third – A conversation regarding LGBT issues and LGBT teens has begun in Vincennes. Local awareness has never been better. There are those in the community committed to making sure all LGBT teens and their allies know they're loved, supported, and that local LGBT issues will continue to be discussed.
Fourth – Andrea Ridgway will present the NOH8 Campaign with the money raised by #NOH8Ball4All on behalf of the community of Vincennes, Indiana on December 13th at NOH8 Campaign's Open Photo Shoot in celebration of their 6th anniversary.  There's still time to donate by visiting www.gofundme.com/ball4all.
Congratulations to all involved. Together we are changing lives.
_____

J. Patrick Redmond is a Midwesterner living in Miami and a Kaylie Jones Books writer. His novel Feeding the Christians is the story of a young man choosing to live "under the radar" in his conservative community until he no longer can. "It's about God, guns, gays and green beans," Patrick says. His novel is set to be released by Kaylie Jones Books at a future date.

Patrick is also a contributing blogger for The Huffington Post—Gay Voices. His writing has appeared in The Southampton Review and in the Barnes & Noble Review's Grin & Tonic (as a collaborator) and he is the 2012 recipient of the Deborah Hecht Memorial Prize in Fiction. Patrick holds a Master of Fine Arts in Creative Writing and Literature from (SUNY) Stony Brook—Southampton, a Bachelor of Arts in English from Florida International University, and he is a 1987 graduate of Vincennes Lincoln High School.

For additional information check out jpatrickredmond.com

Andrea Ridgway is a summa cum laude graduate of Louisiana State University where she received her B.S., M.A., and Ph.D. in psychology.  She is a licensed psychologist in Louisiana and California and a Board Certified Behavior Analyst-Doctoral. Her professional experience includes the assessment and treatment of children and adolescents with a variety of developmental disabilities and behavioral disorders in school, home, community, and clinic settings. Andrea is a 1995 graduate of Vincennes Lincoln High School where she was a student ambassador, yearbook committee member and editor-in-chief, a member of the National Honor Society and United Methodist Youth Fellowship, band member and cheerleader. Andrea currently resides in Pasadena, California with her husband and son.
---
---
Comments