NOH8 Service Member Reinstated to Active Duty
Wednesday, April 25th, 2012
---
U.S. Air Force Staff Sergeant Anthony Loverde - discharged in 2008 under "Don't Ask Don't Tell" - is set to be reinstated to active duty this May, making him the second service member discharged under DADT to be reinstated since the discriminatory law was repealed in September 2011. Loverde's reinstatement comes as a result of his role in the case of Almy vs. US, where he and two other clients challenged the constitutionality of their discharges under DADT with the help of the Servicemembers Legal Defense Network (SLDN).
"Loverde entered the Air Force at age 20, rising to the rank of Staff Sergeant before he was discharged seven years later under DADT. He is an expert at calibrating weapons systems and had been in charge of cargo on more than sixty flights into Iraq. Following his discharge, he was hired immediately by a military contractor and sent to Iraq and Afghanistan, largely doing the same job he had done in the Air Force before his discharge." - SLDN
We had the opportunity to meet Staff Sergeant Loverde (pictured below) at the OutServe Leadership Summit last October, which also happened to be the first time gay, lesbian, and bisexual service members in attendance could openly participate in a campaign that would reveal their faces to the world without the fear of it affecting their military career. Loverde posed for his NOH8 portrait, which are complimentary for service members, alongside dozens of other men and women who were eager to finally be able to participate.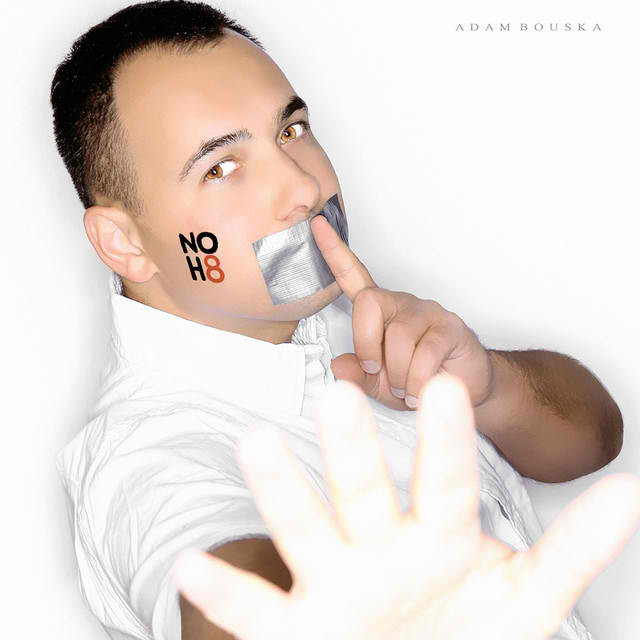 The NOH8 Campaign congratulates Staff Sergeant Anthony Loverde on his reinstatement, and we thank him - and ALL service members - for their service to our country.
---
---
Comments