NOH8 Celebrates 2 Years of Activism!
Tuesday, December 7th, 2010
---
In 2009, the City of West Hollywood declared December 13th Official NOH8 Day in recognition of the NOH8 Campaign's One Year Anniversary. It's hard to believe that another year has gone by, but believe it or not; the NOH8 Campaign will be celebrating their 2 Year Anniversary in less than a week!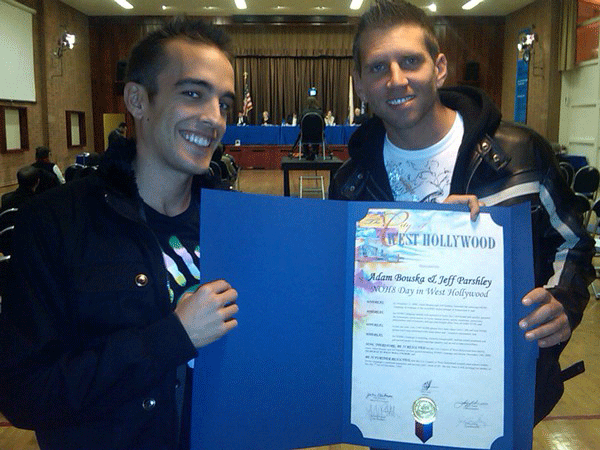 Adam Bouska and Jeff Parshley with the Proclamation for NOH8 Day in West Hollywood.

To commemorate two successful years of spreading our message of equality all over the world, the NOH8 Campaign is hosting an Open Shoot and Reception at Wonderland in Hollywood on next Monday December 13th, 2010! The Open Shoot, which begins at 5PM, will be followed by a Reception and Meet and Greet Celebration.
Join Team NOH8, including Co-Founders Adam Bouska and Jeff Parshley, our incredible NOH8 Supporters, as well as our special celebrity guests and performers who will be stopping by, to help us celebrate!
Admission is completely free of charge; so be sure to bring your friends! We couldn't think of a more fitting end to our year than a night with all of you.
Check out the 2nd Annivesary Event Page for all of the details for the night. We look forward to seeing all of you there!
Click to Enlarge.

---
---
Comments