Moving Forward Together, by Adam & Joshua
Tuesday, November 15th, 2011
---
"Since the NOH8 Campaign had been something that we'd both followed for a while we decided that it was something that we wanted to do together. We wanted to show our support together and celebrate the fall of DADT." - Adam (left) & Joshua (right)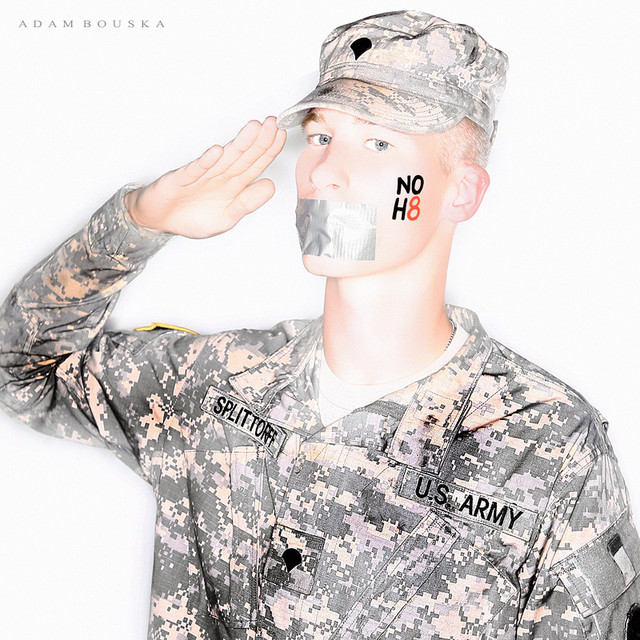 "I come from a very religious Catholic family and one of the ways that I was able to learn about the world was through the internet. I discovered the NOH8 campaign while researching Prop 8 and it grabbed me and I've been following it ever since. A year ago I joined the military before DADT was taken down and so the idea of having to keep my orientation a secret was something that was difficult in certain situations.
I think that's another reason why I find your pictures interesting, the duct tape over the mouth very much illustrates the way that I had to stay silent and not speak out about myself. That's why I was so excited to be able to take photos in my uniform and openly stand up against the homophobia that had created such a policy as Don't Ask Don't Tell and causes people to try to pass things like Proposition 8. It was such an amazing experience to work with the NOH8 campaign and I hope that I'm able to inspire other service men and women to be able to serve openly and proudly." - Adam Splittorff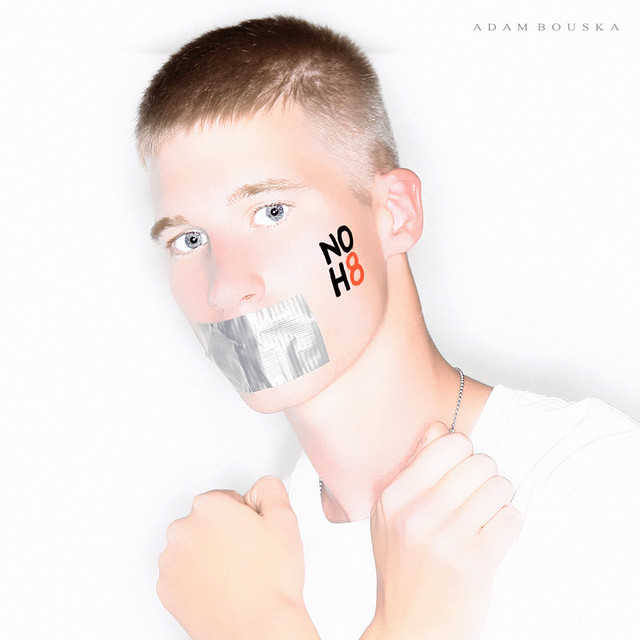 Adam's "Civilian" NOH8 Portrait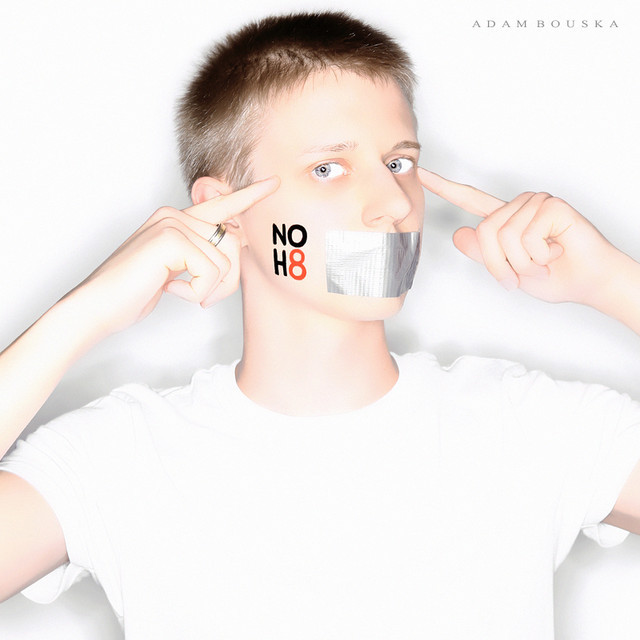 "I remember back in 2008 when Proposition 8 first came around. It was honestly the first time that I remember hearing a lot about anything involving gay rights since I had grown up in such a conservative community so it really sort of caught my attention. It finally made me stop and realize that if something was to change that people's opinions were going to have to be changed. I can't specifically remember the time or place that I first found out about your campaign, but I know that I found the concept fascinating. You've taken such a huge array of thoughts, feelings, emotions, events, and used the power of a photo to capture a person's attention and make them stop to think about what it is that they're really voting on.
When I heard that you were going to be in Nashville I knew that it was something that I wanted to be a part of. I wanted to have my picture taken because these pictures make such a bold statement without actually saying anything at all. I wanted to be able to take a stand, show that this is something that I care about, and help support the idea of education and provoking thought. I'm honored, grateful, and ecstatic that I was able to take part in such movement." - Joshua Sedlak



---
---
Comments