Mother & Daughter, by Tabitha and Cassie
Monday, August 3rd, 2015
---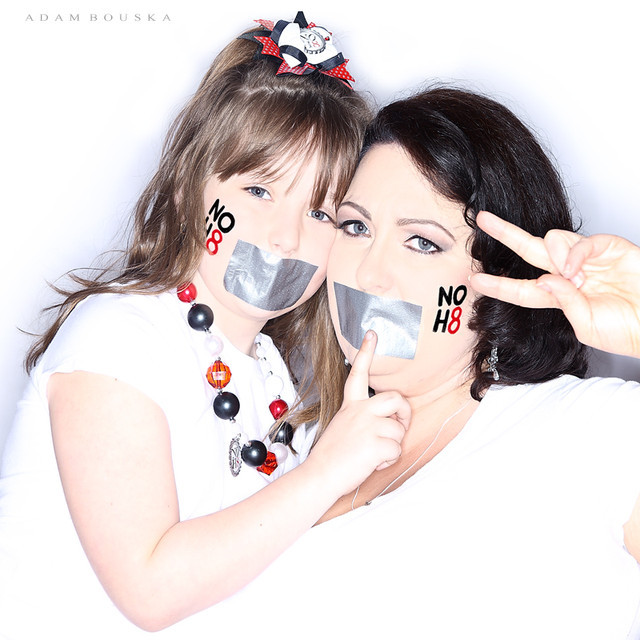 "I posed with my 7 year old daughter, Cassie, at her request. I have been a straight ally for years but to be honest until the NOH8 Campaign took off when I was living in California, it really wasn't on my radar much.
When she was 4, Question 6 was on the ballot in Maryland. I took her with me to vote that year and explained that my vote on this issue was important because a basic human right and legal protection was being denied to many of the couples we love, in direct violation of their rights under the constitution of this country. Her response at that time, in the perfectly innocent language of a child, was 'that makes no sense and it isn't fair.'
She had no way to know how game-changingly important it was when Question 6 passed, all she knew was that a lot of the people she loved were incredibly happy. This year, I had the chance to attend one of the NOH8 shoots and made plans to do so. She asked if she could come too and I said nothing would make me happier. It is my dearest wish that she will grow up in a world where people are not judged for things like who they love or what color their skin is. We have a long way to go, but we are getting there. She is the next generation and it is my responsibility to make sure that she grows up knowing that not only will I love her no matter who she loves or what she does in life, but that love is love and the more of it in the world, the better off we all are.
She was 8 months old on the date Proposition 8 passed in her home state. 4 years later, she stood beside me as we cast a vote for love in my home state. 3 years after that vote, it is now the law of the land in all 50 states. I couldn't be happier with the trajectory of this issue over her lifetime.
When I asked her why she posed, her answer was 'because we need more love and no hate. Hate is stupid.'"
---
---
Comments