Mayor Antonio Villaraigosa & LA City Officials Pose for NOH8
Tuesday, September 4th, 2012
---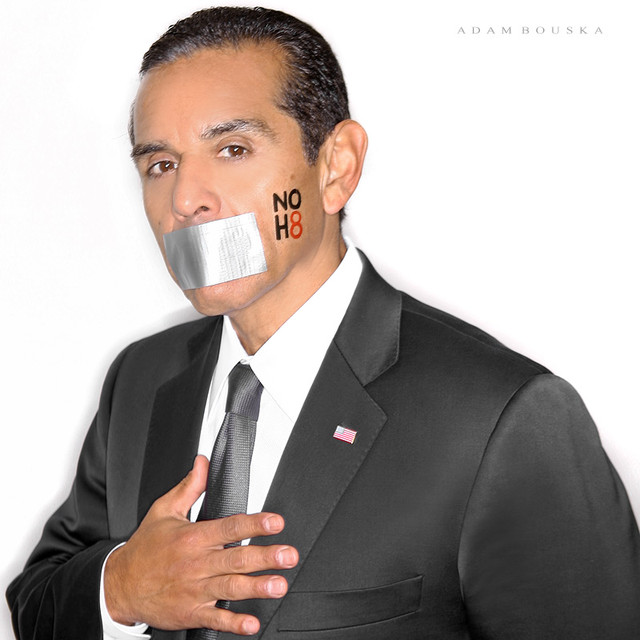 Today, we are honored to share some incredible NOH8 portraits with you. Organized by Councilman Joe Buscaino, the NOH8 Campaign set up our mobile photo studio at City Hall in downtown Los Angeles late last week for a historic photo shoot featuring Mayor of Los Angeles and 2012 Democratic National Convention Chair Antonio Villaraigosa (pictured right).
"If we truly believe in family values, we should value all families. I have supported marriage equality since 1994, opposed and fought Proposition 8, and I am proud to serve as Chair of the first national convention - Democrat or Republican - to adopt marriage equality as part of the party platform. It is a privilege to join with NOH8 in their national campaign to fight bigotry and raise awareness about LGBT equality. Changing hearts and minds is a crucial step on the path toward full civil rights for the LGBT community." - Mayor Antonio Villaraigosa

Other LA City officials photographed for the campaign include City Attorney Carmen Trutanich, City Clerk June Lagmay, Fire Chief Brian Cummings, City Administrative Officer Miguel Santana, and Councilmembers Richard Alarcón, Dennis Zine, Tony Cárdenas, Paul Koretz, Jan Perry and Joe Buscaino.
In March, Villaraigosa, who is Chairman of this week's Democratic National Convention in Charlotte, called for marriage equality to be included in the convention's official platform, sparking criticism on whether such a move was wise in a close presidential race. Two months later, President Barack Obama announced his support for marriage equality, and in July, a Democratic Party platform drafting committee unanimously approved inclusion of support for same-sex marriage.

While many politicians have taken a cautious approach on gay issues, Villaraigosa has earned a reputation as a fierce and early advocate for gay equality, pushing for the passage of groundbreaking anti-discrimination measures in the California Legislature, where he served as Speaker of the Assembly, and helping win protections for transgender inmates in city jails as mayor of Los Angeles.
As Chairman of the US Conference of Mayors, he led a group of 80 US mayors in an initiative called "Mayors for the Freedom to Marry." Members pledged to push their cities to pass laws allowing same-sex marriage and urge Congress to repeal the Defense of Marriage Act, which defines marriage as a legal union between one man and one woman. To date, more than 280 Mayors have signed on to join the Mayors for the Freedom to Marry effort. Among the mayors in the group is Republican Mayor Jerry Sanders of San Diego, who in 2007 relented on his previous opposition to same-sex marriage, saying that he could not accept that his daughter was less worthy of marriage because she is a lesbian.

City Attorney Carmen Trutanich and City Clerk June Lagmay
"The participation of these City Officials is especially poignant to us at NOH8, as we consider Los Angeles to be the birthplace of the NOH8 Campaign. The people of Los Angeles were among the very first to support our campaign and spread the word to their friends and family across the world, and we're proud to be able to count the leaders of our city among our supporters." - NOH8 Co-Founders Adam Bouska and Jeff Parshley

"I'm directly affected, because I was able to get married in that precious window in 2008," City Clerk June Lagmay said, referring to the brief period between June 16, 2008 when marriage licenses were issued to same-sex couples following a California Supreme Court Ruling that overturned the state's same-sex marriage ban, and November 5th, after voters approved a constitutional amendment enshrining the ban in the state's constitution. Lagmay and her partner have been together for 40 years.
"Our strength in the City of Los Angeles is our diversity," Fire Chief Brian Cummings said. "Stopping people from caring about each other is crazy, and I can't support that."
"I was raised by my parents to love and respect everyone, regardless of the color of their skin, regardless of who they believe in, regardless of whether they're gay or straight," Buscaino said. "This is important to me and that's why I took the lead on this effort here at City Hall."

"People should have the right to love who they want to love, and marry who they want to marry," said Councilwoman Jan Perry.
City Administrative Officer Miguel Santana, Councilmembers Richard Alarcón and Tony Cárdenas
Councilmembers Paul Koretz, Jan Perry and Joe Buscaino
Now is a crucial time in American civil rights history, and it's important for politicial leaders on both sides to continue to get involved and prove that equality is not a party issue. Our supporters include Republicans and Democrats alike, from Cindy and Meghan McCain to Democratic Congressman Dennis Kucinich and his wife Elizabeth, former Massachusetts Supreme Court Chief Justice Margaret Marshall, Rep. Eleanor Holmes Norton (DC), Mayor Stephanie Rawlings-Blake of Baltimore, and CA Rep. Adam B. Schiff.

We hope to see other officials from city, state, and federal governments standing up for their citizens and making it clear that they support equal rights.
RIGHT: Adam Bouska snaps a shot of Mayor Villaraigosa. LEFT: NOH8 Co-Founders Jeff Parshley and Adam Bouska pose with the Mayor.

---
---
Comments