Live Long and Prosper
Saturday, September 8th, 2012
---
In recognition of Star Trek's 46th Anniversary, we wanted to share NOH8 photos of actors featured throughout the various incarnations of the show that have come out to pose for the campaign over the past few years. At least one cast member from each series has participated!
Rod Roddenberry, CEO of Roddenberry and son of Star Trek creator Gene Roddenberry, has been a great supporter of the campaign and helped to get many of the actors from the series involved. Rod even attended the NOH8 Campaign's 3rd Anniversary celebration with wife Heidi last year!
Star Trek: The Original Series' George Takei (Hikaru Sulu) borrowed Spock's iconic "Live Long and Propser" salute for his photo. George has also been a frequent supporter of the NOH8 Campaign, having appeared in our 'I AM HUMAN' PSA featuring nine languages representing the Japanese language. Check them both out below!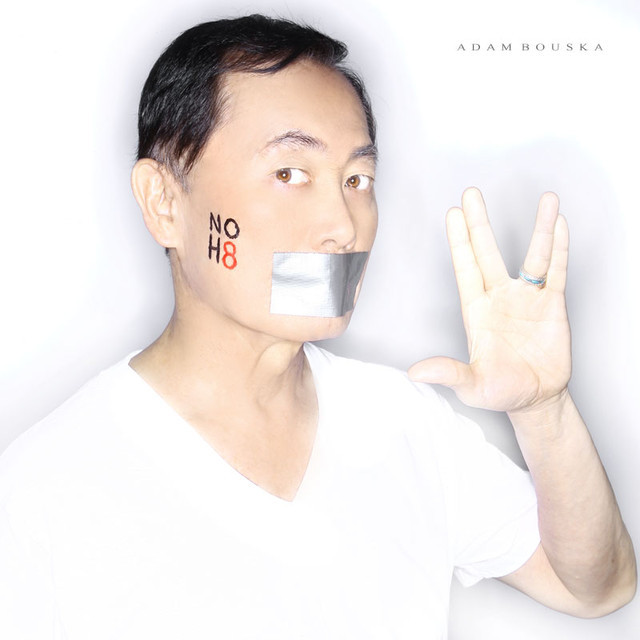 The Next Generation's Denise Crosby (Tasha) came by with Voyager's Tim Russ (Tuvok), so they decided to do a shot together while they were in the studio.
Jeri Ryan (Seven of Nine) and Robert Picardo (The Doctor) join Russ in representing for the Voyager cast. If you follow Jeri Ryan on Twitter, we're sure you're aware just how much of a NOH8 supporter she's been! Robert Picardo even brought his character's action figure to get in on the message.
Not to be outdone, Chase Masterson (Leeta) of Deep Space Nine told us she wanted to take a risk and had an idea about creating a unique photo that would raise awareness for the cause. Terry Farrell (Jadzia Dax) made time for her NOH8 photo too, and Dominic Keating (Malcolm Reed) rounds out our Star Trek cast representing for the most recent series, Enterprise!
---
---
Comments