Harvey Milk's Legacy of Hope
Sunday, November 27th, 2011
---
"If a bullet should enter my brain, let that bullet destroy every closet door." - Harvey Milk
Whether you experienced his legacy in real time or learned about him for the first time through MILK, the 2008 Oscar-Award-Winning biopic of Harvey's life, many of you have been affected by Harvey Milk's story. Harvey Milk made it his mission to fight for the gay community and achieve equal rights and treatment for all people, and he often spoke about how important visibility was to changing the climate and humanizing the gay community.
For those unfamiliar with his story, Harvey Milk became the first openly gay man to be elected to office in California when he was elected San Francisco City Supervisor in 1977; his very public story giving hope to LGBT people all over. Tragically, Harvey Milk was assassinated by a colleague less than one year later on this date - November 27th, 1978.
One of the many things that made Harvey remarkable was that he was just a regular guy. He didn't grow up with aspirations to be an activist, or even a politician; but when he saw the world around him changing, Harvey decided he had to do something about it. Harvey showed us that anyone can get involved and make a difference if they really dedicate themselves to it. Before he knew Harvey, Cleve Jones wasn't an activist either - but something in him changed. NOH8 Co-Founders Adam Bouska and Jeff Parshley didn't have any formal training or aspirations to be activists either, but their reactions to Prop 8 stirred something in them; and all it takes is taking that reaction - that passion - and channeling it to speak out in your own way.

Harvey Milk lived his life openly and honestly for the sake of the greater good so that someday, others didn't have to live in fear. That visibility, according to Harvey, would directly lead an opposing vote to realize that they knew at least one gay or lesbian person who would be affected by discriminatory legislation.

Activist Cleve Jones and San Francisco City Supervisor Bevan Dufty

Harvey Milk became the man who was willing to risk everything for his rights and the rights of his community, and his story continues to inspire us while giving hope to new generations of LGBT youth. The NOH8 Campaign has been honored to have the support of Cleve Jones, a fellow gay rights activist and close personal friend of Harvey's, as well as L. Stuart Milk, Founder of the Harvey Milk Foundation and Harvey's nephew (pictured below). During the first NOH8 photo shoot in San Francisco, City Supervisor Bevan Dufty - representing Harvey Milk's same district - came to support as well.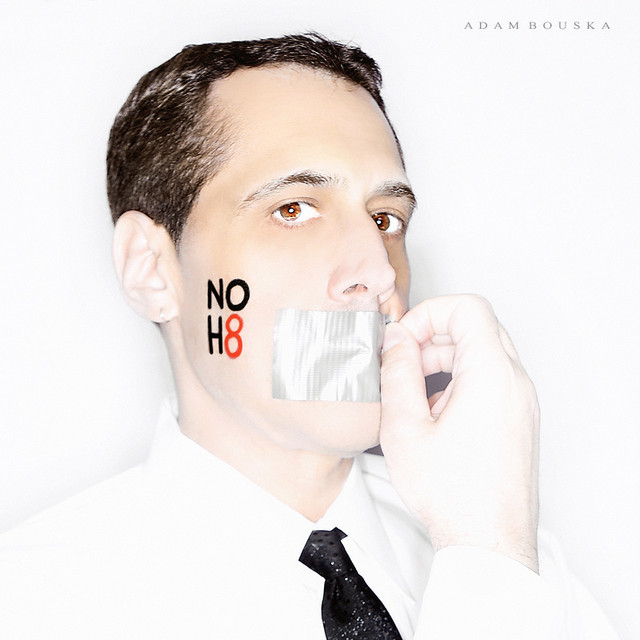 As a start up not- for-profit organization, the Harvey Milk Foundation's program goals – to empower local, regional, national and global organizations so that they may fully realize the power of Harvey Milk's story, style, and collaborative relationship building - are large and bold as Harvey taught us!  The Foundation, through Harvey's dream for a just tomorrow, envisions governments that celebrate the rich and universally empowering diversity of humanity, where all individuals – gay, lesbian, bisexual, transgender, racial and ethnic minorities, the elderly, the young, the disabled – all who had been excluded can fully participate in all societal rights without exception.

This last February in San Diego, the Harvey Milk Foundation teamed up with CESCaL (The Center for Excellence in School Counseling and Leadership) to host Supporting Students - Saving Lives: The Lesbian, Gay, Bisexual, Transgender, Queer/Questioning, Intersex, & Ally (LGBTQIA) Youth. Organizers of the conference invited the NOH8 Campaign to set up at the event, where several educators assembled to have their NOH8 portraits taken. Many of them were eager to share their photos with students, and post them in their offices. We were so inspired by their work that the NOH8 Campaign will be a sponsor of the 2012 CESCaL Conference to be held this upcoming February 17-19 (2012).
This year's CESCaL Conference comes at crucial time as the state prepares to institute a California law passed this year mandating the inclusion of the historical contributions of LGBT figures as well as the disabled. The FAIR Education Act would make sure that stories like Harvey Milk's are taught to youth in schools - some of whom might really need to hear a story like Harvey's. The idea of this measure is the very type of thing Harvey Milk fought for.

Earlier this year, during the NOH8 Campaign's trip to San Francisco, we made it a priority to visit Harvey Milk's former camera store in the Castro; now converted into an HRC Action Center and Store with a work space for The Trevor Project's crisis and suicide prevention call center. The space that once acted as the headquarters for Harvey's historic campaign as well as his home still carries so many reminders about Harvey Milk's life and legacy. At the time, the city's new GLBT History Museum featured some of Harvey's keepsakes including his kitchen table, some of his clothes, and even his megaphone. Being so close to Harvey was an incredibly moving experience, and we only wish everyone could have the opportunity to witness it first-hand.
Even though we never had the privilege of meeting Harvey Milk, many of us still refer to him as "Harvey" as if we knew him; because we feel like we do, in a greater sense. Because of the work Harvey did, we all know who he is; and by knowing his story, so many people have been empowered to make a change in their own lives so that others know their own story.
We at the NOH8 Campaign hope to honor Harvey Milk's legacy by making it our mission to help as many people share their stories as possible by putting a face to the fight for equality one portrait at a time. Harvey always wanted to inspire hope; we only wish he had the chance to see just how much hope he has given LGBT people all over the world.

We remember you today, Harvey. Thank you for giving us hope.
HARVEY MILK

May 22, 1930 – November 27, 1978
---
---
Comments