GLSEN's 15th Annual Day of Silence
Thursday, April 15th, 2010
---
On Friday April 16th, students in schools all over the country from middle schools to colleges are going to be taking part in the 15th Annual Day of Silence.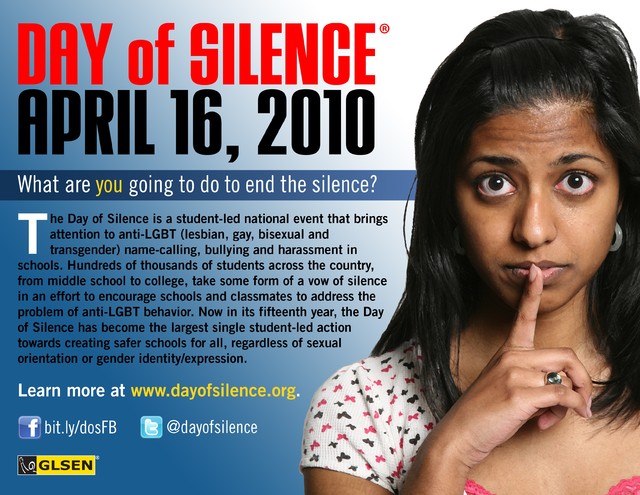 The Day of Silence is a national event organized by GLSEN (Gay, Lesbian, and Straight Education Network) to call attention to LGBT bullying and harassment in schools. Each year, GLSEN schedules a day in the spring on which students raise awareness for the cause by taking a day-long vow of silence.
LGBT harassment is still a huge problem in our schools, and the Day of Silence reminds us of the thousands of LGBT students all over the country that are silenced by hateful speech on a daily basis.
We here are the NOH8 Campaign can appreciate the power of silence, and we wanted to take an opportunity to show our support for the Day of Silence and encourage all of our supporters to do the same. There are so many easy ways for you to participate, there's no excuse not to!
You can find out more information on the Day of Silence website (www.dayofsilence.org), including vital suggestions and tips for getting involved.
Many of you have e-mailed us about wanting to incorporate NOH8 into your Day of Silence, so we thought we'd share a few of our ideas with you.

Students from Mira Costa High School in California
Sport NOH8 on your face! You don't need the official tattoos - you could use regular face paints, make-up, or even washable markers if you really wanted. To avoid any potential issues with administration, we discourage wearing duct tape during the day to make your point. Your silence and face paint will speak for themselves! :)
Some of you have told us you'll be wearing white shirts, and others have opted for the official Day of Silence red. Whatever way you want to show your support, we say go for it! Get a group of friends together to paint your faces before school, or take a big group photo after school with everyone who participated. Get creative!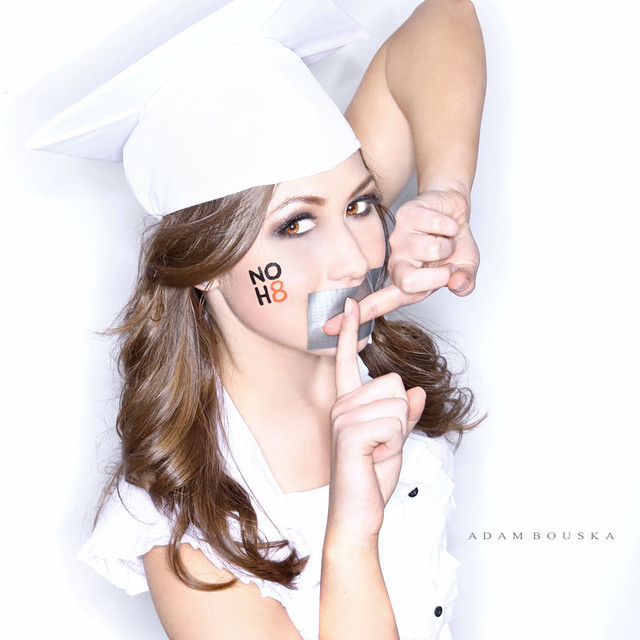 Not only do we want to encourage you to participate - we want to hear all about it!
Share your story about how you incorporated NOH8 into your Day of Silence. We'll be featuring some of our favorites in a future post here on the site!
You can submit your stories to: info@noh8campaign.com
Remember that you don't have to be a student to show your support. Those of you with NOH8 photos can get involved by making them your social networking profile photos!
Don't have a NOH8 photo? Don't worry! You can add a NOH8 Twibbon to your Twitter icon or Facebook photo by clicking here: NOH8 Twibbon Site
---
---
Comments