GENER8TION NOH8
Friday, July 15th, 2011
---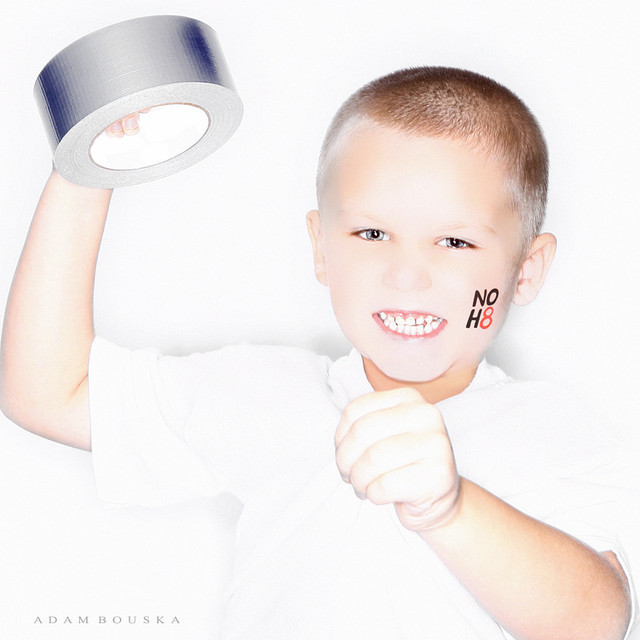 As California passes a historic bill requiring the accomplishments of gay and lesbian men and women to be taught in schools statewide, the NOH8 Campaign would like to reflect on our next generation of youth and the hope they hold for our future - aptly titled GENER8TION NOH8.
The landmark California Bill SB48, signed into law by Governor Jerry Brown this past Wednesday, simply requires public schools to acknowledge the accomplishments and contributions made to society by gays and lesbians throughout the course of history.
"History should be honest. This bill revises existing laws that prohibit discrimination in education and ensures that the important contributions of Americans from all backgrounds and walks of life are included in our history books." - Governor Jerry Brown
This revision reinforces the existing requirement mandating that California public schools teach about other historically discriminated groups in social studies classes such as women and other racial and ethnic groups. Simply put: this bill requires public schools to acknowledge that gays and lesbians exist in the world and are equally capable of making history.
California is the first state in the nation to adopt such educational requirements. The new requirement for schools to adopt textbooks that include the contributions of sexual minorities could be implemeted as soon as the 2013-2014 school year.
"There is no room for discrimination of any kind in our classrooms, our communities or our state." - Dean Vogel, President of the California Teachers Association
This legislation comes on the heels of a bill the Tennessee State Senate passed earlier this year prohibiting the teaching of homosexuality prior to secondary school (high school).
The kids featured throughout this blog, ranging from newborns to teenagers, have taken hold of the NOH8 message in their own ways (make sure to click each photo to enlarge!). Some are children of gay and lesbian parents, some have straight parents. Some have married parents, others have single parents. No matter their upbringing, each child comes from a family of love and support for their fellow men and women.
These children are our hope for a future where equality rings true for every man and woman in this country regardless of race, gender, or sexual orientation. These children are taught to love, not to hate - and that is the reason it will only be a matter of time before everyone is equal.
Until that time comes, we must remember our actions in the now directly affect this generation. If biases are learned, then love and acceptance can be learned too. It's our responsibility to ensure that these kids have a safe and nurturing environment to grow up in, and we must take every step we can to make the present better for them.

LEFT: CEARA STURGIS AND CONSTANCE MCMILLEN BOTH MADE NATIONAL NEWS LAST YEAR FIGHTING DISCRIMINATION IN THEIR OWN HIGH SCHOOLS. RIGHT: MIRA COSTA HIGH SCHOOL GAY-STRAIGHT ALLIANCE 2008-2009.
PLEASE NOTE: Each and every child photographed and featured in this blog was accompanied and supervised by their legal parent or guardian. Any duct tape featured in baby or toddler photos was applied in post-production only with the consent of the parents and/or guardians.

---
---
Comments