Gay and Christian, by Maurecia
Friday, October 12th, 2012
---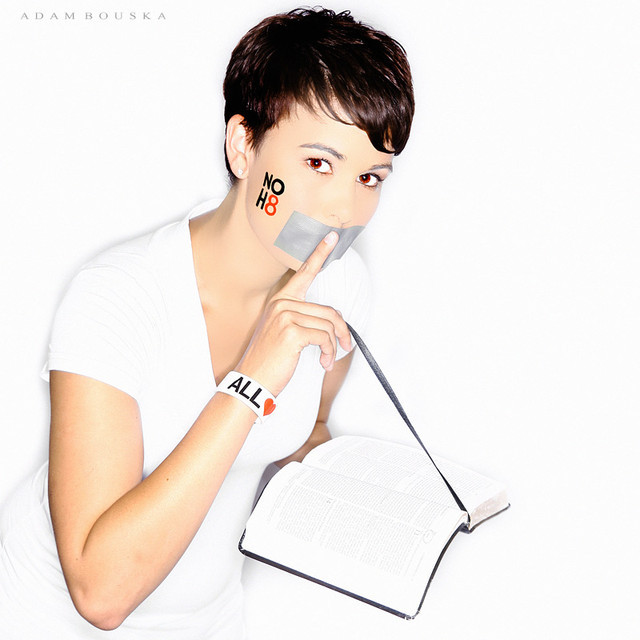 My name is Maurecia and I grew up in a loving and accepting family. I have many family members that are gay so homosexuality never really affected me much. I was taught to love people for who they are as an entire person.
I began to wonder about my sexuality when I was 17 but never verbalized it to anyone because I just wasn't sure.
When I was 19 I received a full athletic scholarship to a private Christian school in California. It was there that I learned what it meant to have a personal relationship with Jesus and was proud to call myself a Christian. I learned very quickly, however, how the Christian community feels about homosexuality and I adopted that same viewpoint because I thought that was how God felt. I soon began to hate that particular part of myself, so I buried it as deep as I could and thought with enough time and prayer God would "fix" me.
For the next 12 years I lived the "good Christian life" and convinced myself that I was not gay. I got married and began the process to start a family but God had different plans for me. My life took a huge turn. I got a divorce, lost my house, and moved back to my hometown. Christians always say, "Everything happens for a reason. Everything happens according to God's plan." I 100% agree. Circumstances in my life led me to finally be able to fully embrace who I am. I believe that this is who God made me to be and I don't think it is a coincidence that I became such a strong Christian before coming out.
I posed for the NOH8 Campaign to simply make a statement. To show that you can be a Christian and be gay. To help people remember that God calls us to love Him first and to love one another second. In my picture I have the Bible open to 1Corinthians 13 which describes love. "Love is patient, love is kind. It does not envy, it does not boast, it is not proud. It does not dishonor others, it is not self-seeking,it is not easily angered, it keeps no record of wrongs. Love does not delight in evil but rejoices with the truth. It always protects, always trusts, always hopes, always perseveres. Love never fails."
My goal is to love people first. Whether straight, gay, black, white, rich, or poor. I want to simply love, and I know God will be honored by that. I hope that others, especially Christians, might learn to love a little more and judge a little less. To live a life full of "All Love NO H8!!!"

-Maurecia
---
---
Comments