Finding My Path by Melanie Cabardo
Wednesday, January 26th, 2011
---
The photo shoot at the W Hollywood in November happened to be the third I attended within less than a year. Each time, the experience was completely different, adding more precious memories to my life that these photo shoots have created all on their own.
I have always been someone who has worn my heart on my sleeve, speaking out for my wants, needs, and beliefs. Equality falls under each of those categories; want, need, and belief. I WANT to see us live in a world that moves forward and works together toward the goal of equal rights. I NEED to be someone I am proud of, and in that, I fight for equality in every way I can; ie, attending and participating in these shoots. It is my BELIEF that even a measure which may be seemingly small, can make the biggest difference. All it takes is one voice.
If truth be told, these photo shoots made me realize a lot about myself, and consequently, they've changed my life for the better. I may not be a part of the LGBT community, but I am an avid supporter, and I still know what it's like to be picked on, ridiculed, or discriminated against because I am different. For a long time, I honestly had no idea what I wanted to do with my life. These photo shoots (Thanks to Adam and Jeff) changed all that.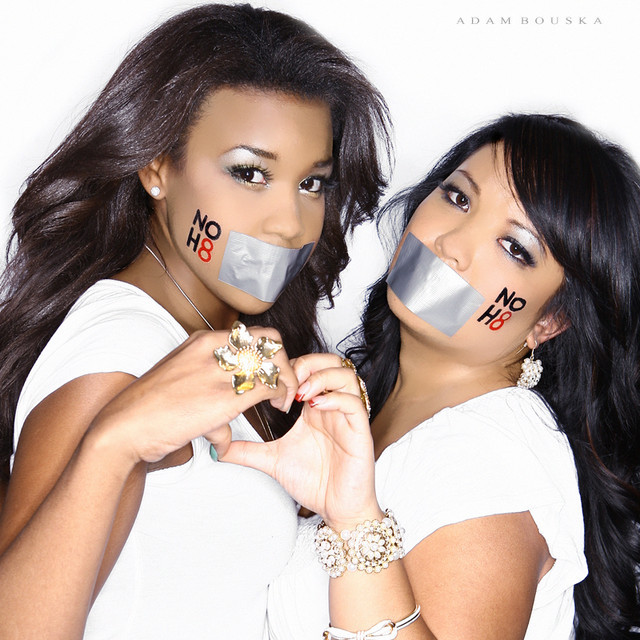 What makes me happy is helping people, working towards something that will improve someone else's life, in turn improving my own. It also makes me happy to stand up for my beliefs. What I decided is that I'm going back to school to major in psychology. Whether I go the doctorate route or am simply a counselor, I want to help people through their issues when they feel like they have no one else to turn to...particularly kids and young adults.
The NO H8 Campaign and The Trevor Project have inspired me to not just speak my mind about these beliefs of mine, but also, to take action. So this is why I posed for each of these shoots...to take action, no matter how seemingly small, toward a future that is worth living. Thank you to Adam, Jeff, and the entire NO H8 Campaign for changing my life!
-Melanie Cabardo
W Hollywood Open Shoot
---
---
Comments