Dad Takes a Stand
Sunday, June 19th, 2011
---
As our weekend comes to a close and we prepare for the new week ahead, we wanted to take a moment to acknowledge the past year of paternal accomplishments, work, compassion, and the dedication of each and every father who has taken the time to become a part of the NOH8 Campaign. These fathers have set an incredible example for their sons and daughters, many of whom joined their fathers in taking a stand against discrimination.
We're excited to share a photo compilation of some of our favorite fathers and their families from all walks of life, caught in front of Adam Bouska's camera, in honor of this Father's Day.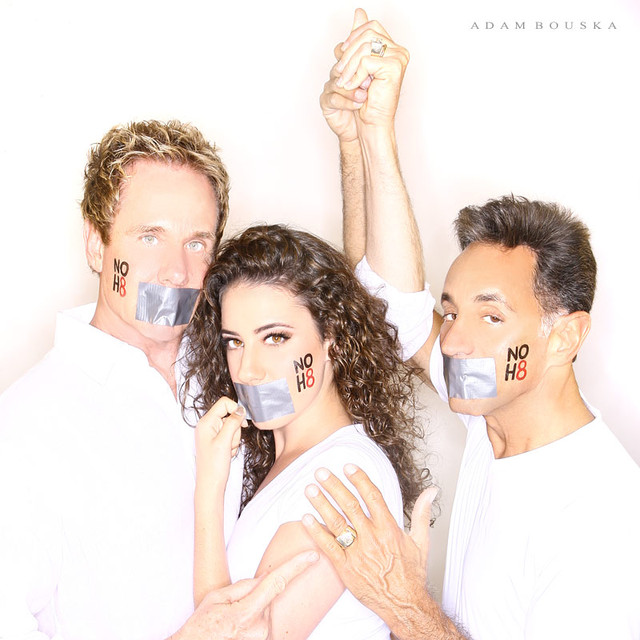 Chelsea Montgomery-Duban made news in 2009 when a video she'd uploaded to YouTube of the speech she gave at her parents' wedding went viral and spread through the internet like wildfire. Chelsea's fathers were married during a ceremony in August of 2008 in California, just months before Prop 8 passed; counting their marriage among the 18,000 or so to be legally recognized.
The Montgomery-Dubans (pictured right) have been gracious supporters of our campaign, and we're excited to feature Chelsea's story for our Father's Day blog!
When we asked Chelsea to share a few words about her parents with us for Father's Day, she said the following:
"I have the most amazing [fathers] in the world. Seriously. I mean, most of the time, I'd rather be hanging out with them than with my friends. My Dads and I have the most incredible times together, laughing, traveling or just spending quality time together. I would say we're just like any other family, but we're not because we seem to be so much closer and enjoy each other's company more than most families do. My parents are my role models, my best friends and some of the most incredible human beings on the planet and this January they will be celebrating 30 years together."
You can see Chelsea's speech below.

HAPPY FATHER'S DAY!
THE VAUGHN-WOELFEL FAMILY
LEFT: GENE SIMMONS & FAMILY; RIGHT: WEIRD AL & FAMILY
LEFT: CHRIS GORHAM & FAMILY; RIGHT: DUANE "DOG" CHAPMAN & FAMILY
FROM FAMILIES THAT ARE JUST BEGINNING TO GENERATIONS OF HOPE...
---
---
Comments