Athlete Ally Hosts 1st Ever Campus-Wide Pledge-Signing Event
Monday, May 9th, 2011
---
Bates College Athletes and LGBT Advocates Sign Athlete Ally Pledge Together on May 12th
Athlete Ally is an incredible new non-profit organization dedicated to encouraging athletes, coaches, parents, fans and other members of the sports community to respect all individuals involved in sports, regardless of perceived or actual sexual-orientation or gender identity or expression. Athlete Ally calls on the athletic community to use its status and influence to help stop anti-gay bullying by championing respect, camaraderie and inclusion in sports.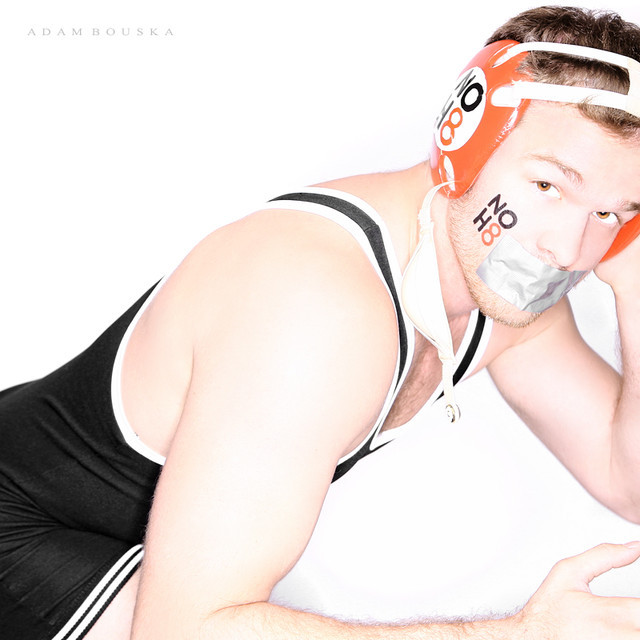 Hudson Taylor, the Executive Director of Athlete Ally and a three-time NCAA All-American wrestler from the University of Maryland who is currently an assistant wrestling coach at Columbia University, has been a true role model for heterosexual athletes, and we are honored to count him among our NOH8 allies. We're so incredibly proud of the impressive amounts of progress Hudson has made in the short time we have known him, and we know his continued work and dedication to positively changing the sports world will leave an indelible impression.
Hudson and Athlete Ally have teamed up with Bates College to host the first-ever campus-wide pledge-signing for athletes, giving Bates athletes a hands-on opportunity to learn about and sign Athlete Ally's pledge:
"I pledge to lead my athletic community to respect and welcome all persons, regardless of their perceived or actual sexual orientation, gender identity or gender expression. Beginning right now, I will do my part to promote the best of athletics by making all players feel respected on and off the field."
We encourage each and every one of you involved in a sports community -- whether you're a current or former athlete, a coach, an official, a family member, or even just a fan -- to join Bates College in signing the Athlete Ally Pledge. The work Athlete Ally is doing in pursuit of respect and equal treatment for everyone in the sports world is irreplacable, and we hope you support them as you support us.
In addition to Hudson Taylor's NOH8 participation, several other professional sports figures have come out via the NOH8 Campaign in support of the freedom to marry and in protest of discrimination both on and off the field.
Fellow participants have included San Antonio Silver Stars' Forward Chamique Holdsclaw (WNBA), Carolina Panther's Linebacker Nic Harris (NFL), out Defensive Lineman Esera Tuaolo (NFL), NY Jets Cornerback Antonio Cromartie (NFL; holds record for longest play in NFL history), Houston Dynamo Defender Mike Chabala (MLS), Terry Norris (Boxer, Four-Time World Championin Junior Middleweight Division), Lilian Garcia (WWE), Behdad Sami (1st Iranian Basketball Player to play in both the US and Portugal), Arizona Cardinals Linebacker Isaac Keys (NFL), Olympic Gold Medalist Greg Louganis (Diver), out former MLB Outfielder Billy Bean, first openly gay Mixed Martial Artist Shad Smith, and NBA Hall of Fame Point Guard Isiah Thomas.

There remains much to be done in pursuit of an equal playing field for all, but we know with professional athletes like these making their voices heard, it's just a matter of time until more supporters step forward to eradicate homophobia and bullying from the sports community.
Chamique Holdsclaw                                                  Nic Harris
Esera Tuaolo____________________________Antonio Cromartie
Mike Chabala                                                     Terry Norris
Lilian Garcia                                                Behdad Sami
"The reason I decided to get in contact with NOH8 and show my support is because I believe it's already tough enough for the Gay community to receive support, let alone if you are of Middle Eastern decent. There are so many middle eastern males and females around the world that have been silenced by force, not only fearing what their traditional families will think but also fearful of losing their life. In certain Middle Eastern countries, if you 'come out,' it's a literal death sentence. This upsets me so much to think our human right to be who we are is being controlled that way.
I am honored to be apart of this campaign and plan to help and be apart of anything NOH8 has for me in the future. I pray this can raise more awareness not just for the Gay communities around the USA but for the silenced people of the Middle East and the rest of the world." - Iranian Basketball Player Behdad Sami
Isaac Keys                                                          Greg Lougainis
Billy Bean                                                            Shad Smith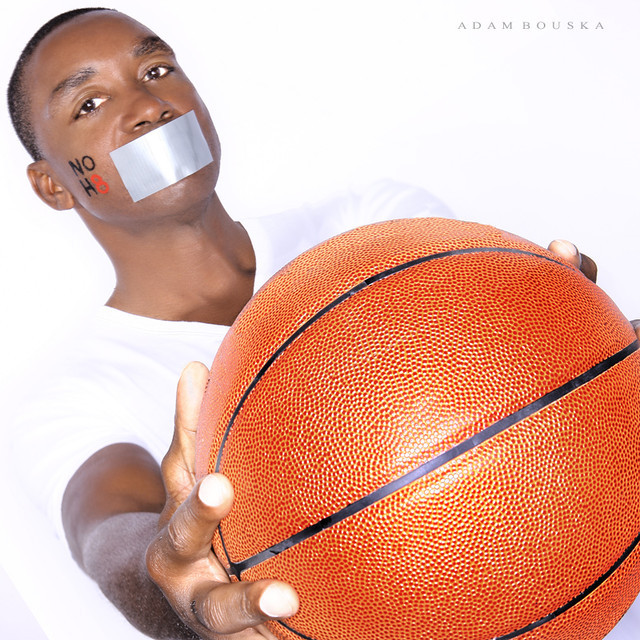 "[I] posed for the NOH8 Campaign because [I] believe that all hate and discrimination is wrong. It is time for full equality and equal rights for everyone, regardless of race, sexual orientation, religion, or gender." - NBA Hall of Famer Isiah Thomas
How can college athletes get involved with Athlete Ally and show their support?

Athlete allies are coming together in full force to show support for the LGBT community. On Thursday, May 12, 2011, Athlete Ally, a non-profit organization dedicated to challenging homophobia and transphobia in sports, will host its first ever campus-wide pledge-signing event at Bates College in Lewiston, Maine. The event will conclude the college's first Pride Festival and is sponsored by OUTfront, a student-run LGBT justice and support group, as well as the Bates Athletic Department.
The Athlete Ally Pledge encourages all members of the athletic community to promote the best of athletics and commit to making all players – LGBT and straight – feel respected on and off the field. Currently, close to 200 members of the Bates athletic community including athletes, coaches, administrators and fans, have signed the pledge.
"We couldn't be more excited about this event," said Hudson Taylor, Founder and Executive Director of Athlete Ally. "It's our goal to encourage all athletes to stand up for respect, dignity and inclusion. It's my hope that this campus-wide event will inspire other schools and athletes to commit to this cause. Bates is a huge role model here."
Taylor, who is also a three-time NCAA All-American wrestler from the University of Maryland and currently an assistant wrestling coach at Columbia University, will kick off the pledge-signing event with an address to the students on what it means to be an Athlete Ally. Taylor will also participate in a panel discussion on the theme "Respect for All Individuals," and there will then be an opportunity for all attendees to sign the Athlete Ally Pledge in person. The pledge-signing will take place at 6 pm on the Library Quad on the Bates campus and is open to the public.
---
---
Comments