There is NOH8 in Jesus, by Aaron C.
Wednesday, November 21st, 2012
---
I knew I was gay from an early age (like 4 years old), but I didn't really understand it because of all the negativity I had been raised to feel about it especially from my church. When I was in the 8th grade, I told myself I could not let myself be tempted by the devil to have attractions towards men and that I would never act on the desires I had towards other males. Then I dated women, and I just didn't feel the emotional connection I had been seeking with any of them. I assumed it was because I was celibate, but even after I lost my virginity to a woman (in an attempt to feel closer to her), I could not get the emotional bond I was seeking.
I prayed and prayed and when that didn't work, I prayed some more. Eventually, I acted on my homosexual desires with a kiss and fell in love for the first time ever, and when my first boyfriend broke up with me, I felt alone. I felt that I was unworthy of him, I was unworthy of my family and my church, and most depressingly, I felt unworthy of God. Because I felt as if I was an abomination to God, I attempted suicide multiple times.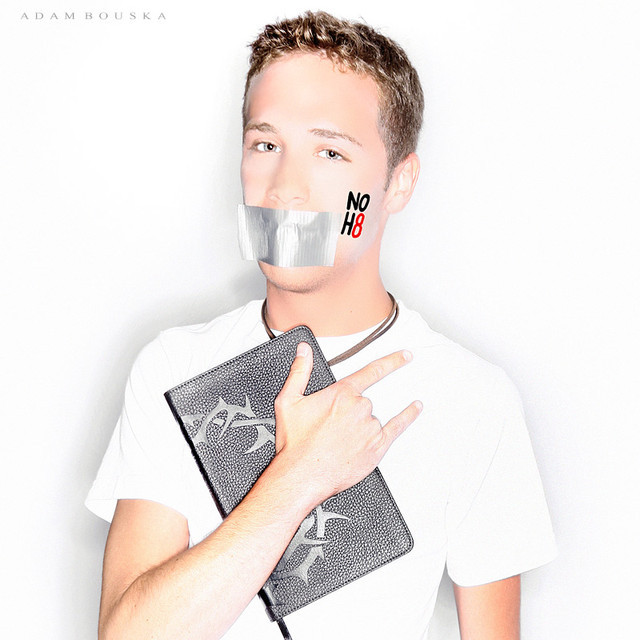 One night after contemplating suicide heavily, I shouted out to God, "Why did you put this in me if you're just going to hate me for it?" The reply brought tears to my eyes - "I love you."
I didn't believe it. I didn't believe God could love me. Then He tried to prove it to me by leading me to gay affirming passages in the Bible and leading me into research and Bible study that made me rethink what I was told. Still, I didn't believe Him. Everyone around me was telling me that God despised gay people, they were an abomination, and they were destined to burn in Hell. So I ran away from Him. I still knew He was there, I still felt Him, but I refused to listen to Him.
I had lost my worth in God, so I tried to find my worth in sex. I became overly promiscuous. I can't even remember the names or how many men I slept with. Each time I had sex, I felt as if I was in a deeper and deeper black hole. It was getting bad, and finally when one guy had told me that he contracted HIV, I fell to my knees and prayed for the first real time since I had been with a man for the first time. I asked God to protect me and to accept me back. His response: "I never left."
When I was tested, I was negative - thank God! I'm now back with God, and I feel worthy of Him. I'm back to celibacy until marriage, and I'm just trusting that He will provide me with a husband when the time is right. He wants me to have the right to marry, and no one on Earth should have the right to deny me my ability to worship God with a marriage to a man I love! I feel the Holy Spirit even more now than I did before I came to terms with being gay. From now on, I'm only listening to the voice of God not mankind, and I'm not letting any other human stand between my relationship with Him.
I took my NOH8 photo with my Bible and with my hand saying "I love you." in American Sign Language in the hopes that someone else with a struggle similar to mine may know that God loves them so much!
Here's a little Bible story that God has constantly brought me to: In Acts 8:26-40, the Bible tells the story of when Philip met an Ethiopian eunuch. The eunuch was reading a passage in the Bible from the book of Isaiah where Isaiah prophesies about the messiah. Philip asks the eunuch if he knows what that passage is about. The eunuch asked, "How can I, unless someone guides me?" because in Jewish law, eunuchs were not allowed to enter a temple of worship. Philip tells the eunuch that the passage is about Jesus, and he tells the eunuch all about the good news of Christ. When they finish, the eunuch says, "See, here is water! What prevents me from being baptized?" Philip baptized the eunuch. He didn't bring up any verses against the eunuch to tell him that he was not worthy of God like Deuteronomy 23:1 (the verse that says eunuchs cannot enter an assembly of God's people). Instead, Philip brought the eunuch to God through a baptism in Jesus Christ. What's also interesting to note is that a eunuch at this time didn't necessarily mean a man who had his genitalia cut off. In fact, there were eunuchs who were considered "natural eunuchs" (see also Matt. 19:12 when Jesus speaks of "eunuchs who were born that way"), which meant that they were born with their genitalia, but they had no desire of sex with a woman. Philip acted out on what the Holy Spirit told him, and he baptized the eunuch.
God loves all! There is NOH8 in God because God is love. God bless the NOH8 Campaign.
-Aaron C.

---
---
Comments