NOH8 @ OutServe Leadership Summit
Friday, November 11th, 2011
---
In honor of Veterans Day and all of the men and women who risk their lives to serve and defend our country, this blog features the LGBT service members of OutServe and a special BE HEARD statement by Danny Ingram, National President of American Veterans for Equal Rights. The fact these honorable men and women are willing to dedicate their lives to protecting the freedom of our country when they do not have full and equal federal protections themselves speaks to the true quality of their character, and we are proud to share their portraits with you today - the very first Veterans Day since the landmark Don't Ask Don't Tell repeal.

OutServe is the association of actively-serving LGBT military personnel. With over 4,000 members and 40+ chapters worldwide, it is one of the largest LGBT employee resource groups in the world. OutServe works to support a professional network of LGBT military personnel and create an environment of respect in the military with regard to sexual orientation and gender identity.
The 2011 OutServe Leadership Summit was held in Las Vegas last month, and the organization invited the NOH8 Campaign to set up our mobile studio at the conference to create an opportunity to include as many military personnel in the campaign as possible.

While NOH8 has offered complimentary photos to service members for years as a small token of our gratitude for the incredible sacrifices our armed forces make for our country, the Summit was really the first time many of these service members were able to step forward to express themselves publicly for the first time. Prior to the repeal of Don't Ask, Don't Tell, many of these men and women were forced to serve their country in silence. Fortunately, OutServe acted as an underground support network for those very people, giving its members strength as the repeal lingered.

Dozens of military personnel and their families posed for their portraits, and many of the members of the press in attendance decided to show their support by setting down their cameras and recorders as they too posed for photographer Adam Bouska. Even OutServe representatives from New Zealand's armed forces (pictured below) took the opportunity to have their NOH8 portraits taken, eager to bring the message back to their country.

To see all of our photos from the conference, be sure to check out our Photo Galleries. Solo Portraits from the conference can be found in NOH8 Photos 12,501-12,750 while groups can be found in Creative & Group Gallery 20.
We wish to extend a very special thanks to OutServe Co-Founders/Co-Directors Joshua Seefried ("JD Smith" - pictured below left) and Ty Walrod (pictured below right) for allowing NOH8 to be a part of the OutServe Leadership Summit. We were honored to have the chance to be able to give back to the LGBT men and women of the military for everything they've endured just to be able to serve and protect the United States, and we look forward to continuing to work together in pursuit of equality across the board.
OutServe Co-Founders/Co-Directors Joshua Seefried ("JD Smith") and Ty Walrod
We'd like to leave you today with a story from Danny Ingram, National President of American Veterans for Equal Rights, who attended the OutServe photo shoot.
"In the spring of 1994 I became one of the first service members to be discharged from the military under "Don't Ask, Don't Tell" following a statement I made in support of presidential candidate Bill Clinton's promise to lift the ban in 1992.  I remember being called into the office my commander in 1993.  There were three of us in the office, the commander, who was Latino, the First Sergeant, who was African-American, and me, the gay guy.  The commander said to me, "Sergeant Ingram, my grandaddy had to get his ass kicked so that I could serve in the US Army."  He then looked over at the First Sergeant and said, "The First Sergeant's daddy had to get his ass kicked so that he could serve in the same US Army as the rest of us."  Then he looked at me.  "And now, Sergeant Ingram, you are going to get your ass kicked so that your people can someday serve in the US Army along with everyone else."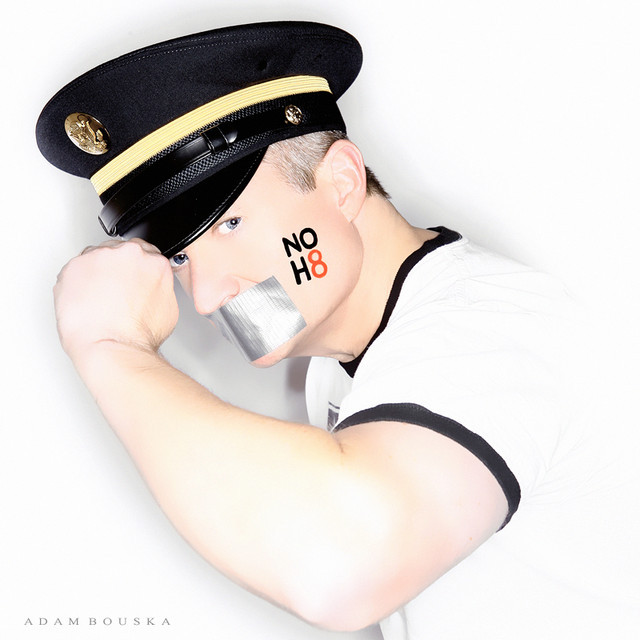 I got my ass kicked, but almost 20 years later, as National President of American Veterans for Equal Rights, I was invited by the White House to witness President Barack Obama sign the DADT Repeal Law into effect on December 22, 2010. And on September 19th, 2011, the day before the effective date of repeal, I commemorated the last duty day that my people could not serve in the United States military.  And sharing the podium with me that evening was retired Colonel Kelly R. Jimenez, my former commanding officer.  He ended his comments with these words:  "If I were ever in a tough situation and my life was on the line, there is no one I would rather have in my foxhole fighting beside me than Sergeant Ingram." Two old comrades had come full circle. 

Change does come to those who work long enough and have right on their side.  Often times it comes one human heart at a time.  I don't like being told there are things I can't do because I am gay.  I don't like being told that I can't serve in the military.  I don't like being told that I can't have a life-long relationship with someone I love.  And I don't like being told that I can't marry.  I stand with the people of California.  I share your fight.  You are on the front line, but many of us stand behind you.  The battle may be long and difficult, but we will win because the destiny of our great nation is on our side, and the dream of America will not be stopped here. 

Thank you for all you do to keep the dream alive.  I know that I speak for all of AVER's members, men and women who swore an oath to defend our sacred liberty, when I tell you that you do not stand alone, and together we will prevail."
HAPPY VETERANS DAY!

---
---
Comments